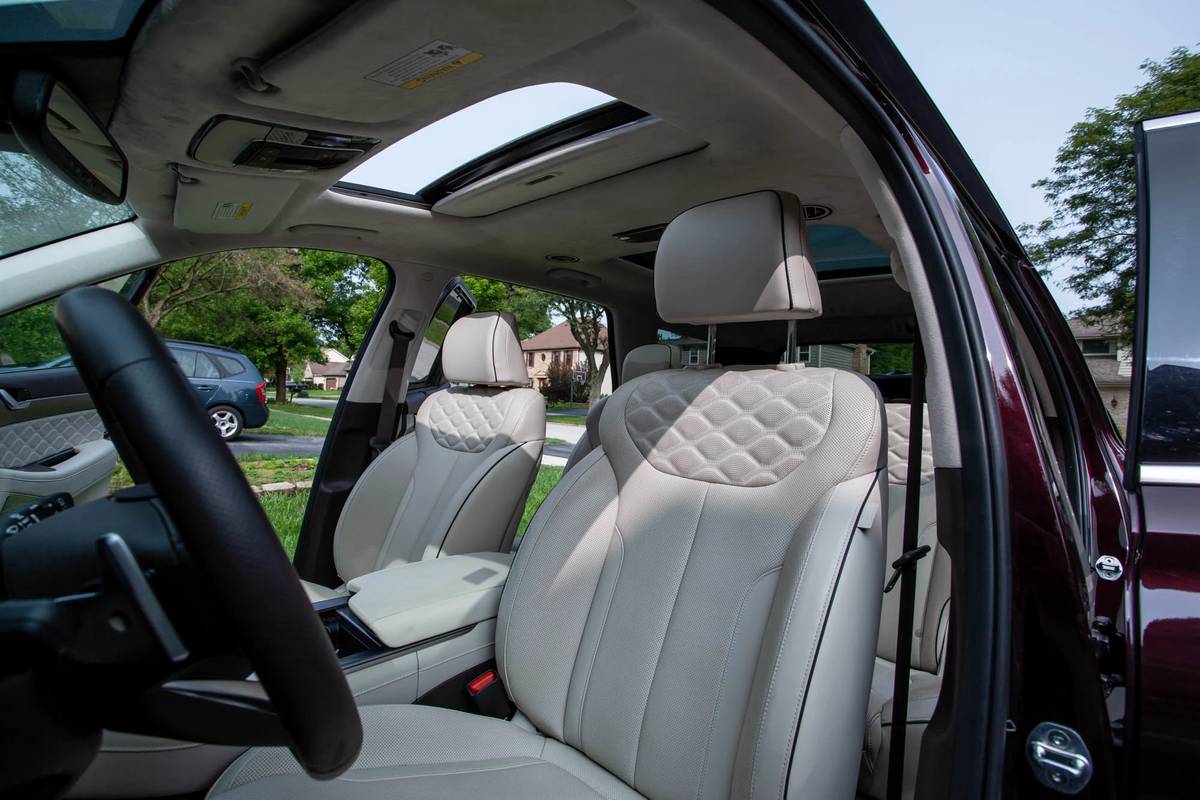 Imagine you buy a brand-new Hyundai Palisade, the all-new-for-2020 SUV with an affordable elegance that says, "I'm awesome but not ostentatious." You're the envy of your peers, and you ain't mad at it. You load up six of your friends for an evening out to flex your sweet new ride (when there isn't a pandemic on, of course) … and then, one by one, your passengers wrinkle their noses, furtively check their own bodies, then their neighbors, trying to pinpoint that offensive odor. Eventually your car-bound cadre concludes it's the Palisade that stinks — while you squirm and shift in your seat, counting the minutes until the night ends. If only you knew where that wretched reek was coming from.
Related: 10 Biggest News Stories of the Month: Tesla Model S Can't Catch Up to Senior Drivers' Cars
Fret not, fellow Palisade owner. Cars.com can't give your dignity back, but we can at least offer some answers and a path to resolution. Call us Magnum P.U.: In our most popular article of the past week, we conclude our months-long three-part Car Smell Investigation into the source of the persistent stench in the 2020 Palisade we bought for our long-term test-car fleet after honoring it with our Best of 2020 award back in January — only to find ourselves pinching our noses a short time later as we tried desperately to pinpoint the phantom funk.
For those joining the program already in progress, Hyundai technicians determined that the issue, also reported by many other Palisade owners, involved a defect in the faux-leather head restraints installed in upper trim levels. Long story short: After six weeks at the dealership and multiple attempted odor-neutralizing treatments, an outright replacement of the head restraints with newly manufactured ones seems to have solved the problem. You can get the full story by following the link below to our first-place story on this week's countdown.
In other news,  the 2021 Kia Seltos dominates the second- and third-place spots this week, having won top scores in our recent four-car comparison test to find the best affordable small SUV — besting the 2021 Subaru Crosstrek, 2020 Mazda CX-30 and 2021 Chevrolet Trailblazer. Follow the links below to our No. 2 and No. 3 stories of the week for the full rundown there.
Rounding out this week's top five are our breakdown of pricing for the redesigned-for-2021 Kia Sorento, now starting at an elevated $30,560 (including a destination charge) at No. 4, and our recommendation on whether Honda CR-V shoppers should snap up a 2021 model fresh off the assembly line or hunt for a better deal on the outgoing model and save a few hundred bucks (Pssst! The latter.) at No. 5.
Beyond that, we have more on the Kia Sorento Hybrid, Volkswagen Atlas, Subaru Crosstrek, Toyota RAV4 and Honda Accord Hybrid, so — like with our smelly-Palisade investigation, make sure you get to the bottom of it. Here are the top 10 news stories Cars.com readers couldn't get enough of in the past week:
1. 2020 Hyundai Palisade Car Smell Investigation Part 3: Case Closed?
2. What's the Best Affordable Small SUV?
3. Why the 2021 Kia Seltos Is the Best Affordable Small SUV
4. Pricing Slides Higher for Redesigned 2021 Kia Sorento
5. Honda CR-V: Which Should You Buy, 2020 or 2021?
6. 2021 Kia Sorento Hybrid Puts a Premium on Efficiency
7. 2021 Volkswagen Atlas: 5 Things We Like and 2 Things We Don't
8. 2021 Subaru Crosstrek Review: Bigger Is (Mostly) Better
9. Toyota RAV4: Which Should You Buy, 2020 or 2021?
10. 2021 Honda Accord Hybrid Quick Spin: Big, Smooth, Probably Efficient
Related Video:
Cars.com's Editorial department is your source for automotive news and reviews. In line with Cars.com's long-standing ethics policy, editors and reviewers don't accept gifts or free trips from automakers. The Editorial department is independent of Cars.com's advertising, sales and sponsored content departments.
Source: Read Full Article