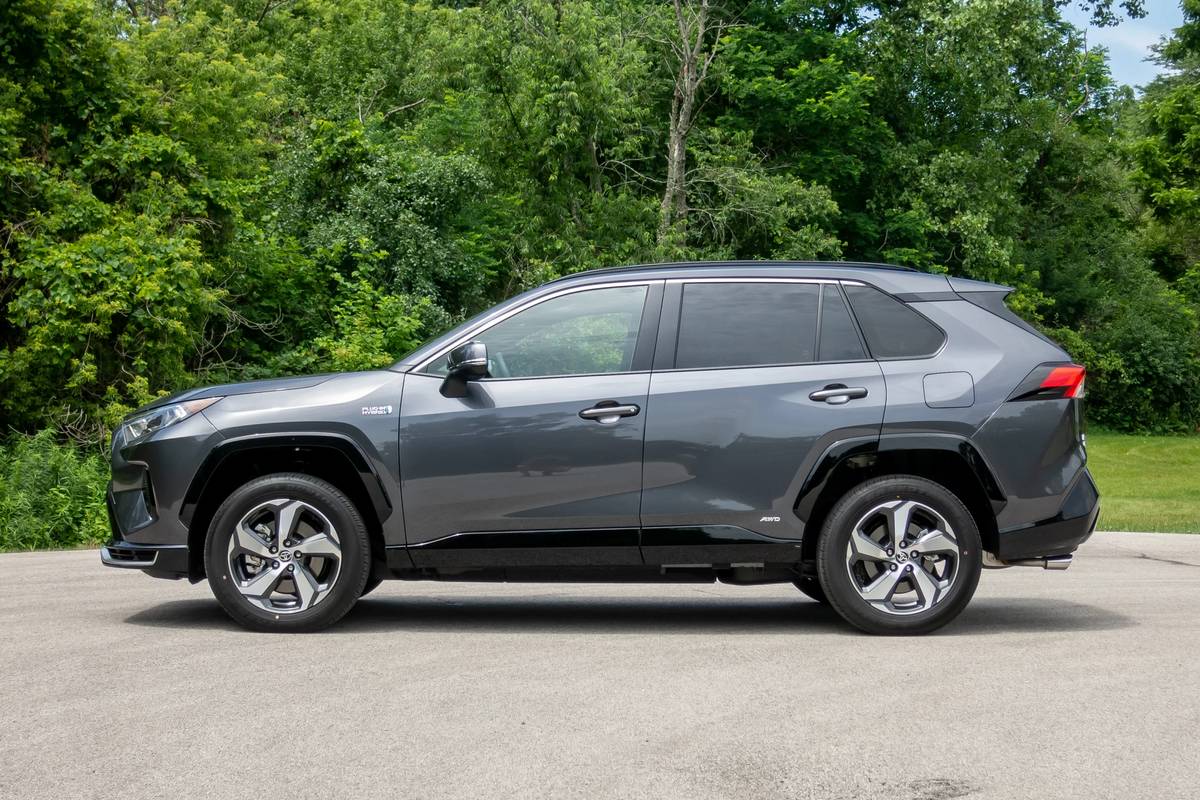 Toyota's RAV4 compact SUV is one of the most popular nameplates in the U.S. and outsold every other vehicle Toyota offered by a comfortable margin in 2019. It's no surprise that a redesign for the 2019 model year, and the addition of hybrid and plug-in hybrid variants means it's remained popular through 2020 — so it's even less surprising that our story on everything you need to know for the latest model years takes our prize as the past week's most popular news article.
Related: 10 Biggest News Stories of the Week: 2021 Hyundai Santa Fe Can't Socket to Volkswagen ID.4 EV
Whichever variant you're shopping for, we got you covered. Keen on the good old fashioned gas version? Cars.com reviewer Jennifer Geiger drove it and had overall lukewarm things to say: "While not slow, it lacks the hybrid's zippiness. The eight-speed automatic shifts smoothly, but timing is off and often awkward." As alluded to, she's considerably more positive about the RAV4 Hybrid, saying it "has earned itself a spot for those with the budget to accommodate it." And if you're pondering picking up a RAV4 Prime, our Kelsey Mays summarized the experience in saying it "combines impressive efficiency with the sort of acceleration the nameplate hasn't seen since the third-generation RAV4 V-6, though it's a bit rough around the edges beyond that."
Interested to learn more about each version? Follow the No. 1 link below for all the details.
The RAV4's popularity was enough to keep Elon Musk's latest act of teen boy humor from the top, as the Tesla head announced a reduced price for the Model S of just $69,420. I'd say this is nice, but the correct response is to roll one's eyes and move on. 
At No. 3, a lot of you are apparently very concerned about what happens when your key fob breaks or needs to be replaced; lucky for you, then, that we have a brief explainer on what to do and where to go. 
Rounding out the top five are our report on the new Ford Mustang Mach 1, which looks set to occupy the Shelby GT350's slot in the Mustang lineup, and our assessment of the 2021 Lexus IS 350, refocused for a narrower performance sedan market.
From there, it's GM recalls, Nissan Altima buying advice, an Acura MDX preview, the new 2021 Cadillac Escalade review and our Car Seat Check of the redesigned 2021 Genesis G80. 
Interested in catching up on all the car news that counts? Then keep scrolling and click through. Here are the top 10 news stories Cars.com readers couldn't get enough of in the past week:
1. 2021 Toyota RAV4: Everything You Need to Know
2. Tesla Model S Starting Price Drops to $69,420 … Oh, Come On, Elon
3. How to Replace a Key Fob
4. 2021 Ford Mustang Mach 1 Pulls 53 G's … From Muscle-Car Lovers' Bank Accounts
5. 2021 Lexus IS 350 Review: Refocused but Not Rejuvenated
6. 2020-2021 Buick, Cadillac and Chevrolet Cars and SUVs: Recall Alert
7. Nissan Altima: Which Should I Buy, 2020 or 2021?
8. Next-Gen Acura MDX to Focus on Luxury and Performance, Adds Type S Model
9. 2021 Cadillac Escalade Review: Expensive, and Worth It
10. How Do Car Seats Fit in a 2021 Genesis G80?
Cars.com's Editorial department is your source for automotive news and reviews. In line with Cars.com's long-standing ethics policy, editors and reviewers don't accept gifts or free trips from automakers. The Editorial department is independent of Cars.com's advertising, sales and sponsored content departments.
Source: Read Full Article