The all-new Mitsubishi Outlander SUV is the first car to be revealed live on Amazon – but it's not destined for the UK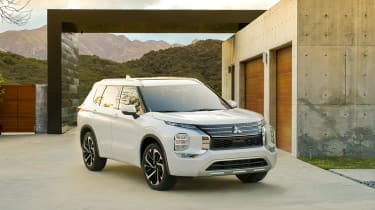 The new 2022 Mitsubishi Outlander SUV has been revealed on Amazon in a world first for a car manufacturer. The Japanese brand collaborated with the online retailer as its platform of choice for the unveiling of its new Outlander SUV, Mitsubishi's flagship model.
The car has been "reimagined and reinvented in every way," according to Mitsubishi, and this much is clear from the Outlander's evolved styling. The big SUV has a much chunkier look, with a bluff front end featuring slim headlights and a shallower grille than its predecessor.
There are also big changes underneath the fresh-looking skin, as this fourth-generation Outlander is based on all-new underpinnings. From launch the car will be powered by a 181bhp 2.5-litre four-cylinder petrol engine, which it shares with the American market Nissan Rogue. As is key to the Outlander, a plug-in hybrid will follow, but Mitsubishi has dropped diesel engines altogether for this new car.
Best hybrid SUVs 2021
The Outlander has taken a step up when it comes to kit and quality, Mitsubishi claims. Tech such as a 12.3-inch digital dash panel and a nine-inch touchscreen infotainment system is available with the sat-nav featuring what3words integration, as well as Android Auto and wireless Apple CarPlay (plus wireless charging for your phone). A 10.8-inch head-up display, more semi-autonomous driver aids and a 10-speaker Bose stereo will all be available depending on trim level.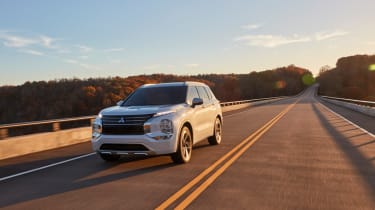 Speaking on the Amazon live stream for the launch of the new car, Takao Kato, chief executive officer Mitsubishi Motors Corporation, said: "The all-new Outlander has been crafted into a reliable SUV with significantly upgraded styling, road performance, and a high-quality feel.
"With the launch of the all-new Outlander, we will first expand our sales in the North American market and then aim for global growth."
This is where the catch for UK motorists comes in. The car will launch in the USA first, but following Mitsubishi's decision to pull out of the UK and European markets last July, we won't get to sample the new and improved Outlander in this country.
Mitsubishi was in talks with SsangYong last year in a deal that would have seen the Korean brand take control of Mitsubishi's UK operations. However, an agreement didn't materialise.
If you're on the lookout for an SUV here in the UK, then have a read of our Best SUVs to buy in 2021…
Source: Read Full Article