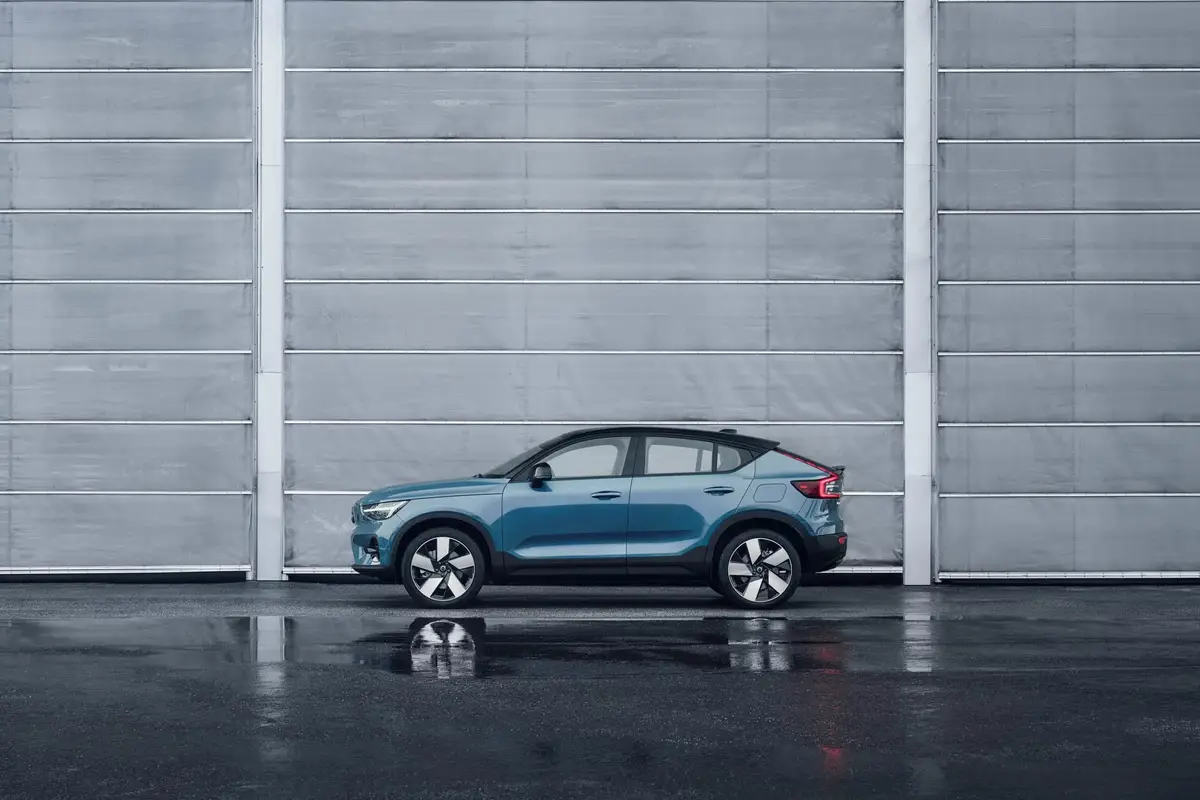 Competes with: Ford Mustang Mach-E, Hyundai Ioniq 5, Volkswagen ID.4 
Looks like: An XC40 that's been given the "crossover coupe" treatment
Powertrains: 402-horsepower, dual-motor electric drive; 78-kilowatt-hour lithium-ion battery; all-wheel drive
Hits dealerships: Not available in stores — all future Volvo electric vehicles are only available online starting in the fall
Chinese-owned Swedish automaker Volvo dropped a couple of bombshells earlier today: first, it will only sell pure electric vehicles by 2030, and second, you will only be able to buy these EVs online. It's unclear how Volvo dealers will be affected by this, but Volvo's push for convenience means that you can order your new Volvo EV one of two ways: with options preselected for immediate delivery or customized as you like it, putting it on a built-to-order timeline. The first Volvo that the company plans to offer like this is a new compact crossover coupe version of the XC40 Recharge SUV that it's (predictably) calling the 2022 C40 Recharge.
Related: All-Electric 2021 XC40 Recharges Volvo's Future
Exterior
To anyone who's a fan of the tall "crossover coupe" genre of luxury vehicles (think BMW X4 and X6, Mercedes-Benz GLC and GLE coupes, Infiniti QX55, etc.), the Volvo C40 Recharge will fit right into your expectations. It retains the high seating position and ride height of the XC40 Recharge but chops the roof to a more rakish line, giving the C40 Recharge the typical athletic-shoe-like aesthetic. The five-occupant hatchback does differ slightly in its styling front and rear from the XC40, with a unique grille and headlamps, and long vertical taillights that extend up the D-pillars flanking the hatchback opening. Those headlamps are Volvo's first application of "pixel" technology — the headlights operate at full high beam all the time while the car's onboard forward camera detects and tracks vehicles in front of the C40 Recharge. It can then "shade out" up to five vehicles at the same time to prevent dazzling those drivers, while still maintaining full illumination, according to Volvo.
Interior
The cabin looks like familiar Volvo country, with a lot of shared aesthetics with the rest of the lineup. The gauges are fully digital, and there is a "backlit" ambient light feature to the interior mood lighting. What won't you find in the new C40? Any leather — Volvo says that going forward, none of its electric offerings will feature animal-based leather.
Of note is the multimedia system that, like the new XC40 Recharge, will use a Google operating system instead of a native Volvo one. This enables users to sync up their own Google accounts for shared information and preferences, but also uses constantly updated Google Maps software for navigation and the Google Play Store for access to additional apps for use in the vehicle. The screen maintains the Volvo-style vertical orientation that we've praised in the past and still looks somewhat familiar in its iconography to past Volvo offerings, but the additional connected functionality should provide always-current updates. And in order to make sure that your C40 Recharge is always up to date, Volvo says that the car comes with an unlimited data plan.
Under the Hood
Mechnically, the C40 Recharge is nearly identical to the taller XC40 Recharge. It uses a dual-motor setup, with one electric motor on each axle for an all-wheel-drive configuration. Output is listed at 402 horsepower and about 487 pounds-feet of torque (Volvo lists it as 660 newton-meters), and it comes from a 78-kilowatt-hour lithium-ion battery pack, just like the XC40 Recharge. You get a little more estimated range from the C40, however, which Volvo says will be EPA-estimated at 210 miles, well below what most competitors' EVs offer these days.
Recharging rate should be decent, as the C40 can accommodate 150-kilowatt DC fast charging, meaning you can go from zero to 80% charge in about 40 minutes, according to Volvo, on a public high-powered DC fast-charging station. On a 240-volt three-phase unit, it will charge at up to 11 kilowatts, enabling a roughly eight-hour full recharge time; on a standard U.S. 120-volt circuit, a full charge can take anywhere from 40 to 72 hours. 
But the C40 Recharge does differ from its XC40 cousin in a few significant ways. Unlike many other EVs, the C40 can tow — up to 2,000 pounds, according to the company, which is below the rated 3,307 pounds that the XC40 Recharge can tow. The dimensions are a bit different, too — the C40 is slightly longer, lower and wider than the XC40, with a different track than the narrower XC40. Performance should be identical, however, as Volvo estimates the C40 Recharge should be able to get from 0-60 mph in 4.7 seconds, just like the XC40 Recharge. Of course, cargo room is down from the XC40 given the lower roofline and truncated tail, but the usable frunk is retained for additional storage.
More From Cars.com:
Shopping for a 2021 Polestar 2? Research One, Here

Polestar 2 Packed With New Safety Tech That's Very Volvo

2021 Polestar 2 to Take on Tesla Model 3 With $61K Starting Price

Polestar 2 Arrives to Challenge Tesla Model 3

Volvo's Getting All Charged Up About Electric XC40
Availability
As mentioned, there will be differences in how you go about obtaining a C40 Recharge when the time comes to do so — all purchasing and ordering will be done online through Volvo. How the dealer body in the U.S. is involved is not yet clear, but it would appear that they will be showrooms only going forward, relegated to delivery, service and walk-around tire-kicking for people who want to see before they buy. The online site will be massively expanded as part of Volvo's push for more e-commerce involvement and will offer two ways to get a new C40 Recharge: Take delivery of preordered, pre-optioned vehicles that are immediately available, or order a custom job that will take a bit longer to get to you but will come exactly the way you want it. Volvo says that this is to simplify ordering, manufacturing, and pricing — but what it also does is eliminate negotiations with a dealer salesperson on price.
In addition to the vehicle, the C40 Recharge will also come with a Care by Volvo package that includes all the service, maintenance, roadside assistance and even insurance and home charging installation, where available (exact details of what will be offered in the U.S. package are not yet set). Production of the new C40 Recharge is set to start in the fall, with deliveries available soon after.
Related Video: 
Cars.com's Editorial department is your source for automotive news and reviews. In line with Cars.com's long-standing ethics policy, editors and reviewers don't accept gifts or free trips from automakers. The Editorial department is independent of Cars.com's advertising, sales and sponsored content departments.
Source: Read Full Article