We pick the best seven-seat cars that provide the best practicality across a wide range of price points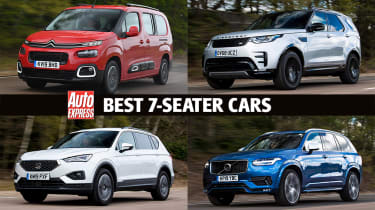 Since the early eighties, British buyers have taken the idea of driving a seven-seater to their hearts, but what's the best seven-seat car on sale right now? Here we round off the top 10, so if you're in the market for a car with extra seats, look no further.
The concept of a 7-seater was pioneered in Europe by the original Renault Espace, but it took almost a decade for rivals to catch on in a big way. Those multi-purpose vehicles (MPVs) offered a safe, comfortable and practical way to transport big families, and have since become favourites of cab drivers up and down the country.
Best SUVs to buy 2021
Remarkably, the MPV market is on the wane today; a victim of the success of the SUV. These models offer much of the seven-seat practicality of a people-carrier in a more stylish and desirable package. SUVs generally sport the same sort of boxy shape as an MPV, which helps to make the most of interior space. However, it's worth bearing in mind that the raised floor necessary for the SUV look and (occasional) four-wheel-drive capability eats into the outright space inside, particularly for those who are travelling in the third row of seats.
But the proliferation of seven-seat SUVs is a good thing for the motorist, because it means more choice. On the one hand, there are models such as the Citroen Berlingo, which are based upon vans for absolute practicality, and conventional MPVs such as the Citroen Grand C4 SpaceTourer. On the other, there is an increasing range of SUVs, some with proper seven-seat capability like the SEAT Tarraco and Skoda Kodiaq; others have a '5+2' layout with the rear seats best suited to occasional use.
Our list focuses on the best choices for carrying seven regularly, and covers models costing a little over £20,000 right through to a £80,000 electric SUV. It goes to show that if you need the space, there's something for everyone.
7-seat SUVs vs 7-seat MPVs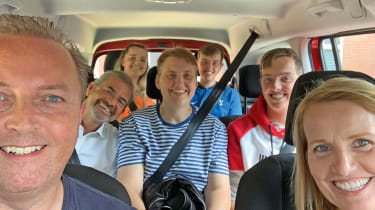 Generally speaking, the needs of somebody buying a seven-seat car are different from most. Practicality and running costs generally come ahead of driving dynamics for those looking for family transport. But the same rules apply whatever car you're buying: do your research, understand your finance options and work out your budget, however you're paying for it.
The first thing to decide is whether you want an MPV or an SUV, or to know which is best for your needs. Generally MPVs offer more space, but SUVs are more stylish. For most buyers, an SUV will offer more than enough room, and most have the option of four-wheel drive – ideal if you tow a caravan or live in a remote area. With their square appearance, lower floors and (mostly) higher rooflines, MPVs provide useful extra head and legroom for all passengers.
Best 8-seater cars to buy
Another important consideration is whether you want to go for petrol or diesel. Here the decision is a little more clear-cut. Seven-seaters are generally larger and heavier than your regular car, so diesel will be the better choice for most, although plug-in hybrids (and even fully electric models) are changing the equation. You'll need a home charger to make full use of these.
You should also check the cars' interior space and build quality. If you have young children, then soft leather trim might not be the best idea. Make sure all your child seats can fit in; while some cars have three Isofix mountings across the middle row, you may not be able to squeeze three abreast. And be sure to check that the boot is big enough with all seven seats in place.
Best 7-seaters cars to buy now
SEAT Tarraco
Kia Sorento
Skoda Kodiaq
Land Rover Discovery
Peugeot 5008
Citroen Berlingo XL
Audi Q7
Volvo XC90
Citroen Grand C4 SpaceTourer
Hyundai Santa Fe
Scroll down or click on the links above to read more about the best 7-seat cars to buy right now…
1. SEAT Tarraco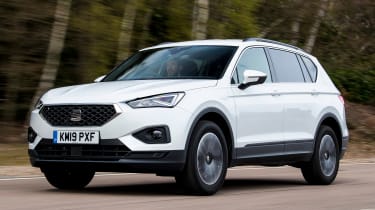 It may be a relative newcomer to the class, but the SEAT Tarraco has taken the top spot, just beating its Skoda Kodiaq cousin. There are lots of similarities between the two cars; both use the VW Group's tried-and-tested MQB platform, feature a near-identical engine range, and are more or less the same size. However, we reckon the SEAT is better to drive, offers greater value for money and is a little more interesting to look at.
The Tarraco comes with two- or four-wheel drive and a wide choice of petrol and diesel engines. Seven seats are standard, although the 1,775-litre boot is shy of the Kodiaq's maximum. Regardless, this is still a large family car – one that's perhaps best suited to those who need five seats and a big boot most of the time, with occasional seven-seat capability.
Our preferred model is the 148bhp 2.0-litre diesel with two-wheel drive and a manual gearbox for the best mix of power and running costs. SE Technology trim offers the best value, bringing an impressive kit list that means it's a great all-round family car.
Click here for our SEAT Tarraco in-depth review 
2. Kia Sorento
Of all the seven-seater SUVs on sale right now, the Kia Sorento is one of the very best. It's practical, comfortable and safe, and the latest model has pushed the boat out even further by bringing incredible in-car tech and a premium interior finish to the table.
Power comes from either a 1.6-litre petrol-hybrid powertrain or 2.2-litre diesel, good for 226bhp and 199bhp respectively. The torquey diesel makes the most sense to use, as it's reasonably fast (0-60mph takes 9.1 seconds) and surprisingly quiet too: it's way more refined than a lot of the rough diesel units that are common in large SUVs.
The interior finished is a world apart from Kia's of old. The infotainment system is slick and the technology is cutting-edge: it even takes a leaf out of Tesla's book, using sensors to scan the traffic in your blind spots and projecting it onto the driver's display.
Seven seats are standard, and the rearmost seats can accommodate adults at a push, although children will be far more comfortable.
Click here for our Kia Sorento review
3. Skoda Kodiaq
Much like its SEAT Tarraco relative, the Kodiaq is a large family SUV that majors on practicality, space and value.  There's a very similar range of engines available, even lower trims bring a decent level of standard equipment and – while most won't be able to tell a difference – the Skoda is slightly more forgiving on a bumpy road than its SEAT cousin. It's a good choice if you favour comfort over outright poise.
There's a little more space in the Kodiaq than you'll find in a Tarraco, but it's still best considered as a five-seater with the ability to carry two extra passengers when required. The middle row slides fore and aft to adjust passenger and boot space, and the latter peaks at 2,005 litres with all seats folded.
The manual Kodiaq can only be specified in conjunction with four-wheel drive, but it's a strong system that works surprisingly well off the beaten track for a large family car. Those who need a faster seven-seater can try the Kodiaq vRS. It's expensive, but has an interesting character and a 235bhp twin-turbocharged diesel. 
Click here for our Skoda Kodiaq in-depth review
4. Land Rover Discovery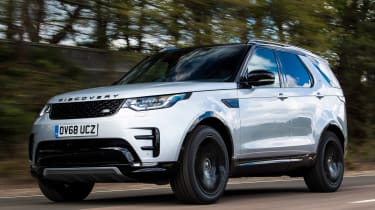 This is one of our favourite cars on sale, seven-seater or otherwise – and with good reason. The Discovery's modern styling, impressive practicality and unparalleled off-road ability all appeal, along with its impeccable road manners, plush ride, excellent refinement and upmarket image.
It's expensive, but even entry-level S models get a good level of standard kit. We prefer SE trim, though, which features leather upholstery, LED headlights and a suite of upgraded tech. Stepping up the range brings more luxury, while an extensive options list adds driver-assistance and safety systems together into logical packages.
There is a range of petrol and diesel engines, but most will be best served by the entry-level 237bhp 2.0-litre SD4 diesel. It's relatively frugal, given the Discovery's size, yet still offers good performance.
With its third row folded away, the Land Rover has a cavernous 1,137-litre boot. But crucially the Discovery is the best car in its class for seating seven adults in comfort; even those in the very back shouldn't find much to complain about.
Click here for our Land Rover Discovery in-depth review
5. Peugeot 5008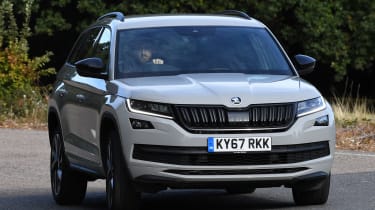 Blessed with the eye-catching style of Peugeot's latest line-up, the 5008 seven-seater has plenty of kerbside appeal. The attraction is more than skin-deep too, as the biggest Peugeot SUV is practical, comfortable and great to drive.
It shares its engineering platform with the Citroen Grand C4 SpaceTourer MPV, but can't quite match its PSA Group stablemate for roominess. The third row of seats in the 5008 are really child-focused, but you can slide the middle row forward to make knee-room for grown-ups. They also fold flat into the boot floor or can be removed altogether when you need more space.
The interior is a definite 5008 highlight, with a stylish wrap-around dashboard and large infotainment touchscreen, as well as a digital instrument display that gives the car a very contemporary feel.
The driving experience is very comfort-focused, with a beautifully compliant ride, but the trade-off is more body roll in corners than rivals like the Skoda Kodiaq or SEAT Tarraco. The engines are highly efficient and provide adequate performance too.
Click here for our in-depth Peugeot 5008 review
6. Citroen Berlingo XL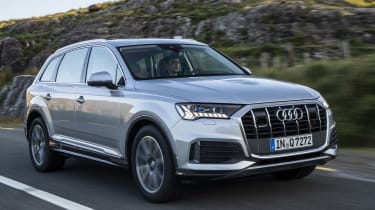 The Citroen Berlingo XL is an MPV rather than an SUV, but the two classes share so many traits that it'd be foolish to consider one and not the other. The Berlingo is as practical as cars come, as it's based on a van platform. The issue here is that it looks like a van too, so if style matters to you then you best look elsewhere.
The standard version is the M model, but the XL version is 35cm longer and adds a third row of seats, making it a seven-seater. And it's not as limited as some seven-seat SUVs: adults of an average build will be able to fit into that third row without any issues.
You can choose from a 1.2-litre petrol engine with either 108bhp or 128bhp, while a diesel is available with 99bhp and 128bhp respectively. The latter of these develops 300Nm of torque, which will come in very handy if you ever drive the Berlingo XL fully laden with passengers and luggage. 0-62mph of 11 seconds isn't horrendous either, while refinement is good too.
Click here for our in-depth Citroen Berlingo review
7. Audi Q7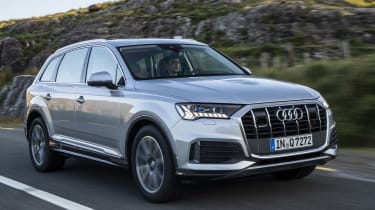 The Audi Q7 shares its DNA with the Porsche Cayenne, Bentley Bentayga and Volkswagen Touareg, but that doesn't mean it's without its own set of distinct characteristics. Despite its size the Q7 is an exciting car to drive, especially when kitted out with Audi's optional four-wheel steering and air suspension. This means you get a rapid performance when you need it and exceedingly good levels of comfort when you don't.
The engine line-up consists of two diesels and one petrol unit, all of which are 3.0-litre V6s with mild-hybrid assistance. The most basic 45 TDI diesel generates 228bhp and 600Nm of torque, while the, although you can step up to a 4.0-litre V8 capable of 429bhp and 900Nm by splashing out on an SQ7 instead. In addition there are two plug-in hybrid variants of the Q7, called the 55 TFSI e and the 60 TFSI e: the latter produces a whopping 449bhp and can drive for 26 miles without the engine.
As you'd expect, the third row of seats in the Q7 isn't as spacious as the middle row, with the higher floor and lower roofline restricting space somewhat. However, you still get 295 litres of space in the boot, rising to 770 litres when those rear seats are tucked away.
Click here for our in-depth Audi Q7 review
8. Volvo XC90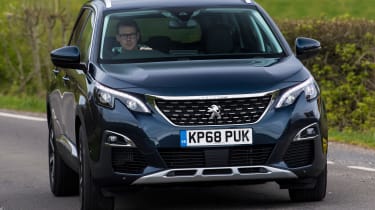 No other car quite does sophistication quite like the latest Volvos, and the XC90's distinctive exterior styling is backed up by a Scandinavian-inspired interior and a technology package that makes it a truly appealing choice.
You get three rows of full-size seats in the cavernous interior, and a very large boot, but it's the tranquil nature of riding in the Volvo that really gets our vote. The interior designers have 'decluttered' the cabin by moving most of the ancillary controls to the touchscreen, while superbly comfortable seats and a distinctive leather and brushed metal decor give the car a genuinely luxurious ambience. The effect is amplified by an impressive technology package including digital instruments, and the lavish level of standard equipment.
Although it offers standard four-wheel drive, the XC90 is another SUV designed with road use in mind, and it offers a smooth drive with more than enough performance. The four-cylinder only powertrains offer reasonable economy, and there's a hybrid model for the efficiency-conscious owner too.
Click here for our in-depth Volvo XC90 review
9. Citroen Grand C4 SpaceTourer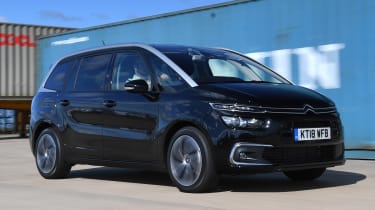 Another MPV, but one that definitely holds its own in the 7-seater category. The Citroen Grand C4 SpaceTourer (which used to be called the Grand C4 Picasso) offers strong performance, excellent fuel efficiency and top-notch fuel efficiency.
The Grand C4 SpaceTourer is a seven-seater, making it ideal for large families. Meanwhile there's 165 litres of space in the boot, rising to a much more useful 793 litres with that third row of seats folded down. Flatten the middle row and you're looking at a whopping 2,181-litre space with a flat load deck.
You can have a 1.2-litre petrol making 129bhp with either a six-speed manual or eight-speed automatic gearbox, or there's a 1.5-litre diesel that generates the same amount of power. There's also a 2.0-litre diesel with 161bhp, and understandably this is the fastest in the range, hitting 0-62mph in 9.2 seconds.
The smaller diesel is the best for fuel economy, with official figures of 48.7-60.1mpg on the WLTP combined cycle. This is marginally better than the eight-speed auto diesel, which hits 47.6-58.6mpg.
Click here for our in-depth Citroen Grand C4 SpaceTourer review
10. Hyundai Santa Fe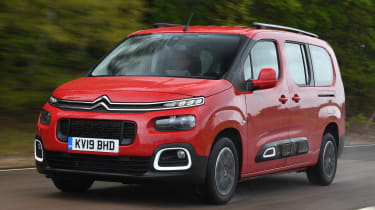 The Santa Fe is a handsome, fine driving and well-equipped large SUV that's loaded with standard features that more prestigious brands charge extra for. Adaptive cruise control and smartphone connectivity are included on all models, but while affordability has long been a Hyundai strength, the arrival of competitively priced rivals like the Skoda Kodiaq has put the Santa Fe under pressure.
There may be a lot of standard kit but there's only one choice under the bonnet. You must go for the 2.2-litre turbodiesel or shop elsewhere, so it's fortunate that this is an engine that performs its role with aplomb. You can pick two- or four-wheel drive, and automatic or manual gearboxes, but where the Santa Fe really performs is in the amount of space provided for passengers and luggage – although here again the Skoda Kodiaq performs better.
All versions of the Santa Fe come with a standard seven-seat set-up, although like the Kodiaq children will fare best in the third row.
Click here for our in-depth Hyundai Santa Fe review
What's your favourite 7-seat car? Let us know your thoughts in the comments section below…
Source: Read Full Article