Got £3k to spend on a used car? There are tonnes of tempting options, and we've located eight of the best…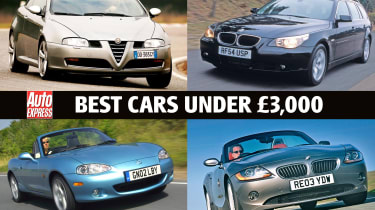 We discovered every single one of the following cars on sale for £3,000 or less, covering everything from sporty roadsters to everyday family cars. Proof, if any were needed, that cheaper options are out there for those willing to delve into the classifieds.
For example, we discovered a nicely specced and practical BMW 5 Series Touring with 83,000 miles on the odometer for under the £3,000 mark, while we also found a sweet-handling Mazda MX-5 with 76,500 miles for £2,750, for those wanting something more exotic.
Buying a used car: your complete guide
It goes without saying that an inspection and a test drive – especially at that kind of age – is a must, otherwise you are entering somewhat of a lottery as to how well a vehicle has been maintained. Generally though, the cleaner the service history, the better shape a car will be in.
The best cars for under £1,000
The best cars for under £2,000
The best cars for under £5,000
The best cars for under £10,000
The best cars for under £15,000
The best cars for under £20,000
BMW 5 Series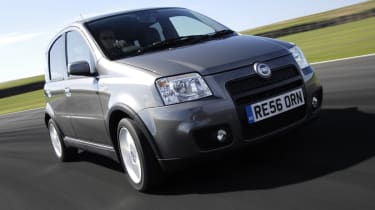 Model: 525d SE Touring
Year/reg: 2004/54
Mileage: 83,000
Price: £2,950
Premium German brands often lose a lot of value quite early in their life, which is why at this price point you can grab bargains like this smooth straight-six BMW 5 Series Touring.
There's loads of space in the boot and room for the family, too, but the 525i is also great to drive and comfortable on the motorway. Running costs might be steep, but there's plenty in the budget to cover this, which makes this premium wagon an absolute steal.
Check the latest prices for used BMW 5 Series models on our sister site BuyaCar…
BMW Z4 Mk1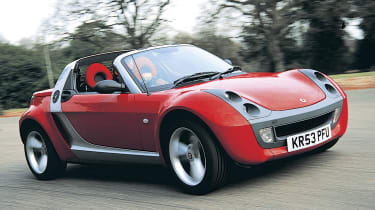 Model: 2.0i SE
Year/reg: 2006/06
Mileage: 68,000
Price: £2,897
The 'flame surface' design of the original E85-generation Z4 divided opinion back in 2003, but it still looks fresh today. While four-cylinder models are fine, we'd go for a six-cylinder if you can stretch your budget by around £1,000. You can also enhance the aural excitement in just 10 seconds, thanks to the electric-folding hood.
The first generation Z4 rivalled the Porsche Boxster and Honda S2000, but both of those cars are significantly more money now, it's more than likely the Z4 won't depreciate much further.
Check the latest prices for used BMW Z4 models on our sister site BuyaCar…
Fiat Panda 100HP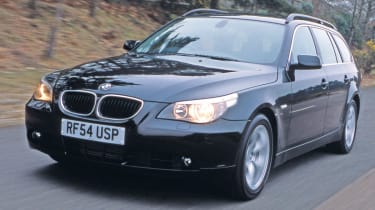 Model: 1.4 100HP
Year/reg: 2007/56
Mileage: 52,000
Price: £2,795
The Fiat Panda 100HP has been a motoring hero since it was launched in 2004, and now you can pick one up for around £2,000, it's got to be one of the best-value hot hatchbacks on the used market.
While 99bhp doesn't sound like a lot, a kerbweight of 975kg means the Panda is quick enough. But it's not about outright speed; this Fiat's focus is on fun. You can rev the lively 1.4-litre petrol engine to the limit without risking your licence, using the six-speed manual box and enjoying the sporty engine note.
Best hot hatchbacks 2020/2021
Then once you reach a corner you can maintain momentum easily because there's lots of grip and not much body roll. Yet if you want to lift off and get the chassis moving about, you can indulge even at low speed. This sense of fun runs deep in the Fiat, and not much can touch it for value. The Panda 100HP is also a brilliant city car, with space for four and a decent boot, too.
Check the latest prices for used Fiat Panda models on our sister site BuyaCar…
Mazda MX-5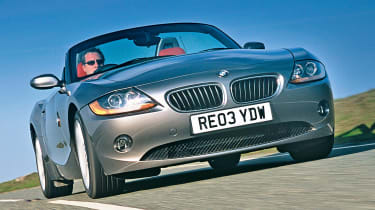 Model: 1.8 Icon
Year/reg: 2005/05
Mileage: 76,500
Price: £2,750
It's easy to argue that the Mazda MX-5 is the best sports car ever made. It's certainly the best selling, with around one million having found homes over the past 30 years. Also, it's really affordable used, delivering open-top fun, exciting handling and plenty of style for not much cash.
In 1.8-litre form the MX-5 is fast enough; although this car has only 144bhp, it's very light. A late Mk2 looks great value at the moment, particularly since the Mk3 gained a little weight.
Check the latest prices for used Mazda MX-5 models on our sister site BuyaCar…
Alfa Romeo GT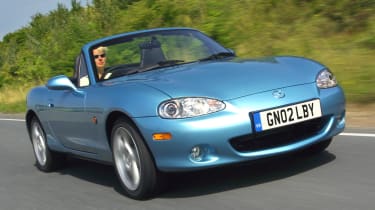 Model: 1.9 JTDm Lusso
Year/reg: 2005/05
Mileage: 76,500
Price: £2,750
Most makers have produced one or two stylish cars in their times, but is any more consistent in its design than Alfa Romeo? All of the Italians' models look great, and many now carry bargain price tags. But that's also because they're not exactly known for their reliability.
If you buy with your head and choose an example that's been cared for, then you can find a beautiful and good-to-drive sporty car that won't cost too much to run. In this case, we've gone for a late-2000s GT with diesel power, so fuel economy should be strong, too.
Check the latest prices for used Alfa Romeo GT models on our sister site BuyaCar…
Smart Roadster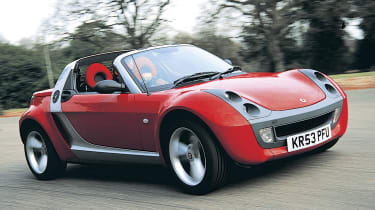 Model: 0.7 80bhp
Year/reg: 2003/53
Mileage: 68,000
Price: £2,690
Ask someone to think of a Smart and they'll almost certainly conjure up the ForTwo in their mind. The Roadster, on the other hand, is often forgotten about, yet it's a great little sports car that can easily be used every day.
The automatic gearbox is a known weak point, but it's easily ignored when you consider that you can buy this fun sports car for less than £3,000 with no more than 70,000 miles on the clock.
Check for leaks when you're buying, even on the hard-top coupé models, and pay close attention to the service history on any prospective purchase, because the little engine needs frequent oil changes.
Check the latest prices for used Smart Roadster models on our sister site BuyaCar…
SEAT Alhambra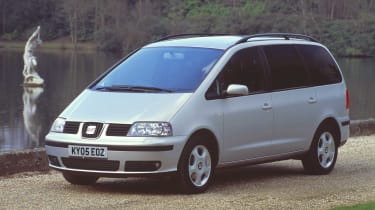 Model: 2.0 TDI Reference
Year/reg: 2007/56
Mileage: 102,000
Price: £2,690
The SEAT Alhambra is a typical MPV, but that's definitely a good thing rather than a criticism. In fact, this Spanish model has all the right ingredients for family life.
First and foremost it's a hugely spacious car with room for seven, or five and plenty of luggage. It's also good to drive and comfortable, which makes it great for longer trips. Plus, the seats themselves are comfortable, and hard-wearing enough to stand up to any number of food-based attacks from kids.
The 2.0-litre diesel engine we've picked is really punchy but still economical, so it never feels underpowered even with a fully loaded car, yet won't cost the earth to run.
Check the latest prices for used SEAT Alhambra models on our sister site BuyaCar…
Ford Focus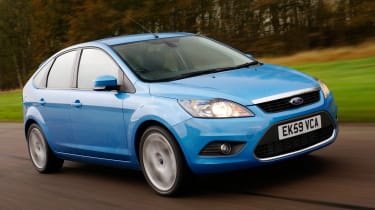 Model: 1.6 99bhp Zetec
Year/reg: 2010/59
Mileage: 80,000
Price: £2,150
Along with the Volkswagen Golf, the Ford Focus has become a benchmark car for the family hatchback class, and there are plenty of good reasons why.
Most importantly it represents great value – especially as a used car – and it offers everything you need in a family car in Britain. It's comfortable enough to take on our pothole-covered roads, yet also really fun to drive at the same time.
It's spacious enough for most and, with so many having been sold over the years, parts are cheap and there are dealers around every corner. We've picked out a non-turbo petrol model because it's likely to be more reliable, yet is really cheap.
Check the latest prices for used Ford Focus models on our sister site BuyaCar…
Source: Read Full Article