We reveal the best electric vans for sale or lease in the UK right now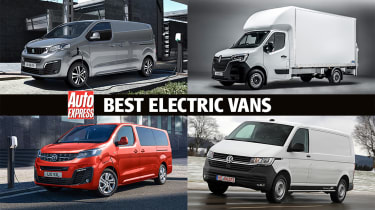 There's a revolution taking place in the van market. Electric drive is being introduced across the van spectrum, with makers such as VW, Ford, Mercedes and Stellantis brands joining ranks with established players like Nissan and Renault by offering electrified vans for sale in the UK.
In recent years, we've seen large electric vans arrive, where maximum cargo volume is the priority over payload. These have been introduced alongside small electric vans, which are designed for short urban routes. But as battery technology has progressed, with increased battery capacity offering longer ranges, we're now at a stage where even the popular mid-sized van class is a viable market for electrification.
Top 10 best medium panel vans 2022
On the whole, these electric vans are designed with a focus on so-called last-mile delivery services. In this role, the electric van offers a zero-emissions journey for a parcel's trip from distribution centre to its final destination. The benefits are huge for local air pollution, especially in urban areas, and most vans offer a driving range that will be acceptable for a day's work on a delivery route.
For van users still uncertain that an all-electric van will fit into their working lives, there are a couple of plug-in hybrid options available, too. Ford offers its mid-sized Transit Custom as a plug-in hybrid, while taxi maker LEVC now has the VN5 range-extending van, which runs on electric power, but has a petrol engine generator on board to help counter range anxiety.
Whether you choose all-electric or plug-in hybrid power, you'll find these vans offer a similar cargo volume to their diesel counterparts. Clever packaging sees the batteries often located under the load area floor, while the electric motor and auto gearbox take up less space and save weight when compared to a diesel drivetrain. This has a positive side effect, because it means payload weights don't fall drastically due to the fitment of a heavy battery.
Makers such as Volkswagen, Mercedes, Citroen/Peugeot/Vauxhall/Toyota and Fiat have taken their existing diesel vans and converted them to electric drive – a relatively easy job within the large, flat expanse of metal found in the back of most vans. But there are newcomers to the class as well. As mentioned, LEVC has adapted its range-extending taxi into a van, while Maxus has launched the pure-electric e Deliver 3, which isn't related to any other Maxus model that it sells.
Plug-in van grant: what is it and how does it work?
At the moment, the Government offers the Plug-in Van Grant, which is similar to the electric car incentive, but with a few major differences. Firstly, the discount is up to £5,000, which is significantly more than the car grant. Any electric van qualifies, and smaller vans with a gross vehicle weight (GVW) of less than 2.5 tonnes can receive up to 35 per cent of the purchase price, up to a cap of £2,500. Vans between 2.5 and 3.5 tonnes GVW also qualify for 35 per cent, but with the raised cap of up to £5,000.
Technically, a plug-in hybrid van capable of 60 miles in EV mode and with sub-50g/km CO2 emissions would also qualify for the grant, but no such model currently exists.
That's a useful saving, because electric vans are pricey when compared to diesel versions. In an effort to counter the high initial cost of an electric van, many makers like to look at the total cost of ownership (TCO) of an electric van, because while the initial outlay is high, you can save hundreds on everyday running costs, chiefly in terms of fuel costs, but also in taxes.
Are you looking for an electric van? If so, here is an alphabetical rundown of the electric vans and plug-in alternatives that are for sale now and will be coming to a van dealer near you soon.
Best electric vans 2022
Citroen e-Dispatch/Peugeot e-Expert/Vauxhall Vivaro-e/Toyota Proace Electric
Citroen e-Berlingo/Peugeot e-Partner/Toyota Proace City Electric/Vauxhall Combo-e
Citroen e-Relay/Peugeot e-Boxer/Vauxhall Movano-e
Fiat E-Ducato
LEVC VN5
Ford Transit Custom PHEV
Renault Zoe Commercial
Maxus e Deliver 3
Mercedes eSprinter
Mercedes eVito
Renault Master E-Tech
Volkswagen Abt e-Transporter
Scroll down for more details on all today's top electric van models…
Citroen e-Dispatch/Peugeot e-Expert/Vauxhall Vivaro-e/Toyota Proace Electric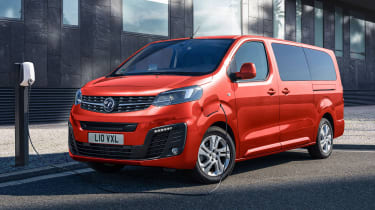 Price from: £26,450
On sale: Now
Electric range: Up to 205 miles
Cargo volume: Up to 6.6 cubic metres
Before the new electric Berlingo, Partner and Combo, the mid-sized e-Dispatch, e-Expert and Vivaro-e are due in dealers. They're available to order now, and as you can see from the figures, while these are larger vans (available in L1 and L2 body lengths and a single roof height), there's a longer range on offer. Go for the larger 75kWh battery, and there's a range of 205 miles WLTP, while even the 50kWh van manages 143 miles on a full charge.
Battery location doesn't affect carrying capacity. There's a cargo volume of up to 6.6 cubic metres if you add the optional thru-loading bulkhead, while payload weights of up to 1,275kg aren't far behind the diesel variants, either. Do be aware that carrying a full load will hamper the van's overall range, though.
Fast-charging of up to 100kW available, so you'll be able to charge the 50kWh battery to 80 per cent in half an hour, while the larger 75kWh battery can get to the same percentage in 45 minutes. There's a 7.4kW charging system fitted to the van as standard, while an 11kW charger is available for drivers on a busy schedule.
As well as the latest battery tech, these three vans are packed with safety and connectivity features from the PSA Group's car range. There's full connectivity and smartphone access to assorted functions, while a passenger carrying double cab variant offers another practical option for work users.
Citroen e-Berlingo/Peugeot e-Partner/Toyota Proace City Electric/Vauxhall Combo-e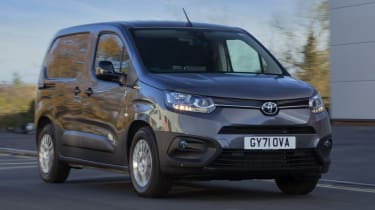 Price from: £27,000
On sale: Now
Electric range: Up to 170 miles
Cargo volume: Up to 3.3 cubic metres
The Citroen e-Berlingo, Peugeot e-Partner, Toyota Proace City Electric and Vauxhall Combo-e all share the same underpinnings, with a 50kWh battery providing a range of up to 170 miles on a single charge. It's the smallest electric van in the respective line-ups, and comes in L1 and longer L2 bodystyles, with a maximum capacity of up to 3.3 cubic metres. There's also three seats up front, so lots of versatility is packed into a small footprint.
CCS fast-charging at a rate of up to 100kW should also prove useful to operators, meaning these vans can be topped-up to 80 per cent in around half an hour – ideal for getting it back on the road for a new shift. Three driving modes adjust power between 81bhp, 108bhp and 134bhp, with the most potent giving it rather sharp responses when unladen. Most drivers will find the middle setting the smoothest.
There could also be a reason to pick the Toyota over its Stellantis siblings. Like its passenger cars, this small electric van is also covered by the brand's latest 10-year service warranty, which is significantly longer than offered with the other versions.
Citroen e-Relay/Peugeot e-Boxer/Vauxhall Movano-e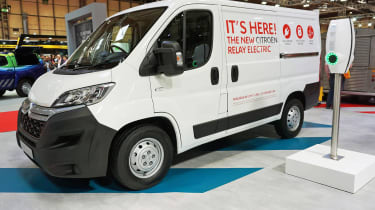 Price from: £56,723
On sale: Now
Electric range: Up to 169 miles
Cargo volume: 8 cubic metres
With vans such as the Renault Master ZE and Maxus EV80 already for sale, Citroen and Peugeot have been slower to the large electric van market. Until now, it's been down to aftermarket conversion companies to electrify the bigger models in their respective ranges, but now there's the Citroen e-Relay and Peugeot e-Boxer to fight their corners.
There are two battery options, 44kWh or 62kWh, and that means there's a maximum range of 169 miles on offer (141 miles in the 44kWh version). Like rivals, the electric tech has been fitted into the van without spoiling cargo volumes, so there's the same amount of space as you'll find in the diesel versions.
Fiat E-Ducato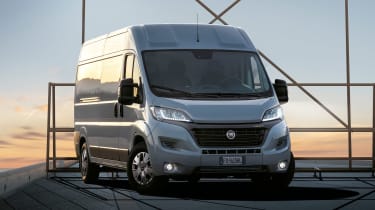 Price from: £56,625
On sale: Now
Electric range: Up to 224 miles
Cargo volume: 10-17 cubic metres
The Ducato is another van that has, until now, only ever been converted into an electric van by conversion specialists. But the off-the-shelf E-Ducato promises a wide variety of tailored options for electric van buyers. There are 3 lengths and 3 heights of panel van for a total of 28 body styles, as well as a chassis cab option and even a passenger version with up to 9 seats.
Cargo volumes are hard to fault, while Fiat also offers gross vehicle weights of up to
4.25 tonnes (licence permitting). Payloads go as high as 1.9 tonnes, too.
There's a choice of two batteries, either 47kWh or 79kWh, which offer a range of 137 miles and 224 miles respectively. Charging rates are as high as 22kW, which means an 80 per cent recharge can take as little as two and a half hours for the smaller battery (4 hours for the bigger pack).
LEVC VN5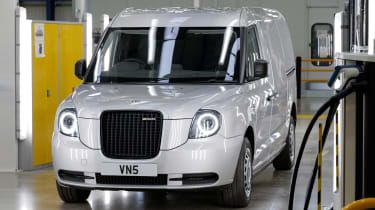 Price from: £46,500
On sale: Now
Electric range: 58 miles (300 miles in total)
Cargo volume: 5 cubic metres
A slightly different approach to plug-in hybrid van technology comes from LEVC and its taxi-based VN5 van. There's a petrol engine like you'll find in the Transit Custom PHEV, but it's a generator with power being sent to the electric motor, rather than the wheels.
There's a 31kWh battery, so the VN5 has an all-electric range of 58 miles. When the battery is flat, the engine kicks in, and the van has a total range of 300 miles. That means the VN5 is a viable everyday van that will be able to operate just like a diesel van, and if you keep the battery charged, then you might not even trouble the petrol engine on most journeys.
Inside, there's a payload of 830kg and a cargo volume of 5 cubic metres, so the VN5 isn't the biggest van around, but it should be enough for urban deliveries.
Ford Transit Custom PHEV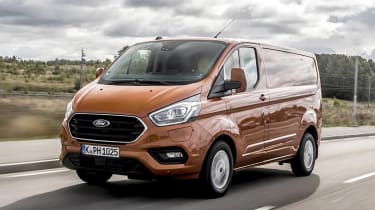 Price from: £38,075
On sale: Now
Electric range: 35 miles (310 miles total range)
Cargo volume: Up to 6 cubic metres
If an all-electric van doesn't quite fit into your business plans – you do too many longer drives, for example – then the Transit Custom PHEV could be the alternative option for you. It has a compact battery stowed under the cargo floor – so again the standard Custom's load volume is unaffected – but there's a 1.0-litre EcoBoost turbo petrol engine under the bonnet as well.
The engine can either power the van or recharge the battery (although the latter has a significant impact on fuel economy), while Ford offers a series of driving modes to help you manage energy use. Hybrid mode makes best use of stored energy between the battery and fuel tank, while there's also an EV mode – where the engine doesn't cut in until the battery is flat – and a Save function. This lets you run on engine power until you need the battery, when you reach a zero emissions driving zone, for example. Even better is the fact Ford offers tracking technology that allows you to set these functions to activate automatically as you drive.
With 35 miles of EV driving range, that's plenty for lots of short hops in congested urban areas. Add the backup of the petrol engine and you don't have to worry about running out of power.
Renault Zoe Commercial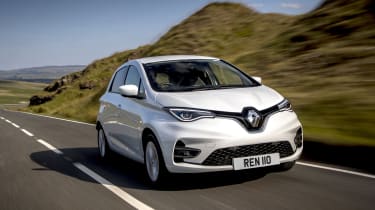 Price from: £26,450
On sale: Now
Electric range: Up to 245 miles
Cargo volume: Up to 1 cubic metre
The Renault Zoe Van went on sale in mid-2020 and is the smallest electric van for sale in the UK. It's based on the Zoe supermini, with a virtually unchanged exterior look. It keeps the Zoe's five-door shape, as well as the front cabin, so you'll benefit from the latest touchscreen technology that also features in the Clio.
Under the skin it's the same as the Zoe supermini, too, which means a 50kWh battery and adaptive charging tech that allows you to top up from a variety of sources, along with a Renault-claimed 245-mile range
There is a steel mesh bulkhead behind the front seats, while the rear seat cushions, seatbelts and all their attachments have been deleted. In place is a level floor that extends from the bulkhead to the inside of the tailgate to create a flat load area.
Maxus e Deliver 3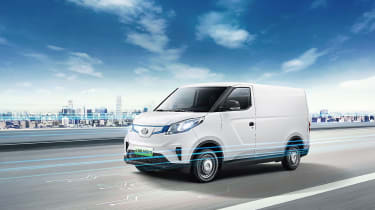 Price from: £30,000
On sale: Now
Electric range: Up to 151 miles
Cargo volume: Up to 6.3 cubic metres
The e Deliver 3 is Maxus's next-generation electric van. It's a more advanced design than the EV80, with sharper looks and improved tech on board. There are two battery options available – 35kWh and 52.5kWh – so there's a range of between 99 miles and 151 miles on offer, depending on battery and van length you go for. Payloads range from 865kg to 945kg, too.
There are a variety of charging options available, too, with a fast charge from a public DC point taking as little as 45 minutes. The 121bhp electric motor sends power to the front wheels, leaving the cargo area free of any mechanical components.
Mercedes eSprinter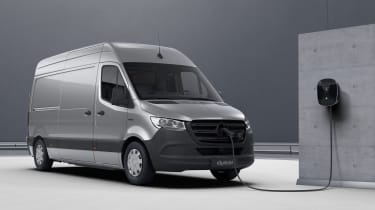 Price from: £51,950
On sale: Now
Electric range: 83 miles
Cargo volume: 11 cubic metres
The eSprinter is finally now available; we drove a prototype all the way back in 2018. At the time the company's large van used the same electric motor and battery as the smaller eVito, with a 41kWh battery offering a range of 71 miles. The production version utilises more space under the cargo floor, so it has a larger 55kWh capacity, offering a range of up to 83 miles with a 75mph speed limiter, or 96 miles with a 50mph limit. Recharging speeds of 7.2kW, 20kW and 80kW are available, with the fastest taking the battery to 80 per cent in 30 minutes.
While the battery harms payload weights, cargo volume of 11 cubic metres remains unchanged in the single bodystyle the eSprinter was set to be offered in. As with the eVito, there are drive settings that offer different levels of resistance to help replenish the battery while on the move.
Mercedes eVito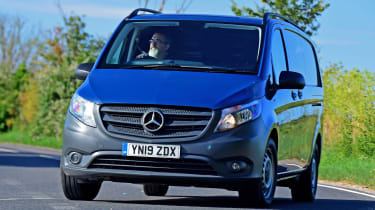 Price from: £40,895
On sale: Now
Electric range: 92 miles
Cargo volume: Up to 6.6 cubic metres
The eVito is the first all-electric van from Mercedes, and if you only do short trips, then it offers all of the benefits of the standard Vito, but with zero-emissions. The 41kWh battery is good for a range of up to 92 miles, while the van drives just like the diesel Vito, maybe even more smoothly because it's auto-only.
There are two body lengths available, and they both have the same cargo volume as the standard versions of the van, with six and 6.6 cubic metres respectively. Charging is via a socket where the diesel's fuel filler sits, and the battery can be recharged in six hours at 7.2kW, although there's no option for fast-charging. Mercedes offers three driving modes to help maintain battery charge, while different levels of resistance are on offer to help with energy recovery under braking and when coasting.
Renault Master E-Tech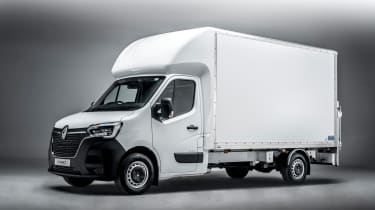 Price from: £53,080
On sale: Now
Electric range: 115 miles
Cargo volume: Up to 13 cubic metres
The Master E-Tech sets the template for the kind of last-mile delivery vans that we've seen in recent years. It offers maximum cargo volume for package deliveries, while its driving range is acceptable for a day's work. While there's an official range of 115 miles, you can expect 75 miles in regular use, or as low as 50 miles in cold weather, but then that should be enough for most daily routines. Charging takes anywhere between 6 and 17 hours.
There are two lengths and two heights of panel van on offer, and there's also a chassis cab in two lengths available for conversion purposes, so any diesel conversion you can think of can now be electrified instead.
Volkswagen Abt e-Transporter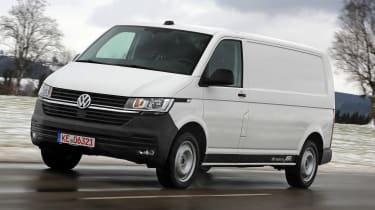 Price from: £42,060
On sale: From stock only
Electric range: 82 miles
Cargo volume: 6.7 cubic metres
The e-Transporter has been developed by independent EV specialist Abt, rather than being an in-house project. However, it's officially sanctioned by VW, so it's sold via VW dealers and is covered by the same warranty as the standard Transporter 6.1. The electric drive system is available in one body length, but also comes in five-seat Kombi spec.
The e-Transporter uses Abt's e-Line electric tech, which essentially sees the running gear of the e-Golf added to the van. There's a 37.3kWh battery mounted under the load floor, while the 109bhp electric motor drives the front wheels. That means there's a range of 82 miles, which is relatively modest, but there are multiple charging options, with high-speed CCS charging available that can take the battery from zero to 80 per cent in 45 minutes. Use a 7.2kW wallbox, and you can charge it in five and a half hours, so it'll be easy to charge overnight.
Check out the best small vans to buy now…
Source: Read Full Article