The sheer variety of mid-size SUVs on sale means buyers are spoiled for choice. Here are our 10 favourites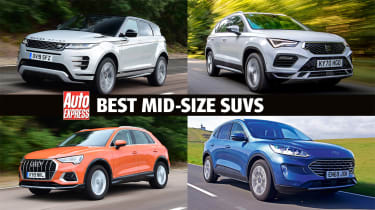 Gone are the days when a large saloon was the dream choice for those with a family, now mid-size SUVs have taken over thanks to a high driving position and an abundance of interior space.
Thanks to the growing popularity of mid-size SUVs, competition is extremely close, and each new model that enters the sector has to have genuine ability to succeed.
But what model should you buy? To help you decide we've picked out the best mid-size SUVs on sale right now, focusing on what to look for and which engine and trim combinations are the best picks.
Best large SUVs on sale 2020
Rest assured, every option in our rundown offers space, efficiency, technology, practicality, enough performance and a mix of handling, refinement and comfort in different quantities; which model you choose will depend on what you prioritise from your new-car purchase.
With manufacturers looking to shift cars to make up for interrupted sales throughout parts of 2020 due to obvious Covid-19-related restrictions, it's a buyer's market, so shop around and don't be afraid to try and negotiate a deal on a new vehicle.
Best mid-size SUVs for a family
If you're buying any car that will most likely be used as family transport, such as with one of these mid-size SUVs, the obvious thing is to take your family along when you have a test drive.
Check they'll fit, and find out if you can easily install any child seats you might be using at the time. This is often made easier with SUVs because they sit higher up from the road, so you don't have to bend down as far to install them, and the doors tend to open wide for better access. Every car in our list features Isofix mountings, and it's also worth checking that any items your kids might take with them on a family day out will fit in the boot.
How to get the best deal when buying a new car
Whether you buy with cash or on finance, if you're committing to spending a significant chunk of cash on your new family SUV then you're well within your rights to test it out. Any dealership that wants your business should oblige by giving you some time to do exactly this. Check that you and your family like the comfort on offer, too, and that everyone feels comfortable in it.
One more thing worth doing, as with any new-car purchase, is to check the spec and options fitted to the car that you test, and make a note of any features or extras that you like and feel might be a help in everyday life.
Think how you'll buy the car, too; as we've already mentioned, many purchase using finance these days because it's often easier and more convenient.
Take your time, do your research and make sure you're happy with your decision.
Top 10 best mid-size SUVs
Ford Kuga
Skoda Karoq
Range Rover Evoque
Peugeot 3008
Mercedes GLA
Audi Q3
Toyota RAV4
SEAT Ateca
BMW X1
Kia Sportage
Click the links above or scroll down to find out more about the best mid-size SUVs on sale…
Ford Kuga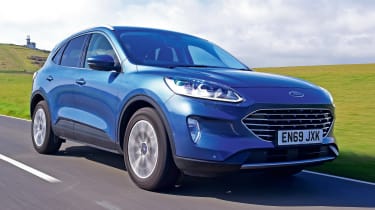 | | |
| --- | --- |
| Prices: | £26,765-£38,955   |
| Engines: | 1.5-litre petrol, 1.5-litre diesel, 2.0-litre diesel, 2.0-litre mild hybrid diesel, 2.5-litre petrol-electric hybrid, 2.5-litre petrol-electric plug-in hybrid  |
| Trims: | Zetec, Titanium Edition, ST-Line Edition, ST-Line X Edition, Vignale   |
| Economy: | 40.9-201.8mpg  |
| CO2: | 32-156g/km |
| 0-62mph: | 8.7-12.0 seconds |
Our choice: Ford Kuga 1.5 EcoBlue mHEV ST-Line Edition
It's taken a while, but finally Ford is riding the crest of a crossover wave. For years its SUVs have struggled to impress, but with the arrival of the perky Puma and capable Kuga, the firm has a pair of contenders to take on, and beat, the best.
Underlining the Kuga's credentials as a class leader is its range of electrified engines, which includes the option of mild, full and plug-in hybrid technology. The latter has had some trouble, but is in the process of being rectified free of charge to owners, with compensation from Ford, too. The PHEV can travel up to 35 miles on electricity and emits just 32g/km of CO2.
Whichever engine you pick, you'll benefit from Ford's trademark quick steering and agile handling that'll make you relish the thought of tackling a favourite back road. Yet the supple suspension and hushed refinement keep you relaxed on long-haul journeys and during the daily grind.
Inside, the Kuga combines impressive space and tech, while the slick infotainment is a doddle to use. Factor in the attractive pricing and low running costs, and it's easy to see why the Kuga is our top choice.
Click here for our in-depth Ford Kuga review
Skoda Karoq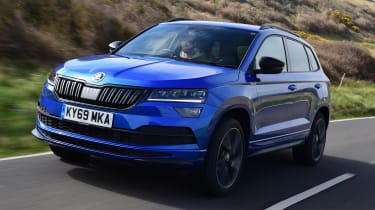 | | |
| --- | --- |
| Prices: | £22,950-£34,600 |
| Engines: | 1.0-litre petrol, 1.5-litre petrol, 2.0-litre petrol, 2.0-litre diesel |
| Trims: | SE, SE Drive, SE Technology, SE L, Sportline, Edition |
| Economy: | 32.1-51.4mpg |
| CO2: | 129-199g/km |
| 0-62mph: | 7.3-11.1 seconds |
Our choice: Skoda Karoq 1.5 TSI SE Technology
In recent years Skoda has transformed itself into an SUV specialist, offering a range of rugged family cars that effortlessly combine style, space and attractively low running costs. One of the Czech firm's standout performers is the brilliant Karoq.
As with all the best family cars, the sharp-looking Karoq feels like it's been designed from the inside out. Its spacious interior is robustly built, well equipped and features smart design, while neat details include the numerous storage compartments and, the Vario Flex sliding rear seat on some models.
There's the usual range of TSI petrol and TDI diesel engines, all delivering decent efficiency, refinement and eager acceleration – although the entry-level 1.0 TSI can struggle with heavy loads. Precise steering and grippy handling mean the Karoq is a pleasure to drive, and although the ride is a bit firm, it's by no means uncomfortable.
Factor in Skoda's usual strong display in our Driver Power satisfaction surveys, and it's not hard to see why the Karoq is one of our favourite mid-size SUVs.
Click here for our in-depth Skoda Karoq review
Range Rover Evoque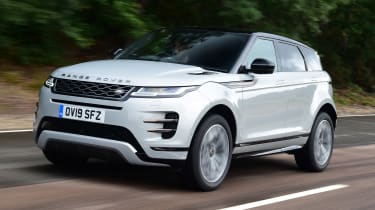 | | |
| --- | --- |
| Prices: | £31,725-£55,330 |
| Engines: | 2.0-litre petrol, 2.0-litre mild-hybrid petrol, 2.0-litre mild-hybrid diesel, 1.5-litre petrol-electric plug-in hybrid |
| Trims: | Evoque, S, SE, HSE, R-Dynamic, Autobiography, First Edition |
| Economy: | 30.9-143.1mpg |
| CO2: | 44-207g/km |
| 0-62mph: | 6.1-10.4 seconds |
Our choice: Range Rover Evoque D200 MHEV R-Dynamic SE
It's been a case of evolution rather than revolution for the latest Evoque, but given the success of the original, it's no surprise that Land Rover's bosses weren't willing to mess with a winning formula.
Softer styling and those neat pop-out door handles make the entry-level Rangie even more desirable than before, while inside it looks and feels nearly as luxurious as its full-sized brother.
It's still not quite as roomy as rivals, particularly in the back, but the extensive use of premium materials and the tech-heavy touchscreens mean the Evoque's cabin feels a cut above many premium contenders.
On the move it's more refined than ever, with low noise levels and a plush ride, even on large 21-inch alloys. Then there are the mild-hybrid engines, which are smooth, responsive and efficient, while the plug-in petrol-electric model can travel up to 40 miles between charges. This comfort and refinement come at the expense of nimble handling, the Evoque feeling more at home cruising than tackling a twisty back road. On the plus side, four-wheel-drive models are far more accomplished off road than most rivals.
Click here for our in-depth Range Rover Evoque review
Peugeot 3008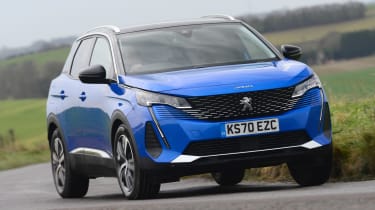 | | |
| --- | --- |
| Prices: | £27,160-£47,210 |
| Engines: | 1.2-litre petrol, 1.6-litre petrol, 1.5-litre diesel, 1.6-litre petrol-electric plug-in hybrid |
| Trims: | Active Premium, Allure Premium, GT, GT Premium  |
| Economy: | 36.1mpg-235.4mpg |
| CO2: | 29-156/km |
| 0-62mph: | 6.1-11.5 seconds |
Our choice: Peugeot 3008 1.2 PureTech EAT8 Allure
Peugeot is on a roll at the moment, and it's arguable that the excellent 3008 started it all. Now there's a still more desirable facelifted model that blends even sleeker design with the same family-friendly practicality and affordable running costs.
At the heart of the car's appeal is its distinctive interior design that manages to rival premium models for fit, finish and technology, especially the distinctive i-Cockpit layout with its 3D TFT dials and upgraded infotainment.
There's bags of space too, with loads of useful storage and a flat floor in the rear that makes carrying three adults a doddle. Open the large tailgate and you'll find a 591-litre boot – one of the biggest in the class. You sit high behind the wheel for a commanding view, and while the 3008 isn't as agile as a SEAT Ateca, the trade-off is a supple ride that effortlessly deals with rough tarmac.
There are a number of refined petrol and diesel engines to choose from, plus two and four-wheel drive plug-in petrol-electric hybrid models that claim more than 200mpg and around 40 miles of all-electric running.
Click here for our in-depth Peugeot 3008 review
Mercedes GLA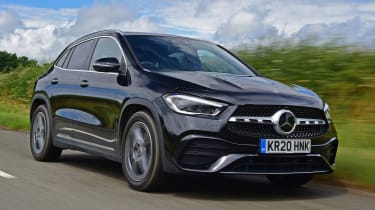 | | |
| --- | --- |
| Prices: | £31,785-£65,350 |
| Engines: | 1.3-litre petrol, 2.0-litre petrol, 2.0-litre diesel, 1.3-litre petrol-electric plug-in hybrid |
| Trims: | Sport, Sport Executive, AMG Line, AMG Line Executive, AMG Line Premium, AMG Line Premium Plus, Exclusive Edition, Exclusive Edition Premium, Exclusive Edition Premium Plus, Mercedes-AMG  |
| Economy: | 28.5-201.8mpg |
| CO2: | 32-224g/km |
| 0-62mph: | 4.3-9.6 seconds |
Our choice: Mercedes GLA 200 d AMG Line Executive
By building on the excellent A-Class hatch, the latest GLA is much more capable than its predecessor. The second-generation machine is better to drive, more refined and packed with cutting-edge technology.
Regardless of the engine under the bonnet, the high-riding Mercedes is good to drive, its soft suspension soaks up bumps yet delivers enough control for composed cornering. The wild AMG 35 and AMG 45 versions are extremely fast, but they're not cheap.
Like the hatch it's based on, the GLA is handsome and has a luxurious interior that features the firm's excellent MBUX infotainment system. There's less room in the back and a smaller boot than some rivals, but the cabin looks great and is impeccably finished.
Click here for our in-depth Mercedes GLA review
Audi Q3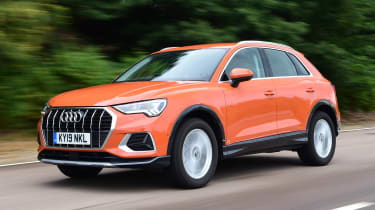 | | |
| --- | --- |
| Prices: | £30,310-£61,585 |
| Engines: | 1.5-litre, 2.0-litre, 2.5-litre petrol, 2.0-litre diesel |
| Trims: | Technik, Sport, S line, Black, Edition 1, Vorsprung, RS Q3 |
| Economy: | 28.2-51.5mpg |
| CO2: | 141-227g/km |
| 0-62mph: | 4.5-9.3 seconds |
Our choice: Audi Q3 35 TFSI S tronic S line
Compact SUVs don't come much classier than the Q3, which arguably leads the way in this sector for premium appeal. Its striking looks certainly grab attention, but it's the beautifully finished interior that's the star of the show. It's packed with top-notch materials, looks great, there's a slick touchscreen that's packed with features, plus Audi's Virtual Cockpit TFT instruments.
It's not just pretty either, because there's comfortably enough space for five, while a sliding rear bench allows you to choose between lots of legroom or a vast 675-litre boot.
Underpinned by the same MQB platform as the smaller A3 Sportback, the Q3 is comfortable and refined on the move, with a cushioned ride and low noise levels. It's not as much fun through a series of corners as the BMW X1, but it's composed and grippy, particularly if you add optional quattro four-wheel drive.
There's a choice of 1.5-litre and 2.0-litre TFSI petrols, plus a 2.0 TDI diesel. And don't forget the wild RS Q3, with its 395bhp five-cylinder engine. Currently the Q3 isn't available with the mild-hybrid engine already seen in the sleeker Q3 Sportback, but a full plug-in petrol-electric version is due in 2021.
Click here for our in-depth Audi Q3 review
Toyota RAV4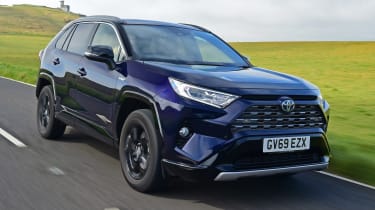 | | |
| --- | --- |
| Prices: | £31,090-£38,505 |
| Engines: | 2.5-litre petrol-electric hybrid |
| Trims: | Icon, Design, Excel, Dynamic, Black Edition |
| Economy: | 47.9-50.4mpg |
| CO2: | 126-134g/km |
| 0-62mph: | 8.1-8.4 seconds |
Our choice: Toyota RAV4 2.5 VVT-i Hybrid Design
With a history stretching back over 25 years, the RAV4 is a compact SUV pioneer. Yet Toyota hasn't rested on its laurels, and the current machine is one of the most advanced and desirable there is. Packaging an efficient petrol-electric drivetrain into a boldly styled and spacious body, the Japanese machine is cost-effective to run and hugely practical.
Like the Prius and Corolla, the RAV4 is based on Toyota's excellent TNGA platform, so it's good to drive and impressively refined. Accurate steering and good body control allow you tackle corners with confidence, yet the suspension does a fine job of soaking up bumps and potholes. Performance is surprisingly strong, too, although the CVT gearbox can send engine revs soaring, so a careful right foot is required for quiet progress.
Still, there's no arguing with the hybrid unit's efficiency, with CO2 emissions of as little as 126g/km and a claimed 50.4mpg. Build quality is excellent and Toyota's reliability record is second to none – although there is a five-year warranty. Inside, the RAV4 is more spacious than most and comes with a lengthy list of kit.
If we're nit-picking, then the infotainment is tricker to use than some, while prices rise to nearly £40,000. Yet overall the Toyota is a spacious, stylish, comfortable and efficient family SUV, plus there's a plug-in hybrid, too.
Click here for our in-depth Toyota RAV4 review
SEAT Ateca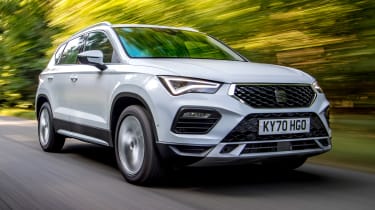 | | |
| --- | --- |
| Prices: | £23,670-£35,355 |
| Engines: | 1.0-litre petrol, 1.5-litre petrol, 2.0-litre petrol, 2.0-litre diesel |
| Trims: | SE, SE Technology, FR, FR Sport, FR Black Edition, Xcellence, Xcellence Lux |
| Economy: | 32.5-50.4mpg |
| CO2: | 141-188g/km |
| 0-62mph: | 7.1-10.7 seconds |
Our choice: SEAT Ateca 1.5 TSI Evo SE Technology
A combination of design flair, engaging driving dynamics and good value have helped make the Ateca a firm Auto Express favourite. Thanks to a recent facelift and affordable prices, the SEAT is even more appealing.
Not only does it benefit from sharper looks inside and out, there's more cutting-edge technology, including an intuitive infotainment system and the option of crisp TFT dials. Happily, the Spanish machine remains as versatile as ever, with a roomy interior packed with handy storage and a usefully shaped 510-litre boot.
Precise steering and agile handling make the Ateca more fun to drive than most, even with a ride that's a little on the firm side. If there's a black mark against the SEAT, then it's the current lack of hybrid or electric drivetrains – although the traditional turbocharged petrol and diesels are punchy and efficient.
Click here for our in-depth SEAT Ateca review
BMW X1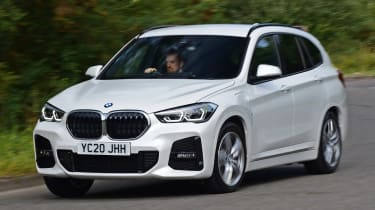 | | |
| --- | --- |
| Prices: | £29,455-£40,000 |
| Engines: | 1.5-litre petrol, 2.0-litre petrol, 2.0-litre diesel, 1.5-litre petrol-electric plug-in hybrid |
| Trims: | SE, M Sport, xLine |
| Economy: | 37.2-166.2mpg |
| CO2: | 40-172g/km |
| 0-62mph: | 6.9-9.7 seconds |
Our choice: BMW X1 xDrive20d M Sport
The entry point to BMW's SUV range is by no means the poor relation. It's not the cheapest crossover, but top-notch build quality, an interior that oozes upmarket appeal and an extensive list of kit help offset the X1's prices.
It's great to drive too, with agile handling and a range of eager petrol and diesel engines that are more efficient than most. Front-wheel drive is standard, but there is also an xDrive option that brings four-wheel-drive security. There are plenty of models to choose from, including the plug-in hybrid xDrive25e, while BMW's attractive PCP deals mean there should be an X1 to suit most budgets.
Click here for our in-depth BMW X1 review
Kia Sportage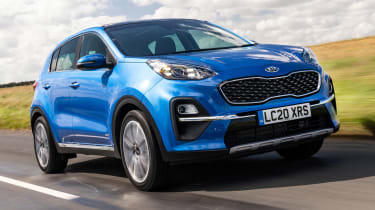 | | |
| --- | --- |
| Prices: | £23,455-£34,325 |
| Engines: | 1.6-litre petrol, 1.6-litre mild-hybrid diesel |
| Trims: | 2, 3, GT-Line, GT-Line S |
| Economy: | 32.1-52.3mpg |
| CO2: | 141-201g/km |
| 0-62mph: | 8.8-11.6 seconds |
Our choice: Kia Sportage 1.6 CRDi 48V Mild Hybrid 2
If there's one car that can be credited with Kia's transformation from budget brand to mainstream mainstay, it's the Sportage. Now in its fourth generation, the SUV's blend of style, technology and practicality makes it one of the most desirable family cars on sale.
It's been around for four years now, but the Sportage still looks sharp, while inside its well designed dashboard features plenty of soft-touch materials. There's a decent amount of space and a generous 491-litre boot, while all cars get an eight-inch touchscreen, plus a reversing camera and heated front and rear seats – there are luxury saloons out there with less kit.
It's not as entertaining to drive as a SEAT Ateca, but the Sportage is composed and comfortable. And while the turbo petrols are thirsty, the 48V mild-hybrid-equipped 1.6 CRDi diesel is smooth and frugal.
And of course the icing on the cake is the firm's famed seven-year warranty that adds unrivaled of peace of mind.
Click here for our in-depth Kia Sportage review
Looking for something smaller? Click here for our list of the best small SUVs and crossovers…
Source: Read Full Article