An ultra-comfortable ride and a premium driving experience can be yours with the best used luxury cars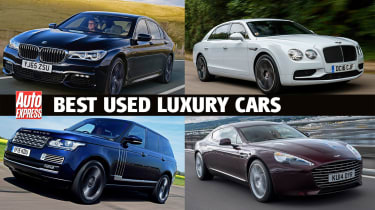 Let's face it, luxury cars are out of reach for most drivers because the very best in comfort and style always comes with a price tag to match. Most of us can only dream of affording a BMW 7 Series or Audi A8, let alone a Rolls-Royce.
However, this is where the second-hand market comes into play. Luxury cars are usually built to the highest standards with top-end materials, so they should last longer than most vehicles. And that means they'll be almost as good as new a few years down the line when depreciation has had time to set in.
Best luxury cars 2021
In this sense used luxury cars can be the biggest bargains around, with some models losing tens of thousands of pounds in value in just a handful of years. If you're an owner that's a heavy burden, but if you're a buyer it can lead to huge and tempting opportunities.
What should you look for from the best used luxury cars? Exceptional ride quality is one, interior space is another. Ease of performance is a factor too: you don't want to be revving the nuts off an engine to get up to speed if you're trying to relax on the road.
Then there are things like design, practicality and fuel economy to consider. Even luxury-car drivers don't want to be paying hand over fist at the forecourt.
To help you on your way, we've put together the following list of the best used luxury cars you can buy today.
Best used luxury cars
Mercedes S-Class
Range Rover
Aston Martin Rapide
BMW 7 Series
Audi A8
Bentley Flying Spur
Porsche Panamera
Volkswagen Phaeton
Mercedes S-Class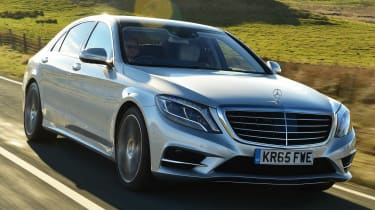 The previous-generation S-Class was our 2019 Luxury Car of the Year, so it should be no surprise to see that it's our number one used luxury bargain.
Pre-facelift versions of the Mk6 S-Class stand out as the best choice, with the silky-smooth, 254bhp S 350 d V6 diesel model representing a fabulous all-rounder. It offers performance, refinement and what could even be considered decent running costs, when you bear in mind that this is a market where whatever you buy will inevitably cost more than average to run.
The S-Class is a car that passengers will find astonishingly comfortable, thanks to a combination of brilliant body control and amazing ride quality. However, for those behind the wheel it's also a highly convincing proposition. Allied to the strong diesel power of the S 350 d is the car's composure. Don't expect the S-Class to be as strong as a BMW 7 Series dynamically, but nothing beats it as a cruiser.
Standard and long-wheelbase versions of the S-Class are in abundant supply on the used market, and we'd opt for the latter: you won't pay much more for one, but the additional space for your rear-seat passengers will allow those in the back to stretch out with limousine-rivalling rear legroom.
AMG Line cars are common on the used market, injecting one or two sporty styling touches into the otherwise vast saloon body. Many examples are high-mileage as former chauffeur and private hire vehicles, but some less-travelled cars from private sellers can be found around the same price bracket, such as the S 350 d L AMG Line we spotted, with 59,000 miles, for £21,999. However, if you want V8 petrol power, you'll have to budget more.
See the latest Mercedes S-Class prices on our sister site BuyaCar…
Range Rover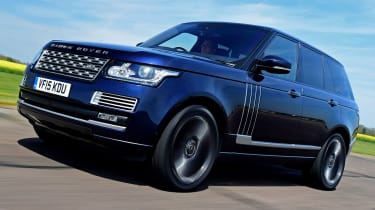 The fourth-generation Range Rover will be replaced soon, but early examples of the current model are a close match for the Mercedes S-Class. And if it's a luxury SUV you're looking for, there's simply no competition.
When the first examples of the current-generation car were delivered in the UK in 2013, buyers had the choice of two diesels or a supercharged, 5.0-litre V8 petrol engine producing 503bhp. A year later a long-wheelbase version was introduced, giving passengers an extra 186mm of legroom in the rear.
While performance from the 5.0-litre V8 is staggering, the running costs are about as high as they get for a passenger car, making the 3.0-litre V6 and 4.4-litre V8 diesels the better bet for money-conscious drivers. Comfort is guaranteed whichever variant you go for, and even the entry-level car gets a glass roof, all-round parking sensors and 20-inch alloys as standard.
See the latest Range Rover prices on our sister site BuyaCar…
Aston Martin Rapide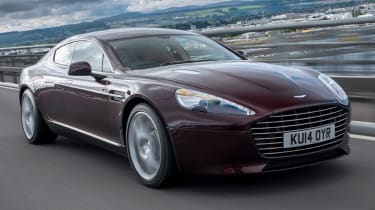 If neither the Mercedes S-Class nor the Range Rover tickle your fancy, you could try an Aston Martin instead. Prices for the four-door Rapide S have bottomed out, with pre-facelift cars now dipping below £32,000. Space for four is a little snug, with barely enough for two adults in the rear and a 317-litre boot which makes weekends away with a couple of suitcases all but impossible.
However, complaints about the legroom will quickly be forgotten as everyone becomes mesmerised by the rich V12 soundtrack. The 6.0-litre unit produces 550bhp (rising to 552bhp on cars sold after late-2014) and is as tuneful as it is powerful. 0-62mpg takes 4.9 seconds and the top speed is a heady 190mph.
The interior is adorned with leather and wood trim pieces, with a large centre console working in tandem with the unmistakable instruments. The infotainment system isn't terribly intuitive, but then Aston has never been known for its prowess when it comes to software.
See the latest Aston Martin Rapide prices on our sister site BuyaCar…
BMW 7 Series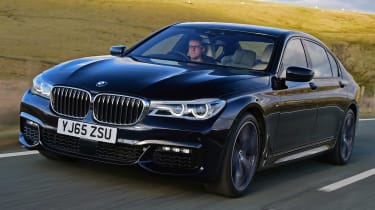 The BMW 7 Series has long been the underdog in the luxury car sector. It doesn't quite have the esteemed reputation of some of its rivals, but it definitely should: it's built to a wonderfully high standard, the engines are immaculate and efficient, and BMW's on-board technology is among the best you'll find anywhere.
The current, sixth-generation model arrived in the latter stages of 2015, with a pair of diesels making 261 and 315bhp respectively, along with a 3.0-litre, six-cylinder petrol producing 321bhp. A 4.4-litre V8 was added to the line-up not long after, with a plug-in hybrid variant coming on stream in 2016.
The diesels make the most sense from an economic perspective, as the petrols are thistier on long motorway journeys. Equipment is universally good, with four-zone climate control, heated front and rear seats and an eight-speed automatic gearbox all standard features. Run-flat tyres were also the norm, potentially saving you a lot of hassle at the roadside. However, normal rubber improves the ride.
The 7 Series' biggest attraction is its interior, which is beautifully designed and perfectly finished. The infotainment is very easy to use on the move, thanks to a dial controller that's far less fiddly than the touchscreen.
See the latest BMW 7 Series prices on our sister site BuyaCar…
Audi A8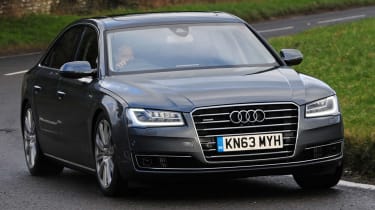 The Mk4 Audi A8 has been on sale for a couple of years, but the previous-generation car represents something of a steal given that early versions (it was first sold in 2010) can now be bought for less than ten grand. The catch is that insurance and maintenance costs are very high, so watch out for those.
When the car arrived in showrooms buyers had a choice of a 4.2-litre petrol engine or 3.0- and 4.2-litre diesels. All of them came with an eight-speed automatic transmission, while a 3.0-litre petrol was added to the line-up soon after. A long-wheelbase A8 L model became available in February 2011, offering 130mm of extra space inside. If legroom is especially important to you, keep your eyes open for one of these.
Naturally the diesel engines make the most sense, striking the right balance between performance and fuel economy. Entry-level SE cars got 18-inch alloy wheels and adaptive suspension for supreme ride comfort, while leather, electrically adjustable front seats were also standard features. If you want heated rear seats however, you'll need to look out for SE Executive trimmed cars instead.
See the latest Audi A8 prices on our sister site BuyaCar…
Bentley Flying Spur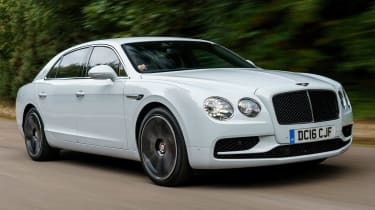 When it comes to luxury, Bentley is arguably the only brand that gets close to Rolls Royce in terms of appeal. However, the previous-generation Flying Spur added another dimension with a level of grunt that's almost surprising from a luxury saloon. Engine choices amounted to a 4.0-litre V8 with 500bhp that could hit 0-62mph, or a 616bhp W12 that could top out at 200mph. Not bad for a vehicle that weighed 2.5 tonnes. There was also a V8 S that sat between the two variants which could sprint from 0-62mph in under five seconds.
When not being pushed to their full potential, all of the engines are extremely quiet at motorway speeds, making them calm, peaceful machines for cross-country drives. The ride is very good too, although the adjustable air suspension isn't quite as sophisticated as you'll find on the S-Class.
If fuel bills are a concern for you then the Flying Spur isn't the luxury car for you: the V8 could manage 25.9mpg according to the official tests at the time. Meanwhile, the W12 was good for just 19.8mpg, translating into less than 400 miles per fill-up.
See the latest Bentley Flying Spur prices on our sister site BuyaCar…
Porsche Panamera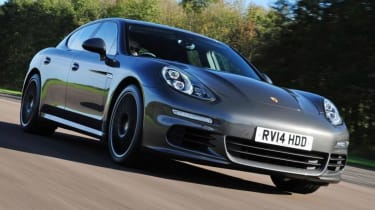 There isn't a car on this list that can't be driven harder than most chauffeurs would dare when required, but if you want a luxury car that truly delivers when it comes to handling, then look no further than the Porsche Panamera. The first-generation model (2010-2016) was brilliant in this regard, without falling short in any of the other areas that you'd expect a car like this to major in.
When it arrived the only engine available was the 3.6-litre V6 petrol with 292bhp, although that quickly grew to include a hybrid model and a Turbo S with a 4.8-litre V8 that had 535bhp at its disposal. In 2011, diesels were added to the line-up too.
These days you can acquire early models for less than £20,000, although bear in mind that the Panamera costs anywhere between £495 and £1,895 to service. And fuel bills and insurance into the equation and you'll end up with some very high numbers indeed.
At least you get plenty of mod cons as standard, and a 445-litre boot that (while not overly generous) is more spacious than some of the car's main rivals. The interior is fabulous too, giving every journey a sense of occasion.
See the latest Porsche Panamera prices on our sister site BuyaCar…
Volkswagen Phaeton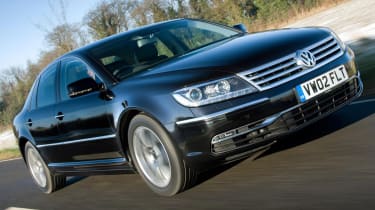 The Volkswagen Phaeton is a leftfield choice as a luxury vehicle, especially given that it hardly set the world alight when the final-generation model was in production between 2010 and 2015. Even then it lagged behind its main rivals, with relatively plain styling and a price tag that didn't seem to justify what the car could offer.
However, as a used car it makes a lot more sense. We found examples from 2014 for under £10,000 with a fairly reasonable 75,000 miles on the clock. And given Volkswagen's usual build quality, you can expect the exceptional levels of comfort and refinement to be as good as when the car rolled out of the factory.
The Phaeton also had oodles of interior space going for it, meaning passengers had room to stretch their legs and – with 500 litres of boot space – chuck their luggage in the back with room to spare.
Sure it isn't much to look at, and the interior isn't very inspiring, but if you've got a strict budget the Phaeton will go a very long way indeed.
See the latest Volkswagen Phaeton prices on our sister site BuyaCar…
Source: Read Full Article