We test the best wireless charger phone holders to find out which you should buy to keep your phone topped up on those long car rides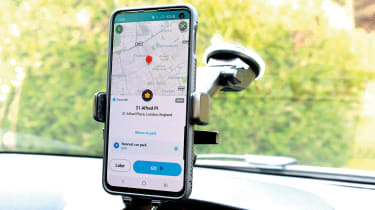 A huge number of smartphones can 'fast charge' nowadays, but to make best use of that ability, you really need a suitable charger. Using a wireless device (whether it's an inductive charger or a QI-type) makes it easy to keep your smartphone topped up while driving, so we tried eight wireless phone chargers to find the top performer.
In general, screen and dash mounts are more stable and easier to see, but they take up some windscreen area. A vent mount is less obtrusive, but isn't as easy to see or fix in place, and it tends to wobble more over bumps.
Fast chargers usually claim a 7.5-Watt charging rate for later iPhone models, while Android devices work at 10W. If the holder you choose doesn't have a USB adaptor, pick one that runs at 9 volts, otherwise charging will be slow or might not work at all.
How we tested them
We assessed the practicality of each holder, starting with the ease of installation and removal. The presence of a USB adaptor was a plus point, while phone security and stability while driving, and overall build quality were rated.
Our products were tested with a Samsung S10e smartphone, which is an Android device with a 3100mAh battery. We charged the phone for 30 minutes without a load, and then we did the same again while using a sat-nav app. In each case we noted the percentage gain in battery charge. Fitting positions were on an air vent, windscreen or the dashboard, and the more options that each product offered, the better. We used the supplied leads or a 9V USB adaptor where necessary.
Verdict
The top four were very evenly matched. The iOttie stays at the top by a whisker from the Trust Yudo 10 and the 4Smarts Voltbeam 2.
iOttie Easy One Touch
Trust Urban Yudo 10
4Smarts VoltBeam Sensor 2
Reviews
iOttie Easy One Touch Car Holder & Qi Wireless Charger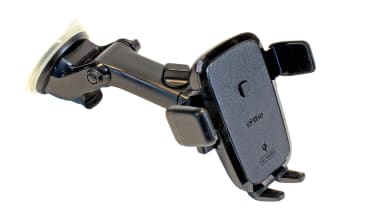 Price: Around £45
Rating: 5 stars
Mounting: Windscreen/dashboard
Contact: www.mobilefun.co.uk
The current champion produced the best charging figures of 20 per cent unloaded and 18 per cent under load, and we liked its stability and multi-way adjustment on either the dash or screen. It was easy to fit and remove the phone one-handed thanks to the spring-loaded, manual arms and central auto locking button. The adjustable foot held the phone safely in place, and the USB adaptor on a flying lead featured a standard USB socket for charging at a lower rate. A power lead length of 1.1 metres is a bit mean, but with its two-year warranty, this is still a winner.
Buy now from Amazon
Trust Urban Yudo 10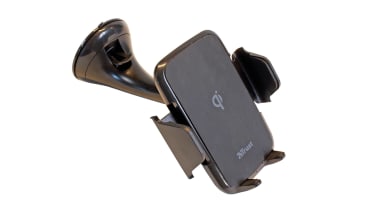 Price: Around £33
Rating: 4.5 stars
Mounting: Windscreen/dashboard/air vent
Contact: www.trust.com
This was one of only two devices to offer all three mounting positions, and it came with an impressive 1.5-metre power cable, although it didn't have a USB adapter. We found it stable when using the rubber sucker on the screen or dash, and the air-vent mount was also solid. We'd have preferred the spring-loaded arms to be damped, and the foot wasn't adjustable. A combined charge figure of 32 per cent was good, but six per cent off the best. It came close to winning, and for anyone needing its versatility, it's a keenly priced option.
Buy now from Amazon
4Smarts VoltBeam Sensor 2 Wireless Fast Charging Car Holder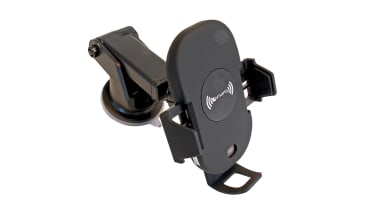 Price: Around £40
Rating: 4 stars
Mounting: Windscreen/dashboard/air vent
Contact: www.mobilefun.co.uk
Ideal for gadget freaks, the 4Smarts used a sensor to open the arms automatically as the phone approached, and closed them after a second or so. A button at the side released the arms, making fitting and removing easy, and it retained some power for use out of the car. Charging results of 15 per cent and 18 per cent were good, and the cradle had lots of adjustment, but it didn't have a USB adaptor, and the one-metre cable was short. It's a similar design to the iOttie with the addition of a vent mount, but the main bracket was 15mm longer, so it was a little less stable.
Buy now from Amazon
Arteck 10W Wireless Charger Car Mount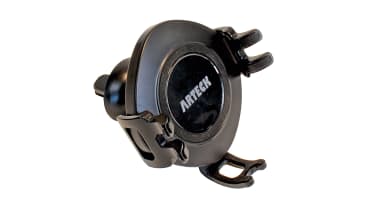 Price: Around £16
Rating: 4 stars
Mounting: Air vent
Contact: www.amazon.co.uk
Another product boasting an impressive two-year warranty, we were impressed with the way the strong, push-button clamp locked firmly on to the vanes. It was one of the most stable air vent holders we've tried and the charge results of 17 per cent and 18 per cent were very good. The rubberised arms protected the phone but had to be prised apart against a strong spring, which required two hands and felt old tech when compared with some rivals. It didn't come with a USB adaptor, which adds to the price, but that's not much of hardship, because it was the cheapest on test by some margin.
Buy now from Amazon
Groov-e Wireless Car Mount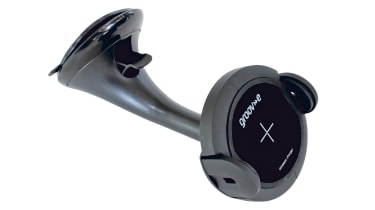 Price:  Around £23
Rating: 4 stars
Mounting: Windscreen/air vent
Contact: www.groov-e.co.uk
It's Groove-e by name and groovy by nature here, with its infra-red auto-operating arms, which opened magically as the phone approached and retracted once it was in place. It handles phones from 60-90mm wide, making it suitable for most on the market. Unlike the Best Wireless, we had to press (rather than just touch) a button to release the arms, which was no problem, although we had to be ready to grab the phone, because there was no supporting foot.
When charging at 9-10V, its no-load test was excellent, matching the mighty iOttie at 20 per cent, and it saw a very good 16 per cent in the sat-nav app test. But we thought its lead length was a bit mean, at 98cm. With two mounting options, the price was keen and it was the cheapest auto-opener we've tried, but it didn't include a suitable fast-charge adapter, which needs to be factored in.
Buy now from Robert Dyas
Best Wireless F1 Auto Induction Wireless Charger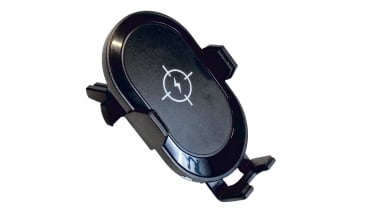 Price: Around £40
Rating: 3.5 stars
Mounting: Air Vent
Contact: www.bestwirelesscharging.com
This Best Wireless was rather bigger than most vent-mounts, making the phone more stable, and we liked the foot, which made dropping the phone unlikely.
Using an infra-red sensor, the arms welcomed the phone and then closed really securely. Just a gentle brush of a finger released it and, unlike the Groov-e, it stayed live for a while after the ignition was turned off – a great feature for the forgetful. The charge results were very good, at 18 per cent and 16 per cent for no load/nav app, but it's a bit pricey – and more so if you need an adapter.
Cygnett Race 10W Wireless Car Charger and Mount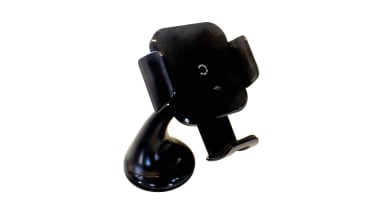 Price: Around £60
Rating: 3.5 stars
Mounting: Windscreen
Contact: www.uk.cygnett.com
In many ways an impressive unit, this gave great charging performance of 18 per cent and 18 per cent. It stuck to the screen with a gel-type suction grip, and the one-piece bracket was extremely stable, largely unaffected by bumpy roads. We thought it a shame that it wasn't also designed to mount on the dash, but we liked the 1.5-metre power cord – long enough for most situations – and the nicely damped arms, operated by a rear-mounted button. We thought the build quality was impressive, but its price remains a hurdle, despite it including a 9V, QC 3.0 USB adaptor.
Buy now from Robert Dyas
Anker PowerWave Fast Wireless Car Charger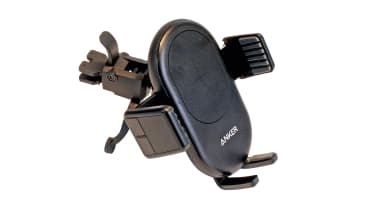 Price: Around £30
Rating: 3 stars
Mounting: Air vent
Contact: www.anker.com
Anker's vent-only holder was well built and technically excellent, with results of 19 and 18 per cent being the second best on test. Using it single-handed was easy, thanks to its adjustable foot and button-operated and damped arms. There were two mounting options, the first being a simple clamp with two grip modes, which stayed put but wasn't totally stable. The second added a tripod-style brace which was better, but the rubber clamps weren't as tight on the vane. The lack of stability and USB adaptor lost it points, despite the 18-month warranty.
Buy now from Amazon
Connects 2 Universal In-Car Charging Pocket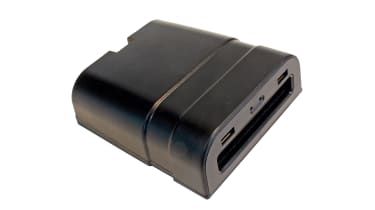 Price: Around £79
Rating: 3 stars
Mounting: Various
Contact: www.halfords.com
Although this device both held and charged the phone, it was unusual in that you couldn't use the phone screen in the process. Either side of the red/blue LEDs was a pair of 3A combined, USB sockets for (non-fast) charging other devices. Connection was by a CLA on a short 70cm cable, or by wiring directly into the car via a separate lead. It managed reasonable 15 per cent and 16 per cent recharge rates, and for anyone not needing to see their phone it would be a handy product to have tucked away in the glovebox. But it could do with being cheaper.
Buy now from Halfords
Take a look at the winners of the Auto Express Product Awards here. 
Source: Read Full Article