Editor-in-chief Steve Fowler hopes the new Citroen Oli concept follows the Ami to production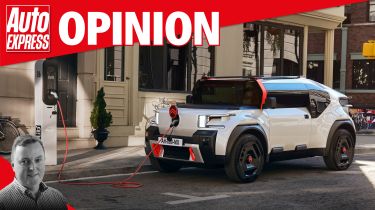 Normally you'd look at a concept car like the Citroen Oli and regard it as pie-in-the-sky thinking. After all, we see enough concepts that bear no relation to anything we might actually be able to buy.
However, Citroen is different, ploughing a clear path towards value, style and sustainability. I'm liking what I'm seeing these days from the French brand that is fast reclaiming its crown as the king of original thinking. If it can put a car like the brilliant little Ami into production, why not the Oli?
New Citroen Ami 2022 review
What I like most about the Ami is the purity of its purpose: it's a city car plain and simple, with no illusions of being anything else. Having that clear vision allows the designers and engineers free reign to do what they do best – innovate. They've come up with solutions that keep the costs down, improve usability and make the car desirable, so people want to buy and live with it, too.
Oli has that same purity of thought. The thinking is around cost-effective, sustainable family transport that'll make life easier for normal people doing normal things. And they can have fun when they're doing it.
It might not be the most appropriate Citroen to take on a long family holiday, but for doing day-to-day things – and encouraging people towards electrification by making it affordable – it could be the perfect solution.
Sadly, Citroen is sticking to its guns and saying that the Oli won't make it into production. But there's hope – the same was said when we first saw the Ami One concept, and look what happened about a year later…
Even if you don't see an Oli on the streets near you, Citroen promises plenty of the thinking behind it will filter through to production cars. Either way, what we're seeing from the firm right now is the brand positioned in a way that marks it out as different and desirable in an increasingly homogenised car market. The spirit of Ami is alive and well in Citroen and we want to see more of it.
Would you like to see the Citroen Oli concept make production? Let us know in the comments section…
Source: Read Full Article