The tiny, funky My Ami Buggy is back by popular demand 

The Ami quadricycle spawned an off-road inspired version earlier this year called the My Ami Buggy. The wild design stayed true to its concept car form and all 50 units sold out within 20 minutes. 
Citroen has just announced that 1,000 more examples will be made, under the title of My Ami Buggy Limited Edition. The French firm also hinted at some changes, saying, "The new limited-edition version will be very similar to the first edition, but with a few surprise features over the current model." It hasn't supplied details on the additional features, but a few tweaks were made to the Ami's battery in October 2021 to optimise cold-weather performance, and those adjustments will surely come to the Buggy.
New Citroen Ami on sale in the UK now from £7,695
Citroen's desire to bring the Buggy to the UK is less certain. The brand's UK's managing director Eurig Druce has said previously that there's "every conceivable chance we could see future versions of My Ami Buggy on sale in the UK", if customer interest is there. But don't forget that it took significant lobbying to get the regular Ami to come to the UK in the first place.
Citroen claims the 2023 Buggy will go on sale at the end of the first quarter of 2023 in 'several countries where the Ami is marketed'. My Ami Buggy will be available to customers on a first-come, first-served basis, with deliveries beginning in summer 2023. 
Based on the even tougher looking My Ami Buggy Concept revealed late last year, the production version retains several elements of the one-off show car. Though its stance and ride height revert to mirror those of the regular Ami.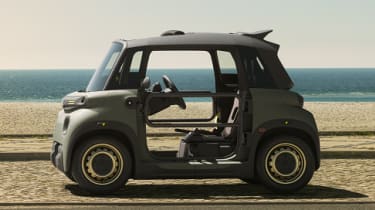 The most obvious visual cue that you're looking at the Buggy version is the removal of the Ami's doors, in favour of metal tubing. A detachable soft-top also features – a nod to the Citroen Mehari – which can be rolled up and stored behind the two seats. The chunky off-road tyres of the concept version have been replaced though, with new 14-inch steel wheels finished in gold taking their place. 
The production version does without a front bullbar and protective grilles for the lights, but the My Ami Buggy features extended black plastic wheel arches and black tinted front and rear protective skid plates.  
The concept's strong yellow interior scheme has been toned down, but many exterior and interior yellow touches remain, and the seats are trimmed in black material with contrasting yellow stitching. 
No technical details or prices have been announced, but the model almost certainly uses the same powertrain as the regular Ami, utilising a 5.5kWh battery for a maximum range of 46 miles on a full charge, and a top speed of 28mph. 
Do you prefer the Citroen Ami with or without the off-road add-ons? Let us know in the comments…
Source: Read Full Article