Volvo will grow its SUV offering with a new compact 'XC20' model on a new electric car platform and it's released the first teaser image.

Volvo is pushing ahead with plans for a smaller SUV, potentially badged XC20. The company boss had previously confirmed that the new XC20 will be one of the first cars based on the new pure-electric platform developed by the Swedish brand's owner, Geely. Now, in the wake of Volvo's announcement that it will sell only electric cars by 2030, we have our first teaser image of the car – an overhead view of the smaller model as part of Volvo's future model range. 
The Chinese conglomerate unveiled the EV-specific underpinnings, called Sustainable Experience Architecture (SEA), at the 2020 Beijing Auto Show. The technology was showcased using a concept from Lynk & Co, but speaking to Auto Express, Volvo boss Hakan Samuelsson admitted that his engineers are also working on models based on SEA – and that the much-rumoured baby SUV, first revealed by Auto Express last year and previewed by our exclusive image, will be one of them.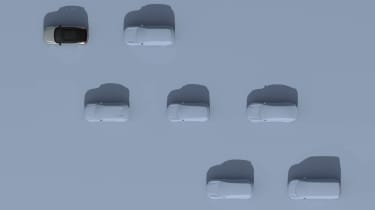 "We will also use SEA," Samuelsson said. "We'll use it for a smaller car, where I think it's very practical and smart for us to share that, so we can have a cost structure for a smaller car that's very competitive. It's difficult to push the CMA platform [the XC40's chassis], which is a combination platform for EVs and combustion-engined cars, further down. So if you want to do a smaller car than XC40 then SEA can do it. We will use it for that."
In 2019 Samuelsson hinted at a smaller model, suggesting, "Small cars can also be premium. Just because you have a small suit, it doesn't have to be polyester." Now he says that Geely's investment in SEA means that it can support a car carrying the Volvo badge. "We can build a very premium Volvo on SEA," he said. "We'll do it together with Geely, so it's very natural. We're cooperating on this. We developed CMA in Gothenberg, although it was financed jointly. But SEA has been developed in China, and with Chinese suppliers you get a very good cost structure. But with a Volvo top hat on."
New Volvo XC100 flagship planned for 2022 debut
Samuelsson also admitted that the first Volvo sub-40 model is indeed likely to be a small SUV. When asked if this body style was in the plans, he replied, "Yes – good guess! It has to be premium, and SUVs are very popular, but it should be all-electric too. I think the SUVs in the future might not be exactly as SUVs are today. Ground clearance and off-roading capability are probably not the most important things now."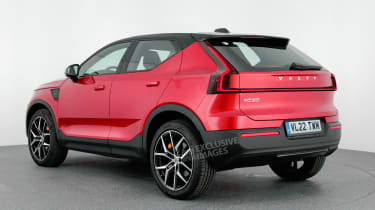 Best crossover cars and small SUVs 2021
Volvo has trademarked various XC names, including both XC10 and XC20 – but Samuelsson declined to give the new model a specific badge just yet. "Let's see what it will be called," he said, "but it will be a car that's definitely in line with customers' expectations."
No time frame has been given for the 'XC20', but Samuelsson confirmed that it is one of the cars at the heart of Volvo's plan to fill half of its sales volumes with pure-electric models by 2025.
What do you think of the new XC20? Let us know your thoughts in the comments section below…
Source: Read Full Article