Black-pump cars might be on the decline but these super-fast diesel models show that oil burners aren't going down without a fight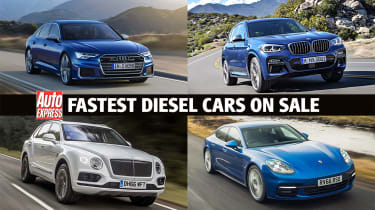 Yes, diesel has taken a beating from European legislators resulting in a major slump in sales but there is life in the old girl yet. Brand new diesel cars are cleaner than ever with NOX and particulate emissions levels very similar to petrol equivalents and a definite advantage on fuel economy and CO2. For those who cover higher mileages, diesel still makes sense and there are plenty of models with a serious turn of speed adding to their desirability. It's these fast diesel cars we're looking at here.
The massive fallout from dieselgate and stricter tailpipe emissions testing has certainly damaged diesel's reputation and smaller diesel cars are becoming increasingly rare on the UK market as buyers turn to petrol hybrids and electric models. In larger cars, however, the fuel still offers a mix of performance and economy that appeals and there are some compelling options in our fastest diesel cars list.
Best performance cars 2021
Diesels, by their very nature, promise high fuel economy and relatively large amounts of torque, normally helped by a turbocharger or two. In the run-up to the 2030 ban on the sale of petrol and diesel cars there are still plenty of manufacturers that see the value in this mix of qualities. 
The market is predominantly led by German brands – think BMW, Audi and Mercedes – but this is no bad thing as their efforts are really quite impressive. Prices can soon reach dizzying heights but in return buyers get rapid performance, plush interiors and plenty of badge equity. In terms of bodystyles, the choice ranges from fast estates, saloons, coupes and SUVs so there should be something to suit most requirements.
To pull together our list of the fastest diesel cars we laid down a few criteria. Firstly, each model had to be something that Joe Public can actually buy from the manufacturer – no one-off special editions or tuned models from famous names like Alpina or Brabus. Secondly, each car had to be a maximum of three years since launch as the latest diesel engines come with the most up-to-date emissions control technology. Most, but not all, of the cars on our list are still available new. 
The list is ordered according to 0-62mph performance and anything that took longer than five seconds didn't make the cut, giving an indication of the kind of pace on offer. Matching the impressive acceleration figures are the power outputs – the least powerful diesel here comes with 309bhp and the most powerful has 429bhp. As for torque, well these cars get dangerously close to four-figures, with more than one entry claimed to produce 900Nm. Read on to find out more about the fastest diesel cars…
Fastest diesel cars
Porsche Panamera 4S – 4.3 seconds
Audi S4 saloon – 4.6 seconds
BMW M340d – 4.6 seconds
BMW 435d xDrive – 4.7 seconds
Bentley Bentayga – 4.8 seconds
Audi SQ8 – 4.8 seconds
BMW 840d xDrive – 4.9 seconds
BMW X3 M40d – 4.9 seconds
Mercedes CLS 400d – 5.0 seconds
Audi S6 saloon – 5.0 seconds
Porsche Panamera 4S 
Porsche tops the chart for fastest diesels, even if its V8 saloon is no longer being produced as a derv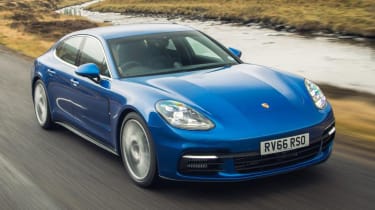 0-62mph time: 4.3 seconds
Top speed: 177mph
Power: 416bhp
Torque: 850Nm
From launch Porsche's diesel-powered Panamera 4S was met by reviews that praised its breadth of abilities – including its pace, its space and its grace. Sure, it was expensive but a couple of long straights where you can give the throttle a good prod soon make up for that. The performance is made possible thanks to a then-new 4.0-litre twin-turbo V8 diesel engine. It's twinned with an eight-speed automatic gearbox (called PDK in Porsche-speak) and sends power to all four wheels. 
Fortunately, thanks to the diesel V8 producing 416bhp and 850Nm, performance is astounding – and all the more impressive considering a 4S weighs 2.1 tonnes. Reaching 62mph from a standstill is claimed to take just 4.3 seconds, which is faster than any other mainstream high-performance diesel. Should it be safe and legal to do so, the diesel Panamera will hit 178mph flat out. Not bad for a car with a claimed economy of 41mpg. 
Porsche made sure the Panamera handled correctly in the corners, too, with twisty B roads taken in the big German's stride. When the fun is over and you once again find yourself on a motorway, the Panamera's cabin yields a great blend of comfort and quality.
Then again, all this might be expected from a car that cost almost £100,000 when new – used models can be scooped up for under £60,000, though. As a result of the falling demand for diesels, Porsche decided to drop blank-pump models from its lineup, including the Panamera 4S. As the 4S' production run wasn't terribly long it means they are quite a rare sight on the road.
Audi S4 saloon
Not that long ago Audi switched its S4 from petrol to diesel power and the result was really quite astounding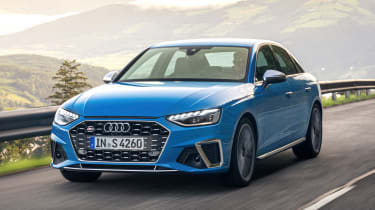 0-62mph time: 4.6 seconds
Top speed: 155mph
Power: 336bhp
Torque: 700Nm
Audi's latest versions of the S4 Saloon and Avant use a 3.0-litre V6 diesel engine (along with a 48-volt mild-hybrid system). Importantly for performance, the mild-hybrid part is responsible for driving an electric compressor which is designed to reduce turbo lag. By and large, it works. Interestingly, though, outside of Europe (in markets such as the USA and China) the S4 still comes with a petrol engine. 
Moving back to the diesel. The V6 engine produces 336bhp which is ever so slightly less than the petrol unit it replaced. Where the new diesel wins, though, is torque, which is claimed to be 700Nm. Perhaps the best thing for petrolheads is that despite being a diesel, the 3.0-litre TDI has a deep growl to match its muscular performance numbers. Furthermore, the S4 is actually quicker to 62mph from a standstill than its larger, more expensive sibling – the S6. Their times are 4.6 seconds and 5.0 seconds respectively.
All Audi S4 models come with an automatic gearbox, which is smooth and can be put into manual mode (which works relatively well) giving a motorist more control. Driving an S4 can be relatively good fun, despite the steering lacking in any real feedback. There is an optional Sport Differential that can aid in getting the back end to misbehave, but overall the S4 promises excellent levels of traction thanks to Audi's four-wheel-drive system.
Enjoyable though an S4 may be, it is arguably long schleps up and down the motorway on which the car really shines. When cruising along road noise is nice and low, the ride is composed and the engine is but a distant whisper. This leads on to another of the S4's strong points – its fuel economy. Under WLTP conditions the S4 is claimed to be capable of hitting 37.3mpg, which is very impressive for a car that will out-accelerate many petrol sports cars. 
Moving away from performance completely, the S4's cabin is a truly great place to be. Whether it is Audi's slick Virtual Cockpit (which was revised for the diesel S4) or the 10-inch touchscreen information and media display, the cabin looks bang up to date. Also, build quality is as you would expect from a £46,000+ Audi. 
BMW M340d
What do you get if you cross a premium German estate with a 335bhp diesel engine? The BMW M340d, that's what.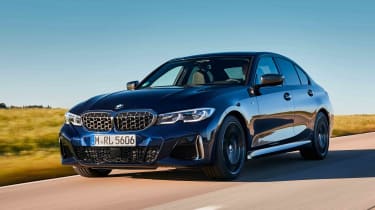 0-62mph time: 4.8 seconds
Top speed: 155mph
Power: 335bhp
Torque: 700Nm
The M340d is one of the very latest stupendously fast diesels BMW makes. It wasn't that long ago that a sub-five second 0 to 62mph time was reserved only for the upper echelons of the motoring world (irrespective of fuel type), never mind a practical compact executive saloon. A note on practicality, Touring (estate) models are available and they increase load-lugging ability but they are also marginally slower to 62mph from a standstill – 4.8 seconds rather than 4.6.
BMW's diesel 3 Series features a 3.0-litre inline six-cylinder engine that raises the stakes over the unit used in the previous-generation 335d and 435d – the latter also featuring in this countdown. Power is rated at 335bhp, torque 700Nm and top speed is limited to 155mph. 
Economy for the M340d saloon is claimed to be up to 46.3mpg (depending on specification) under WLTP tests, which is rather impressive. Much like the Audi S4, there is a 48-volt mild-hybrid system on hand to help boost fuel economy and fill in small gaps in performance. 
M340d models all come with four-wheel-drive and an eight-speed automatic gearbox which seems like the ideal combination for such a powerful yet practical car. BMW has also seen fit to include launch control, which is possibly a gimmick, but a fun one nonetheless. 
Ignoring performance for one second, the M340d is well-equipped and like the rest of the 3 Series range, well made. Equipment is strong, too and prices start at a snip over £50,000. 
BMW 435d xDrive
Sleek, fast and economical – the BMW 435d coupe is amongst the very best sporty diesel-powered cars around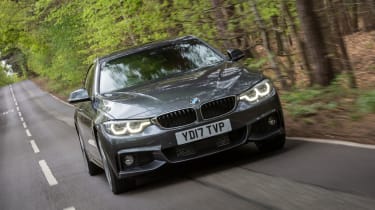 0-62mph time: 4.7 seconds
Top speed: 155mph
Power: 309bhp
Torque: 630Nm
BMW has long held a position around the top of the fast diesel tree thanks to its powerful inline six-cylinder 3.0-litre engines. This is exactly the kind of unit BMW installed in its sleek 435d xDrive coupe. For those wondering, xDrive is BMW-speak for four-wheel-drive. 
Headline figures for the 435d xDrive include a maximum power output of 309bhp, maximum torque of 630Nm and a limited top speed of 155mph. Oh and of course a 0 to 62mph time of 4.7 seconds with a claimed economy figure north of 50mpg. Out on the open road, all this translates to a thrilling driving experience, even if the steering is lacking a little in feel compared to premium coupe rivals. Compared to rear-drive 4 Series, the extra driven wheels add a certain level of security which is especially valuable in slippery conditions. 
Being that the 435d sits high up in the 4 Series model hierarchy, it is well equipped even if the interior will be familiar to anyone who has sat in other 4 or 3 Series' of the same generation. 
For some, the biggest rival to a 435d is the 435i – and it is swings and roundabouts as to which is the better car. The 'd' boasts better economy, fractionally more power and a sizable amount more torque, while the 'i' sounds better and was originally better value new (although on the second-hand market the difference is almost zero). Regardless, a new generation of 4 Series has put an end to the model highlighted here, but it's still a tempting used buy.
Bentley Bentayga
Opulent, potent and beautifully appointed, the Bentley Bentayga is a cut above many fast diesels…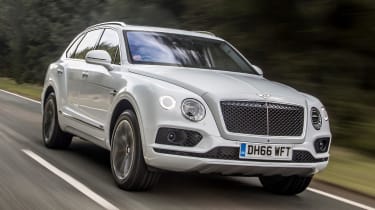 0-62mph time: 4.8 seconds
Top speed: 168mph
Power: 429bhp
Torque: 900Nm
Bentley's V8 diesel-powered Bentayga is arguably one of the most impressive adverts for the potential of diesel engines. For starters, the performance is incredible. Sprinting from 0 to 62mph takes just 4.8 seconds. Top speed is 168mph. Power is rated at 429bhp and torque 900Nm. 
The Bentayga is also beautifully appointed – hand-finished leather and wood are on the menu plus the opportunity for more personalisation than you can shake a Coutts card at. Such craftsmanship comes at the cost of weight, though, as a diesel Bentayga tips the scales at around two and a half tonnes. 
Despite this, fuel consumption of around 35mpg should be achievable with mixed driving. Compared to a VW Golf this might seem low, but consider a W12 Bentayga will barely crack 20mpg and it is clear the diesel-powered Bentley makes a strong case for itself. Bentley no longer sells a diesel Bentayga in the UK, so second-hand models are the only option. Even so, prices start at just over £90,000 for 2017 models so while Bentaygas are many things, affordable they are not. 
All diesel V8 models come with four-wheel-drive and an eight-speed automatic gearbox and to drive they are all about refinement. For example, the engine is barely audible the majority of the time. While undeniably fast, the Bentayga is relaxed in its delivery of speed, unlike a more frantic sports car. If there is one fly in the Bentayga's ointment it is that the infotainment lags behind some other upmarket cars which are considerably less expensive. 
Audi SQ8
Another big, fast, upmarket and impressive SUV from the VW-Audi Group.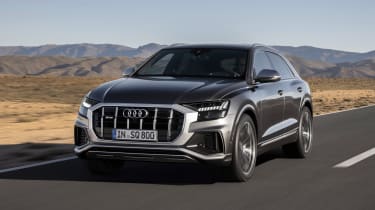 0-62mph time: 4.8 seconds
Top speed: 155mph
Power: 429bhp
Torque: 900Nm
Audi's SQ8 is an SUV-coupe that is based on the same platform as cars such as the Bentley Bentayga and Porsche Cayenne Coupe. As per all Audi's 'S' models, the SQ8 comes with sportier looks and more performance than garden variety Q8s. The performance hike is thanks to a 4.0-litre twin-turbo V8 diesel engine that benefits from a 48-volt mild hybrid system and electronic supercharger. Those paying attention will notice such a set up is used in the S4, albeit it with a V6 engine. 
Power comes in at a lofty 429bhp and torque at 900Nm. Such numbers make 0 to 62mph possible in 4.8 seconds. Flat-out the SQ8 will hit 155mph, but there is little doubt that should Audi's electronic limiter be lifted the V8 would power the German to greater speeds. For those that like the sound of an SQ8 but want more practicality there is always the SQ7, which adds a higher rear roofline but also 0.1 seconds to the 0 to 62mph time. 
Higher spec models, such as the Vorsprung cars, come with some impressive tech including rear-wheel steering and an active roll stabilisation system. As standard, though, all models get an eight-speed automatic gearbox and air suspension. Vorsprung models are surprisingly adept at tackling corners, too, masking their weight somewhat. In addition to this, thanks to large tyres and four-wheel-drive grip is abundant. 
Driving an SQ8 can produce mixed impressions largely thanks to the cabin, which is so comfortable and classy it can mute the effects of the powerful engine. For the avoidance of doubt, though, the SQ8 is a very quick car. Audi replaced the diesel SQ8 with a petrol model that brought an increase in power to 500bhp but a drop in torque to 770Nm and a drop in economy down to 23.5mpg (from 31mpg).
BMW 840d
BMW's large coupe is a class act and would be just as at home parked outside a Chelsea townhouse as it would ploughing up an autobahn at 155mph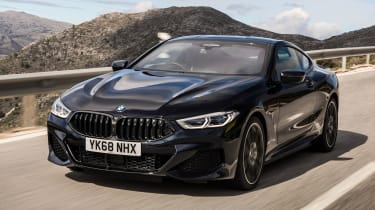 0-62mph time: 4.8 seconds
Top speed: 155mph
Power: 336bhp
Torque: 700Nm
Despite what the 840d's performance figures might have you believe it isn't an out and out sports car. Instead, it is more of a grand tourer – talented whether blasting down a back road or hopping from London to Berlin. 
Like other pacey diesel-powered BMWs mentioned here, the 840d uses a 3.0-litre straight-six engine which produces 335bhp – and has a mild-hybrid system. There was a non-hybrid model, but this is slower to 62mph from a standstill. Economy is suitably impressive, too, with the official WLTP figure coming in at a maximum of 44.1mpg.
While the 840d starts at near enough £80,000 there are still a number of optional extras which can help take it from a good car to a great car. One such example is the M Sport Pro Pack, which, amongst other things includes an M Sport Differential and M Sport brakes that both positively add to the driving experience. 
All models come with four-wheel-drive and an eight-speed automatic gearbox – a set up which seems to be common on our fast diesels. What differentiates the 840d from other rapid diesels is its style with low-slung stance and swooping roofline. This does mean that the rear seats are only suitable for Snow White's closest friends, but hey-ho, when you look that good who cares how many passengers you have. The cabin matches the exterior imagine, managing to be classy and luxurious.
BMW X3 M40d
What the X3 lacks in aerodynamics it makes up in brute force thanks to a 3.0-litre twin-turbo diesel engine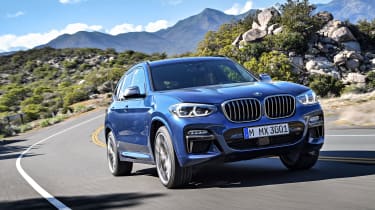 0-62mph time: 4.9 seconds
Top speed: 155mph
Power: 336bhp
Torque: 700Nm
Yes, another BMW, but this one is different as it is an SUV. That said, the X3 M40d does have a couple of similarities with the M340d. Top speed is 155mph, power is 336bhp and torque 700Nm – all courtesy of BMW's inline six-cylinder turbocharged 3.0-litre diesel engine and mild hybrid system. 
Thanks to its boxy SUV shape, the X3 isn't quite as aerodynamic as the 3 Series or 8 Series, so despite having the same power output as both, the X3 takes a little longer to get to 62mph. Even so, 4.9 seconds is mighty impressive for any car. The claimed economy is worse than its stablemates, too, with the maximum claimed figure (under WLTP testing) being 43.5mpg. 
As for gearbox and number of driven wheels, it is the popular combination of an eight-speed automatic and four-wheel-drive. While the raised ride height and xDrive do promise a certain level of off-road prowess, the X3 M40d is designed to rip up tarmac rather than dirt.  
Despite the X3 M40d losing some of the comfort of standard X3 models, the gains in performance should be enough to make up for this. Lots of speed doesn't change the BMW's core package, though, there is still a 550-litre boot, an interior of great quality and modern styling.
BMW also offers an M40d version of its X4 – which is effectively an X3 with a sloping rear roofline. It packs the same engine, same performance figures and same interior (aside from the modifications to the roof). Really it is down to whether a driver wants to pay £56,000 for an X3 or over £58,000 for a less practical version with a rakish roof. 
Mercedes CLS 400d
Yet another German carmaker with a blisteringly fast diesel in its model range, the CLS 400d has both the BMW 8 Series and Audi S7 in its sights…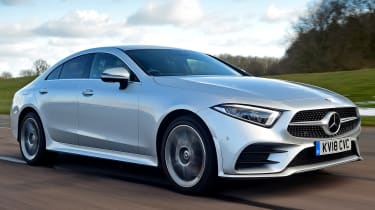 0-62mph time: 5.0 seconds
Top speed: 155mph
Power: 335bhp
Torque: 700Nm
Mercedes probably didn't see its 335bhp four-door coupe being pegged as one of the slower 'fastest diesels' with a 0 to 62mph time of five seconds, but here it is. Much like its rivals from BMW, the CLS 400d comes with an inline six-cylinder 3.0-litre diesel engine. Four-wheel-drive is also standard as is an automatic gearbox. Instead of making do with a mere eight speeds, though, the CLS 400d comes with nine. 
Fuel economy is claimed to be 38.7mpg under WLTP testing, which is impressive for the performance but does trail the fast diesels from BMW. Even so, the Mercedes is far from the runt of the large four-door luxury barge club; compared to an Audi A7 the Merc' is more enjoyable to drive thanks to a composed and responsive chassis.
The diesel engine also sounds quite appealing – almost like a deeper straight-six petrol. Also impressive is the steering, which, despite being light (things do get heavier when flicking through the sportier driving modes, though) is responsive. 
The CLS' interior is a quality affair and is similar to the E-Class and S-Class in layout – although the CLS' lower roofline does help make things feel more purposeful. The ride is fluid and it only starts to come undone when short, sharp undulations are involved. How much does all this high-performance, high-class diesel goodness cost? New prices start at just over £66,000 which is a significant saving over an equivalent four-door BMW 8 Series. 
Audi S6
More expensive and more expansive than the smaller S4, the S6 seems to pick up where its stablemates leave off…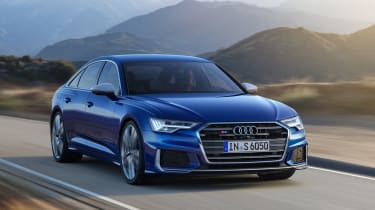 0-62mph time: 5.0 seconds
Top speed: 155mph
Power: 336bhp
Torque: 700Nm
Despite costing nearly £14,000 more than an Audi S4 the S6 is actually 0.4 seconds slower to 62mph from a standing start than its stablemate. In truth, the S6 is a bigger car and as both models come with similar power and performance figures (336bhp, 700Nm and a top speed of 155mph) it is perhaps little surprise the extra size blunts performance somewhat. 
Official fuel consumption for saloon models is claimed to be up to 40.4mpg (depending on specification) under WLTP testing. Avants (aka estate models) do lose some economy, though, with a maximum WLTP figure of 39.2mpg. Just like the other fast diesel Audis highlighted on these pages, there is a mild-hybrid system on hand to help boost performance and save fuel.
Furthermore, an eight-speed automatic gearbox is standard as is Audi's Quattro four-wheel-drive system. There are a number of performance options available although these do no favours for the list price. Example go-faster additions include rear-wheel steering and a sport differential. With these fitted, the S6 is enjoyable to drive – a significant improvement over some previous generations of fast Audis. 
The S6 is also very smooth out on the open road – especially at motorway speeds. That is, until the mood takes you because when the diesel V6 is provoked it erupts with a wave of torque. Add-in a classy cabin and the S6 is a great place to be for any journey. Digging a little deeper into the interior, all the areas drivers touch regularly are made of high-quality materials, and the dash is clean and unfussy.
Interested in a diesel car? Check out the latest deals on our sister site BuyaCar.co.uk
Source: Read Full Article