Vauxhall's sister brand puts first fuel-cell Vivaro-e van into service with Miele, with right-hand-drive models due to arrive in the UK in 2023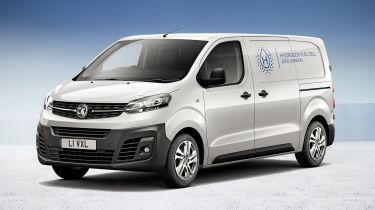 Vauxhall's European counterpart, Opel, has become the first manufacturer to produce and sell a hydrogen fuel-cell van for commercial use. The Vivaro-e Hydrogen joins its battery-powered equivalent and will arrive in the UK in early 2023.
The first example of the Vivaro-e Hydrogen will begin service with domestic appliance maker, Miele, in the Rhine-Main region of Germany. The vehicle will perform "daily field service" in the firm's domestic market.
Vauxhall's right-hand-drive equivalent is not due to arrive in the UK before early 2023. The Luton brand is "actively speaking to business customers in the UK now" regarding the fuel-cell van.
Best electric vans 2021
"The new Vivaro-e Hydrogen perfectly meets the requirements of fleet customers," claimed Opel's head of development, Marcus Lott. "The hydrogen van is the ideal solution for driving long distances with zero-emissions-in-use as well as for transporting larger loads without losing time while charging the batteries."
Vauxhall's new commercial fuel-cell electric vehicle (FCEV) is based on the same platform as the battery electric Vivaro-e, and it uses the same front-mounted electric motor too, rated at 134bhp in the Vivaro-e but unconfirmed in this Hydrogen variant. However, in place of the large underfloor battery is a smaller 10.5kWh unit mounted beneath the front seats, which is constantly charged by a 45kW fuel cell.
The fuel cell is fed by three 700-bar hydrogen tanks that can be refilled in three minutes at a hydrogen refuelling station. Vauxhall claims a maximum range of 249 miles, eclipsing the 205 miles claimed by the largest 75kWh battery version of the Vivaro-e.
The Vivaro-e Hydrogen will come with plug-in support too, so can run using battery power alone for a maximum range of 31 miles.
Perhaps more importantly for users, the packaging of the hydrogen drivetrain does not change the carrying capacity of the van – the cargo volume of 6.1m2 is level with diesel and battery-electric versions of the Vivaro. Maximum payload stands at 1,000kg.
"We are already in contact with UK fleet operators that want to go the extra mile on sustainability and we look forward to bringing Vivaro-e Hydrogen to the UK soon," said Paul Willcox, managing director at Vauxhall.
Read more about why the Vauxhall Vivaro-e is our 2021 Electric Van of the Year…
Source: Read Full Article