A return to frigid temperatures across the UK means the start of a new Winter season in Forza Horizon 4. Dig through the snow and you'll find the latest selection of events to keep you busy.
It's a second week with no new content, but there is a chance to win a Porsche SUV and a classic Ferrari. There's also more Playlist prizes available for 50% and 80% completion.
Porsche Playtime
Leading the charge for the Playlist prizes this week is the 2011 McLaren 12C. Woking's first road car since the F1 — or technically ever, as the modern company only came into existence in 2010 — was conceived to square up to the Ferrari 458.
Bristling with technology learned from Formula 1, the 12C also features a 3.8-liter, twin-turbocharged V8 making 592hp. Along with active aero and clever suspension, McLaren ensures the 12C will leave the 458 in its wake at every turn.
If you're low on Horizon Backstage Passes, a fresh one is available once again for this week. The newest Winter Photo Challenge will need you to partner up with someone. #Duos asks you to find another player or Drivatar and photograph yourselves together at the Express North Rail Yard.
Seasonal championship prizes include the Renault Clio 197 and a classic racing suit for your avatar as part of the prize pool.
One prize worth looking at is the 2019 Porsche Macan Turbo. The facelifted variant of Stuttgart's popular mid-size SUV comes with a comprehensive performance upgrade of the previous version. Out goes the 3.6-liter, twin-turbocharged V6 in favor of a smaller, 2.9-liter unit. The end result is that power goes up to 434hp, measning a much faster school run.
You'll need to win the "Going Uptown" championship to acquire the Macan.
The latest update to Super7 this week has the Lamborghini Veneno as the completion prize. Get through all seven challenge cards to win this very angular supercar.
You can find Winter's events and prizes below.
Downhill Dash
Series: Dirt Racing Series
Cars: Rally Monsters
Restrictions: S1 Class, 900 PI
Prizes: 15,000 CR, 25,000 CR, Volkswagen Global Rallycross Beetle
Going Uptown
Series: Road Racing Series
Cars: Sports Ultility Heroes
Restrictions: A Class, 800 PI
Prizes: 15,000 CR, 25,000 CR, 2019 Porsche Macan Turbo
Micro Street Scene
Series: Street Scene
Cars: Microcar Mayhem
Restrictions: C Class, 600 PI
Prizes: 15,000 CR, 25,000 CR, Ferrari 166MM
The Trial: Golden Age Muscle (Co-Op Championship)
Series: Road Racing Series
Cars: Classic Muscle
Restrictions: B Class, 700 PI
Prizes: Classic Race Suit
Winter Games – Series 32
Series: Playground Games
Cars: Hot Hatch
Restrictions: B Class, 700 PI
Prizes: 2007 Renault Sport Clio 197
Super7 – Winter
Completion Prize: Lamborghini Veneno
Bamburgh Dunes Speed Trap
Season Objective: 225 mph
Rail Yard Ramp Danger Sign
Season Objective: 774.3 ft
Crescent Speed Zone
Season Objective: 106 mph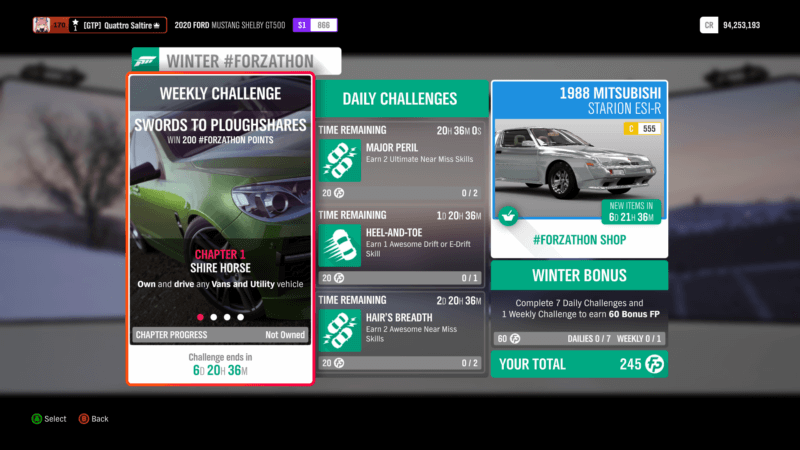 Forzathon Events
Forzathon is all about workhorses this week, with the spotlight turning to Vans and Utility vehicles. Jump aboard one to kick things off.
Next up, take your commercial vehicle out for drive across the UK. You'll need to cover a distance of 13.1 miles to progress. Afterwards, take some brave pills and don't let traffic stop you from earning five Threading The Needle Skills.
Finally, finish off this week by landing a 3-star jump at the Rail Yard Ramp Danger Sign. Some extensive tuning will be required for this last challenge.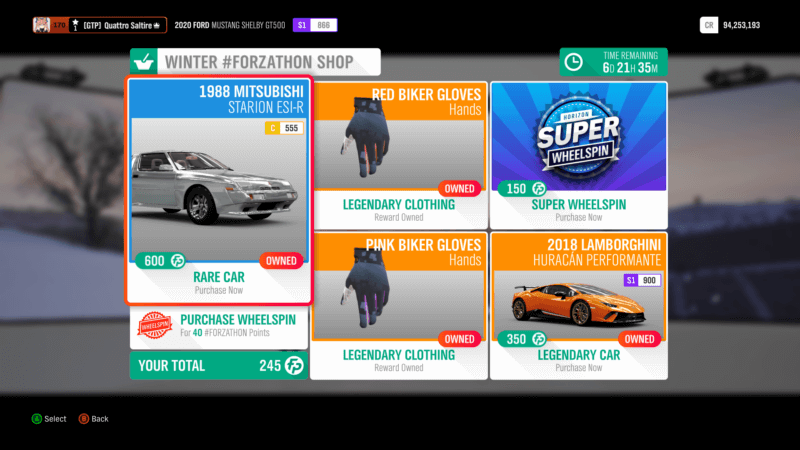 Forzathon Shop
A classic Mitsubishi leads the shop lineup this week with the 1988 Starion ESI-R. The final rear-wheel-drive car from the brand captured the essence of 1980s Japanese madness. Featuring a 2.6-liter turbocharged engine, the Starion makes 188hp. With some upgrades, you'll be able to extract much more.
At 600 Forzathon Points, the cost may seem steep, but you'll end up with arguably the coolest Mitsubishi ever made.
On the higher end of the performance scale is the 2018 Lamborghini Huracan Performante. Putting the Huracan on a crash diet has resulted in an 88lb weight reduction along with much more aggressive styling. The 5.2-liter V10 has also been boosted to 631hp.
That's not the whole story though, as the Huracan's party piece comes from clever active aero, contributing to a 750% increase in downforce over a standard Huracan. Along with four-wheel drive on the icy roads, the extra downforce will be a welcome addition.
At 350FP, the Huracan is relatively cheap, considering it's become one of the fastest track-focused supercars around.
Clothing items available include the Red and Pink Biker Gloves.
Feature image courtesy of Rage Racer
Source: Read Full Article