If you read my last review with the Thrustmaster T150, you know I'm new to playing sim racing games without a controller. I'm so new in fact that I had to mount my wheel to a TV tray in order to use it with my PS4. This isn't exactly ideal.
Thankfully, GT Omega Racing wanted to change that by sending me its Apex Wheel Stand. Not only did it solve my need for a proper wheel stand, but it also saved my TV trays from certain doom. I like my TV trays after all.
So how did it work, and is it good for building up your sim racing starter rig? Read on to find out.
Quality and Finish

If I could sum up the Apex Wheel Stand in one word, it'd be stout. This thing is built like a tank and for my entry level wheel, it's probably a bit much. But I'm a fan of products that are capable of more than I could ever throw at them.
The sturdiness does pack on the pounds though. Clocking in at a hair over 30lb, it's a bit on the porky side if you plan on moving it around. But the added weight does make it feel like a quality product. I feel like it's a good trade-off overall.
In addition to the heft, another element that adds to the quality feel is the hardware. One thing I loathe about some products is that the fasteners you get are often made from cheese. Thankfully, this isn't the case with the Apex.
All the nuts, bolts, and washers seem like they are made from quality metal. They're all polished too which gives the whole unit a bit of bling.
As for the finish, the Apex is powder coated black. It feels really durable to boot and could likely withstand plenty of abuse. It also seems fairly scratch resistant too.
Perhaps the best part of the finish is that it's not glossy. I despise companies that feel the need to coat anything in high gloss black. While it certainly looks good, it's a magnet for fingerprints, smudges, and dust.
Since a wheel stand is subject to all those things, it's nice to see a finish that won't show it. To clean it, you could just take a rag and give it a quick once over to remove any dust.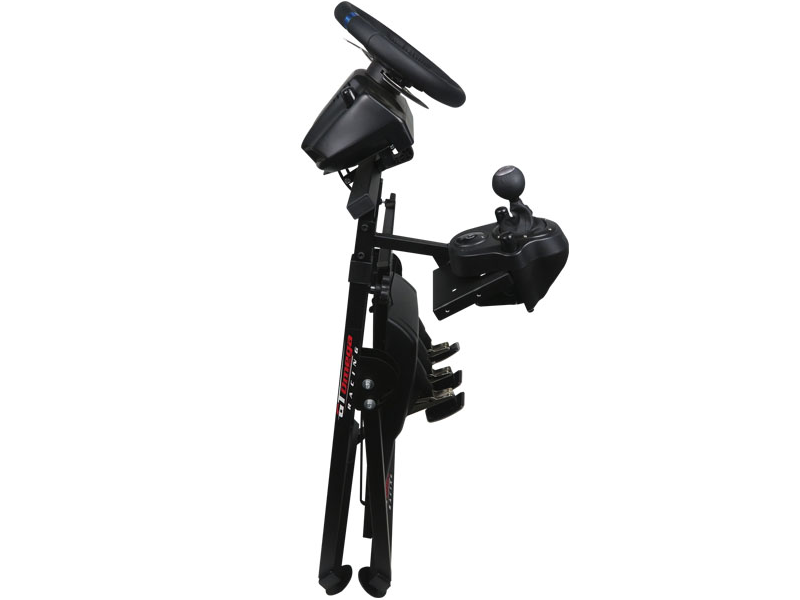 Adjustability and Comfort

I'll kick this section off by saying, I have a dad bod. Thanks to my love of fine craft beer and tasty food, I'm a bit portly while still being a little short. This means often times things fit me weird and it takes a while to get comfortable.
So when it took just a matter of minutes to get the Apex dialed in perfectly, I was a bit surprised.
This is where one of the big pluses of the Apex comes in. There's a ton of adjustability to fit virtually any body type. The pedal mount goes from perfectly flat to an angle only a gymnast could master. The same goes for the steering wheel mount too.
The height is fully adjustable as well. On the low end, the Apex stands at a bit over 26 inches. For taller sim racers, it's really easy to increase that height all the way up to 34 inches. To fit me, I needed only to adjust the height slightly before it was perfect.
As for using the wheel, I just rolled up my Ikea Renberget office chair. It's not exactly the world's most comfortable chair, nor is it really the ideal sim racing seat. But it worked well with the Apex.
I also tried it while sitting on my sofa, which is another Ikea special. It wasn't as comfortable, but I see no reason why I couldn't sit there and use the stand.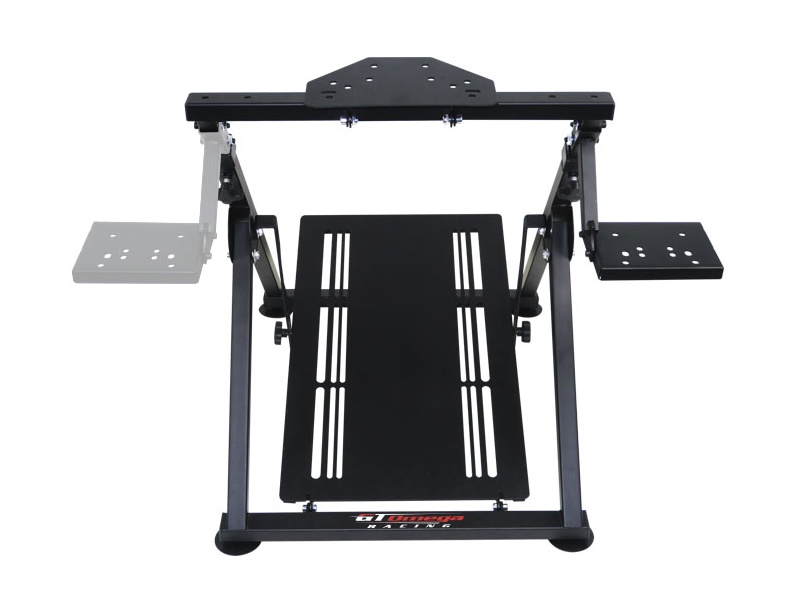 Ease of Assembly

When I first took the Apex Wheel Stand out of the box, I feared I was in for a long night of assembly. With two big bags of nuts, bolts, and washer I figured there would be ample swearing and a ton of overall frustration.
Thankfully, I was completely wrong.
In total, I had the Apex Wheel Stand set up and together in less than 10 minutes. Everything went together with ease and GT Omega Racing even put the tools I needed in the bag. I was grateful for this too since it meant I didn't need to take a trip the garage to dig through the toolbox.
Unfortunately, I did run into a bit of a problem. The mounting plate for the wheel stand is made with higher end wheels in mind. So while it fits most Thrustmaster, Logitech, and Fantec products, the T150 is not on that list.
The pedal set that comes with the T150 runs into the same issue too. But if you having something like the T3PA pedal set from Thrustmaster, it'll bolt right up with ease.
There is a hole in the mounting plate that lines up with the larger bolt hole under the T150. However, the hole in the mounting plate is just a tad too small for the T150's mounting bolt to fit through.
Thankfully, all it took was quick sanding with a rasp to scrape away some of the powder coating. This allowed me to get the bolt through the hole and get the T150 secured to the Apex.
For most sim racers this won't be a problem.
Stability

Due to the sturdiness of its construction, the Apex Wheel Stand is incredibly stable. A somewhat large footprint helps this as well.
Unfortunately, that large footprint does mean the Apex is a little on the big side. Measuring in at 27 inches by 22 inches, it does take up some space. However, it's not a bad trade off when you considering something narrower could slide around or even tip over.
Another feature on the Apex that keeps the stand planted is a set of super sticky rubber pads. These things seriously rock at keeping the Apex stuck to the ground. Granted, I do have faux hardwood throughout my house so that does play a role in this. But even on a rug, the rubber pads held firm too.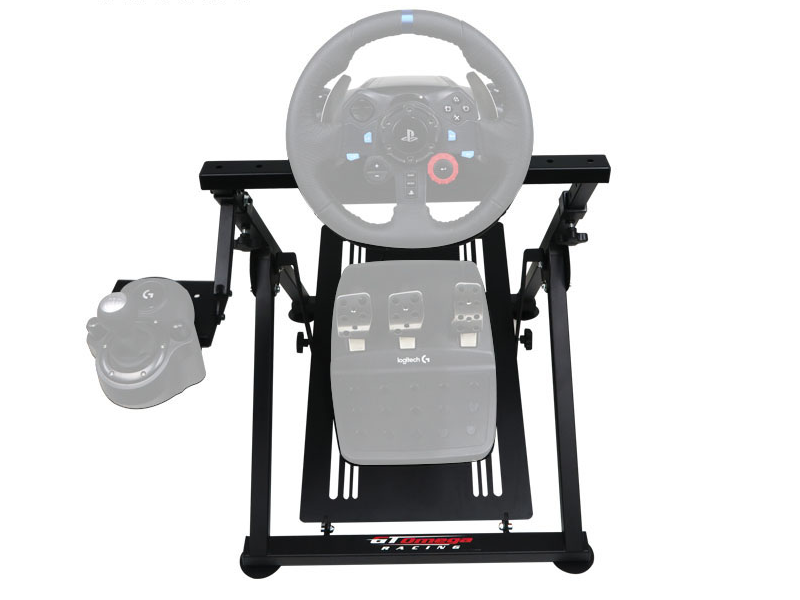 Value

At just $199.95, the Apex Wheel Stand is a pretty good value for the money. This is especially true once you consider just how well made it is. GT Omega also currently has the stand on sale for a mere $149.95, which is an outstanding value.
However, if you're still new to sim racing, the Apex might be a little overkill. There's a solution though: for $50 less you can pick up GT Omega's standard wheel stand.
All you really miss out on is a place to add a shifter and a little bit of adjustability. But given the quality of the Apex, I firmly believe you could go with the standard model and still be very happy.
Verdict
So is the GT Omega Racing Apex Wheel Stand any good? Absolutely. It's well made, comes with a ton of adjustability, and stays firmly planted on the floor.
However, is it good entry level wheel stand? I'm not so sure. Like I mentioned in the previous section, for newbies to the sim racing world the GT Omega Racing stand wheel stand is probably the way to go. It's less expensive and works with lower tier wheels.
But, if you plan on growing your sim racing peripherals, starting off with something that will last might be a good idea. I could easily see anyone using this from the time they start off sim racing all the way until they decide to finally build a cockpit.
And if you do decide to build a cockpit, you're in luck. GT Omega sells an add on bracket that allows you to attach a seat to the Apex wheel stand. So really at the end of the day, you're probably saving money if you want to work your way up.
Quality & Finish
Built like a tank, the Apex Wheel Stand could take years of abuse without ever flinching. Also, the matte finish helps keep it looking fresh and clean.
Adjustability & Comfort
Tall or short, skinny or hefty, dad bod or athletic physique pretty much anyone will find a setting to make the Apex work for them.
Ease of Assembly
While not made for lower tier wheels a vast majority of sim racing equipment will work. Also, it takes mere minutes to put together.
Stability
Seriously, can I tell you again how impressed I am with the rubber feet? The Apex stays planted.
Value
At $199.95, it's a bit of an investment, but between excellent build quality and all the add-ons this should last you a long time.
Source: Read Full Article