Honda's famous VTEC engine leads the way in this week's new set of GT Sport Daily Races, which see players take on two short sprint tracks and one of the world's most famous endurance circuits.
Race A features the screaming Hondas, with a choice of two specially provided cars for the event. You can pick from either the EK-generation Civic Type R or its stablemate DC2-model Integra Type R, a car often cited as the best front-wheel drive car ever made.
Although players will note that vehicle settings are adjustable for the event, it's not possible to change any of the settings yourself; it likely refers to some non-standard settings created by Polyphony Digital to better balance the cars. That means it's a pretty simple affair, consisting of a four-lap race of the compact Tokyo Expressway Central Outer Loop course.
This week's second race takes you to the also-fictional Sardegna road course, this time in the unusual reverse variant of the C layout. That gives you a tight hairpin for a first turn, followed by a wall-line snake down and then back up to the final third of the circuit. For this seven-lap race — it's a short lap — you'll be driving your choice of Gr.4 car.
The final race takes place at the fearsome Nurburgring, in its largest possible layout: the 24hr circuit. You'll be mimicking the 24-hour race itself too, with free choice of Gr.3 race car as your companion. The long lap time means it's a relatively brief race though, with just two laps to make your mark.
These three races will run through to Monday, November 23, when another new set of three will replace them.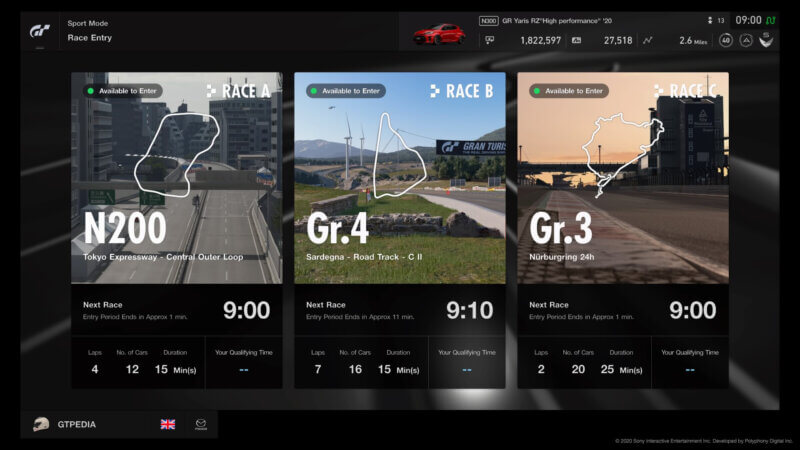 Race A
Track: Tokyo Expressway – Central Outer Loop, 4 laps
Car: Honda Civic (EK) Type R '98, Honda Integra (DC2) Type R '98 – Provided Car
Tires: Sports Hard
Start Type: Rolling Start
Fuel use: Off
Tire use: Off
Race B
Track: Sardegna – Road Track C II, 7 laps
Car: Gr.4 – Garage Car
Tires: Racing Hard
Start Type: Rolling Start
Fuel use: Off
Tire use: Off
Race C
Track: Nurburgring 24h, 2 laps
Car: Gr.3 – Garage Car
Tires: Racing Hard
Start Type: Rolling Start
Fuel use: 2x
Tire use: 5x
Source: Read Full Article