Hennessey has added another axle and plenty of power to the Ford F-150 to create the VelociRaptor 6×6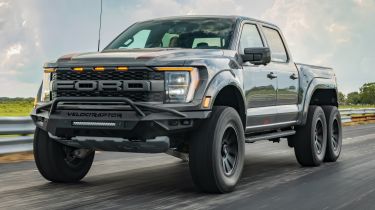 American tuner company Hennessey revealed the VelociRaptor 600 earlier this year as a performance-orientated F-150 pick-up and now it's made a 6×6 version of it. It won't be on sale in the UK, with prices starting from $399,950 in the US.
Hennessey is no stranger to adding some more wheels to popular trucks, with the VelociRaptor 6×6 sitting alongside the Dodge Ram-based Mammoth 6×6 and Chevrolet Silverado-based Goliath 6×6. Unsurprisingly, six-wheeled alternatives to the VelociRaptor 6×6 from elsewhere aren't in plentiful supply, with Mercedes deciding against a follow-up to its 6×6 G 63.
Best pick-up trucks 2022
Hennessey is keen to point out that it has done more than just slap on an extra axle to the VelociRaptor 600. There's Fox suspension all around with dual locking rear axles to help with off-roading.
The 6×6's extra length allows for a bigger load bay – measuring 45 per cent larger than the standard F-150's. The VelociRaptor 6×6 is also several inches taller than the standard truck thanks to a three-inch lift, upgraded 20-inch wheels and chunky 37-inch off-road tires. New front and rear bumpers and LED lights help the 6×6 stand out further from the standard Raptor.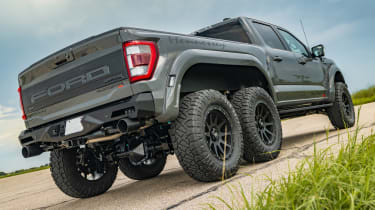 Powering the 6×6 is the same turbocharged 3.5-litre V6 found in the VelociRaptor 600. This means there's meaty 558bhp and 911Nm of torque on offer – that's a little way off the Mammoth 6×6's 1,012bhp, however.
There is a sensible side to Hennessey's latest crazy super truck. The firm will offer a three-year, 36,000-mile warranty and the machine can be ordered through Ford dealers.
Now check out the latest on the European-bound Ford Bronco here…
Source: Read Full Article