Volkswagen plans to launch a hot GTX model based on its ID. Life electric crossover concept, with more power and a sharper chassis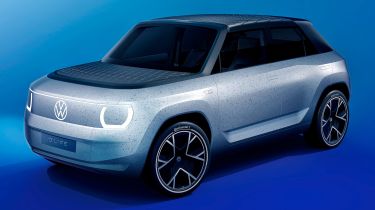 Volkswagen has indicated that a high-performance, GTX model based on the electric ID. Life crossover is set to arrive, once the production car launches in 2025. As the GTI equivalent for the marque's pure-electric models, the GTX badge will bring more power and a more sporting chassis setup than the standard car, along with a host of cosmetic upgrades.
Volkswagen sales and marketing man Klaus Zellmer told Auto Express that the GTX nameplate is set to be attached to every ID model in the lineup, which will probably include the production version of the ID. Life in 2025. He said: "GTX, in the long run, is something that we want for every derivative, so GTX is also something that we want to have, potentially, for the ID Life".
New Volkswagen ID. Life wows at Munich Motor Show
This plan is integral to a new range structure that Volkswagen is set to adopt. The idea is that instead of offering cars with a wide variety of specifications from the factory, the range will be more uniform, with customers purchasing a 'base' car and enabling options through over-the-air software updates. 
This will simplify each model line and reduce manufacturing costs, and with electric powertrains, the possibilities extend further. A software update can unlock more power from the electric motors and extra range, so this strategy could potentially be used to create the GTX variants. 
However, it remains to be seen whether the powertrain setup of the ID. Life production car will be adequate to bring GTX levels of performance with software optimisation alone. Zeller said: "We will have to see whether the battery technology will be able to fulfil the GTX performance promise, if it does then we will stay with limited [powertrain] variants. If it doesn't, then we will have to adjust accordingly, with a bigger battery and a different motor."
Motor calibration software tweaks could also provide better handling for the GTX model, with retuned torque vectoring and active torque split capabilities. In concept form, the ID Life uses a 228bhp electric motor driving the front wheels, and a 54kWh battery that provides 248 miles of range – we expect more modest numbers for the final production car.
The ID. Life is set to cost from £17,000 when it arrives in 2025, and is likely to wear the ID.1 or ID.2 nameplate.
Now read about the Volkswagen ID.3 GTX electric hot hatchback which has been confirmed for production…
Source: Read Full Article