BMW will soon launch a replacement for the M2, which will stick with the same rear-wheel-drive formula as its predecessor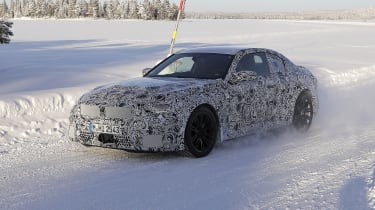 This is our first look at the next-generation BMW M2 Coupe. When it goes on sale in 2022, it'll offer fresh competition for the Porsche Cayman and Audi TT RS – and driving purists can rejoice, because the new model will be rear-wheel drive and powered by a straight-six petrol engine, with a manual gearbox option.
From a distance, this M2 mule looks an awful lot like the standard 2 Series Coupe we spied a few months ago. Look closer, though, and you'll see a lower front splitter, flared wheel arches to house the wider track widths and broader side skirts. The rear is the biggest giveaway, though, as it sports an aggressive diffuser and a quad-exit exhaust system.
Best sports cars 2021
Like its standard sibling, the new BMW M2 will be based on a heavily modified version of the German brand's CLAR underpinnings. The architecture is currently used in a broad range of BMWs, including the new 3 Series saloon and the 4 Series Coupe, meaning BMW will be able to pull from its parts bin to construct the M2.
The M2 should feature similar adaptive dampers, brake discs, calipers and stability control technology as the BMW M3 and M4. It's likely that the performance exhaust system will also have the same valves as the M3 and M4 set-ups, which can make the cars louder at the push of a button.
BMW has already dropped some hints about the M2's powertrain. Gernot Stuhl, the brand's project manager for the 2 Series Gran Coupe told Auto Express: "There will be a successor that will be on a rear-wheel-drive platform. So customers who want and need a new 2 Series Coupe will find that in our line-up, as well as those who want a six-cylinder engine."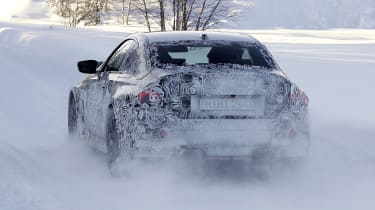 The six-cylinder engine in question will likely be a detuned version of the twin-turbocharged 3.0-litre unit used in the latest BMW M3. To maintain suitable distance between the M2 and its more expensive sibling, though, power should be capped at around 420bhp. 
However, that's still plenty enough to keep the coupe competitive in its sector. It's not yet known if standard and Competition versions of the M2 will be offered as with other recent M cars, but the UK market only takes the more powerful Competition models anyway.
There's even the prospect of UK buyers getting a six-speed manual gearbox. BMW already makes a rear-wheel drive, manual version of the M3 for the European market, which means the company shouldn't have an R&D headache on its hands for the M2. The technology exists and could be bolted into the new coupe.
Now read all the latest news on the sixth-generation BMW M3. Let us know your thoughts in the comments section below…
Source: Read Full Article