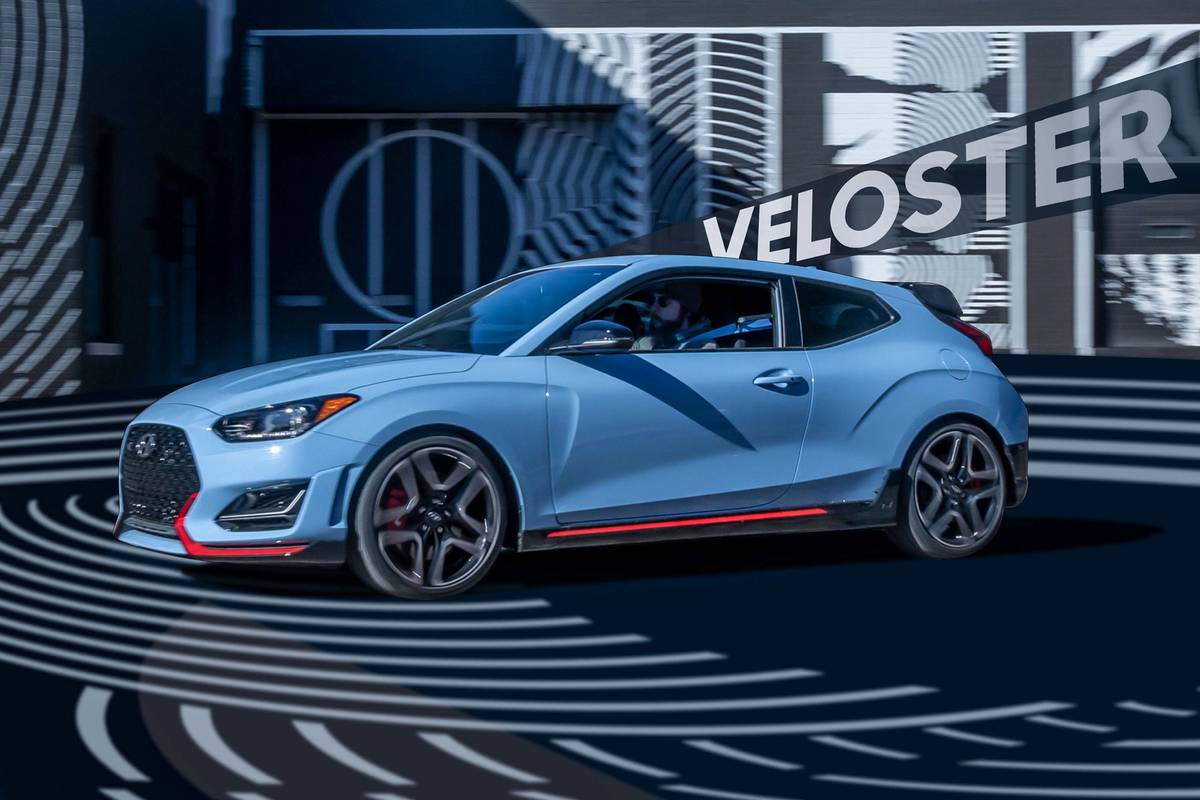 Cars.com didn't designate a most fun-to-drive vehicle for 2021 among our annual Best Of awards, but we did in 2020, and the Hyundai Veloster N took the title. When I decided it was time to add a vehicle to my current personal fleet of zero cars, what could top our last consensus pick for the most fun car?
Related: 2021 Hyundai Veloster N: Performance Standard, Automatic Optional
I don't have a partner or children, but I do have my dog Gus, and I did want a smidge of practicality. A performance hatchback like the Veloster N would give a backseat for Gus and a cargo area big enough for a one-person grocery trip. Plus, it would give me a level of accessible fun and driving enjoyment without requiring access to a racetrack. (Also, the Veloster N fit my budget.)
While I could've gone for a lightly used 2019 or 2020 Veloster N, Hyundai added some crucial updates to the 2021 model that made it especially appealing to me. First, the once-optional Performance Package, which added an electronic limited-slip differential and upped the Veloster N's output to 275 horsepower from 250 hp, became standard. Second, Hyundai replaced the rather bland-looking front seats with lighter-weight — and cooler-looking — sport seats. 
A slight downside, though: The now-standard Performance Package makes summer performance tires standard. I live in Chicago. We have winter here. I would need to address that as part of any new Veloster N purchase.
Hyundai also added an eight-speed dual-clutch automatic transmission to the 2021, a first for the Veloster N, but I went instead with the standard six-speed manual because I've never owned a manual-equipped car. I know how to drive one, but lack of practice has rendered that knowledge mostly theoretical and it's never become muscle memory for me. I want to fix that.
First Choice?
Obviously, with the upgrades and our collective accolade, the Veloster N was my first choice, right? Wrong. (Sorry, Hyundai.) Initially, I wanted to spend a little less money and get a certified pre-owned 2019 Volkswagen Golf GTI Rabbit Edition with a six-speed manual, painted Cornflower Blue. But the only one listed on Cars.com during my search was evidently sold before I could even make an offer, and every other Rabbit Edition was either an automatic or a color I didn't want.
That's when I set my sights on the Performance Blue Veloster N. Cars.com has nearly 250 new 2021 Veloster Ns for sale nationwide as of this writing, but fewer than 50 existed when I conducted my search.
Current inventory says 61 examples are available in blue, with just seven of those in the entire country equipped with a stick shift.
The numbers were even bleaker during my purchase process, so I didn't hesitate when I found one available in North Carolina. In a normal world, I would've flown out to complete the purchase and then driven my new car home. This is not a normal world, however. Fortunately, the dealership was willing to help arrange shipping (at my expense, of course).
Easy Purchase Process?
My last co-worker to publicize a car purchase was Managing Editor Joe Bruzek. He had what he called a "frictionless" buying experience for his family's new Volkswagen Atlas. My experience? Not so much.
It began in mid-December. Negotiating a price was easy enough because there wasn't really any room for negotiation; the Veloster N is in high demand and short supply. (I used my personal email address through the process so as not to get any preferential treatment — or pricing — from Hyundai on account of my position at Cars.com.) But once that was settled, the real fun began.
Hyundai requires paper contracts, my dealer said, which meant the documents I had to sign had to be overnighted to me, signed and notarized, then returned (thankfully, shipping was prepaid by the dealership). That process had to be repeated a second time because, for reasons never made clear to me, the dealership reported that Hyundai wouldn't accept the first contract. After another envelope, another visit to a nearby notary and another trip to the UPS store, the contract was once again submitted to Hyundai.
If that wasn't annoying enough, at some point between the process of two contracts, I found a car sitting in my home's parking spot. The dealership had found a shipping company at very reasonable cost to me, and the Veloster N was loaded onto a car carrier and trucked out. But it arrived without any license plates or documentation; I essentially had a very expensive placeholder for my parking spot.
I'd also paid for a set of winter tires and had them installed, expecting to do a lot of driving in the heart of winter, with the Veloster N's standard high-performance summer tires shipped alongside the car to store until the weather warmed up.
By the time the paperwork was sorted out and I received my documents, it was Feb. 1. At this point, the dealership began working on the registration and license plates, which were shipped from Illinois to North Carolina and then back to me. In Illinois. I finally had plates on Feb. 16 to drive my car with — once I unearthed it from under the multiple feet of snow that Mother Nature had dumped.
Importantly, my accounting doesn't aim to blame — or absolve from blame — any entity in the chain: the dealership, Hyundai itself, the various jurisdictions involved in the registration process or plain poor coordination between all parties amid the COVID-19 pandemic. It's possible an interstate purchase at a different time or city, or from a different dealership or manufacturer, would have landed the same madness. It's also possible a change in one or more of those factors would facilitate an easier path. Such is the case for a sample size of one. If you've bought a car out of state and had a similar or different experience, drop us a line at [email protected] to share how it went.
Was It Worth It?
Despite the aggravation, absolutely. The 2021 Veloster N is a blast to drive. I love the way it looks, and the new front seats — which I had never sat in before the car arrived — are comfortable and supportive. Bonus: The "N" in the seatback lights up! It's rad as hell.
It's worth acknowledging, however, that I also have regular access to other cars through our test vehicles. If I needed a car, a two-month purchase process would've been completely unacceptable, and I also wouldn't have been able to be so picky.
Having my own car has also enabled me to release some pent-up Dad Energy. I used a $600 stimulus check on WeatherTech front and rear floormats — the factory floormats have a raised "N" attached to them that seems liable to come off eventually due to wear and tear — and a cargo-area cover, as well as a backseat cover to protected the upholstery from Gus. My latest purchase is a front license-plate holder that screws into the tow hook receiver, as the stock mount requires drilling into the front fascia and blocks more of the radiator. (It arrived after we took photos for this story.)
This was the first car I've purchased on my own, and perhaps my naivete led to much more aggravation than was necessary. But I have a car I love to drive, and that makes me happy. For me, that was worth the aggravation.
More From Cars.com:
Save the Stick Shifts … to Sell Them Later? Future Manual 'Classic' Cars

Best Cheap Sports Cars: Here Are Our Fave 14

Can the 2020 Hyundai Veloster N's Automatic Transmission Make It Even More Fun to Drive?

Hyundai Veloster N Adds Automatic Transmission: Blasphemy or 'That's for Me'?

2020 Most Fun-to-Drive Car of the Year
Related Video: Cars.com's 2020 Most Fun-to-Drive Car of the Year
Cars.com's Editorial department is your source for automotive news and reviews. In line with Cars.com's long-standing ethics policy, editors and reviewers don't accept gifts or free trips from automakers. The Editorial department is independent of Cars.com's advertising, sales and sponsored content departments.
Source: Read Full Article