Steve Fowler is looking forward to trying out the new genre of all-electric hot hatches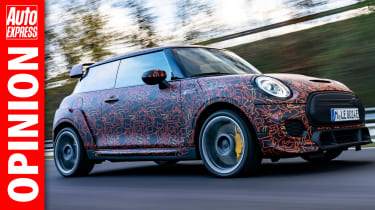 It's fair to say that 2020 taught us not to make any predictions, but I'm hoping that the next 12 months will add a good deal more excitement than we've had of late  – the sort of excitement that a good hot hatchback can bring.
We Brits love a hot hatch; I certainly do, with a few under my belt (and one in the bushes!) over the years. It's something the car industry is well aware of, with new Skoda boss Thomas Schäfer asking me recently, "What is it with you Brits and hot hatches?". We were talking about the latest in a long line of vRS Skodas and the potential for more – and it's seen as an essential part of that brand's line-up in the UK.
Best hot hatchbacks 2020/2021
As ever, the hot hatch is evolving, with Skoda already electrifying its vRS range through plug-in hybrid tech. And MINI snuck out an announcement at the end of last year about a new, all-electric MINI JCW model.
I know that many will throw their arms in the air at the thought of more electric cars, but, while electrification is inevitable, it can also deliver the punch the very best hot hatches have been known for over the years.
Top speed has never been part of a hot hatch's essential armoury, but point-and-squirt performance certainly has – and that's what you get from even the most mundane of electric cars.
I've had huge fun behind the wheel of both the MINI Electric and the new Fiat 500 this year – two cars not designed to be hot, but which will easily put a smile on your face. So getting behind the wheel of an electrified MINI JCW and, hopefully, an electrified Abarth version of the 500 is something I really can't wait for.
And it's why the news of the return of hot VXR models to the Vauxhall line-up is such good news, too, with spiced-up electric versions of the Corsa, Mokka, next-generation Astra and even the Vivaro van planned. Fun will definitely be on car makers' agendas in 2021.
Check out the best electric cars you can buy here…
Source: Read Full Article