Rugged Ineos Grenadier 4×4 will be assembled alongside the Smart EQ ForTwo at Mercedes's old plant in Hambach, France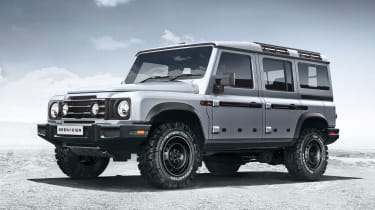 Ineos Automotive has acquired Mercedes-Benz's old production facility in Hambach, France. The British brand will use the plant to assemble its new Grenadier off-roader from late 2021, before it arrives on roads early in 2022.
Mercedes parent company Daimler was due to close the Hambach facility later this year. The plant only produces the Smart EQ ForTwo, with the German eyeing up moving its production to China as part of a cost-cutting initiative.
New 2022 Ineos Grenadier: prices, specs and launch date
Now though, the electric city car will be built alongside the Grenadier in the same factory, with Daimler contracting the car's production to Ineos. The deal has secured 1,300 jobs for the region.
Ineos originally intended to assemble its new 4×4 in Wales, near Ford's soon-to-be closed Bridgend plant and following in the footsteps of Aston Martin, which has recently opened a new facility to build the DBX SUV in St Athan. The Ineos factory could have provided up to 500 new jobs in the area.
Ineos Automotive's commercial director, Mark Tennant, told Auto Express that a number of options had become available and that discussions were taking place over the Hambach factory as "the right thing to do for the business." Tennant also said that any decision was not based around the potential impact of tariffs being introduced in the event of a no-deal Brexit.
Ineos Automotive's Grenadier model is being developed by the Austrian engineering firm Magna and it'll be powered by BMW six-cylinder petrol and diesel engines, which might have been subject to import tariffs if the 4×4 was to be built in Wales under a no-deal scenario.
Best SUVs to buy 2020
Following the official announcement on the Grenadier's new home, Dirk Heilmann, Ineos's Chief Executive Officer, said: "This acquisition marks our biggest milestone yet in the development of the Grenadier.
"Alongside the exhaustive testing programme that our prototype vehicles are now undergoing, we can now begin preparations at Hambach to build our 4×4 from late next year for delivery to our customers around the globe."
Has the Ineos Grenadier lost any appeal now that it's being built in France rather than Wales? Let us know in the comments…
Source: Read Full Article