The first month of 2021 saw a 39.5 per cent decline in new car registrations year-on-year, with showroom closures stifling demand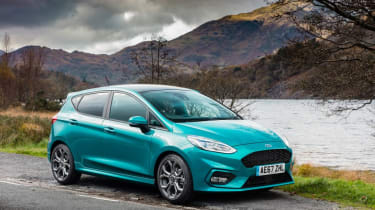 Ford Fiesta
January new-car sales fell to their lowest level since 1970, with 39.5 per cent fewer new cars registered than in the same month in 2020.
With lockdowns across all four nations of the UK keeping dealership doors firmly shut throughout the month, only 90,249 new cars were registered – 59,030 fewer than in January last year.
Best-selling cars in the UK 2020
Demand was down 38.5 per cent with private buyers and 39.7 per cent with fleet purchasers, with petrol and diesel registrations falling 62.1 per cent (44,903 sales), and 50.6 per cent (11,083 sales) respectively. 
EV registrations grew 54.4 per cent (6,260 sales), though, taking a 6.4 per cent share of the market, while plug-in hybrid sales grew 28 per cent (6,124 sales) for a 6.8 per cent market share. That means plug-in cars of one sort or another accounted for 13.7 per cent of all new registrations last month, outperforming diesel's 12.3 per cent market share. 
The Society of Motor Manufacturers and Traders (SMMT), which released the figures, has pointed out that lockdown restrictions aren't expected to start being lifted until March, which sees a new number plate launch and is the most important month of the year for the sector, with one in five new car registrations taking place.
Concerned about the decline in registrations having a knock-on effect on manufacturing – which fell to its lowest annual level since 1984 last year – the SMMT is calling for dealerships to be reopened "as soon as it is safe to do so".
It was previously expected that more than two million new cars would be registered in 2021, but this forecast has now been reduced to below 1.9 million. This would, however, still be 15.7 per cent more than the "lost year" that was 2020.
Mike Hawes, chief executive of the SMMT, said: "Following a £20.4 billion loss of revenue last year, the auto industry faces a difficult start to 2021. The necessary lockdown will challenge society, the economy and our industry's ability to move quickly towards our ambitious environmental goals.
"Lifting the shutters will secure jobs, stimulate the essential demand that supports our manufacturing, and will enable us to forge ahead on the 'Road to Zero'. Every day that showrooms can safely open will matter, especially with the critical month of March looming."
Find out the best cars coming out in 2021 here…
Source: Read Full Article