New KiaCharge service grants electric car and PHEV owners access to more than 13,900 public charge points in the UK – all on one account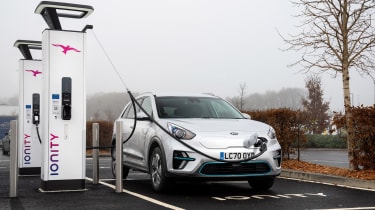 Kia has unveiled its new charging service, called KiaCharge. The system grants Kia electric car and PHEV owners access to more than 13,900 public charging stations throughout the UK, all of which are managed and billed from a single account.
The charging service was designed to be as easy to use as possible, so to ensure the best coverage, Kia partnered with the UK's leading EV charging firms for the project. By working with brands such as IONITY, BP Pulse, Pod Point and Source London, Kia will provide its buyers with simple access to around 68 per cent of the UK's charging network.
Electric car charging in the UK: prices, networks, charger types and top tips
So, instead of holding a dedicated account for each charging service, Kia EV drivers have the convenience of a single monthly payment and an itemised monthly invoice, which details the cost of each charging session. The service is accessed via a smartphone app or an RFID card, which is scanned at the charging station before each top-up.
Kia also has plans to expand its network of charging partners to include several regional services throughout 2021. What's more, the KiaCharge service should make it easier to drive an EV across Europe, with buyers granted easy access to more than 178,000 charging points across the continent.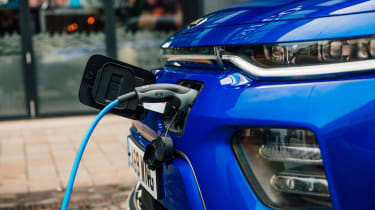 Payment plans are separated into two options: Easy and Plus. The first requires a one-off payment of £1.99 to sign up to the service and customers receive an RFID tag. There's no monthly fee, but most charging stations require a 49p session fee before they start charging a vehicle, which buyers will still be liable for. Drivers then pay per kWh of electricity used.
The Plus tariff is aimed at drivers who regularly charge their vehicles at public charging points. The payment plan is set at £2.99 per month – and drivers don't need to pay an upfront cost for sign-up or the session fee at each charging station. As an added benefit, some charging points also offer a 15 per cent discount per kWh as part of the scheme. 
BP Pulse and IONITY aren't included in the discount as both companies have their own bolt-on tariffs. The former costs an extra £7.85 per month and provides users with up to a 40 per cent discount compared with the standard rate. 
Full details of the IONITY bolt-on will be confirmed later this year, but Kia has said the tie-in will be timed to match up with the launch of its next-generation pure-electric coupe-SUV, which will offer support for the IONITY network's 800V charging capability.
The dedicated KiaCharge smartphone app will also allow users to search for charging points by location, availability and charging type. Drivers can also select their preferred provider. The app can also help drivers to plan trips, highlighting the best charging stations along their route and at their final destination.
Will you be signing up for Kia's charging service? Let us know in the comments section below…
Source: Read Full Article