The super estate is adapting to the modern market as the 2022 Mercedes-AMG C63 will use a four-cylinder hybrid powertrain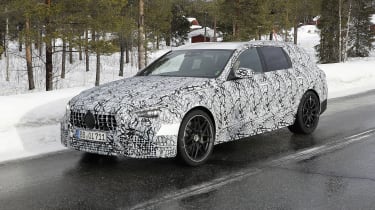 Hot on the heels of the recently revealed and more luxurious than ever Mercedes C-Class, the firm's performance-focused AMG C63 has been spotted testing in estate form ahead of its arrival in 2022.
It's clear from our images that this is the new C63 Estate, with the prototype sporting wider bodywork to cover the extended track, a deeper front bumper and an AMG-specific quad-exit exhaust system. 
New 2021 BMW M4 on sale now priced from £76,055
We'd expect the new car to feature the AMG division's Panamericana front grille as well, to differentiate it from lesser C-Classes, as per other AMG models and their conventional counterparts.
The most significant feature for this new C63 is that it's highly likely to ditch the current car's 4.0-litre twin-turbo V8 in favour of a 2.0-litre four-cylinder turbocharged engine supported by an electric motor.
In the firm's current A45 S AMG the combustion engine produces 415bhp and 500Nm of torque. There's potentially room to squeeze even more power and torque from this unit, but it's likely that the car would have to offer a significant boost from an electric motor to surpass the outgoing C63 S's 503bhp total and offset the additional weight of the hybrid system's battery.
This added weight would also be countered by the reduction in cylinder count, the C63 moving from a V8 to an in-line four with a lot less mass over the car's front axle as a result. This could help boost agility, in partnership with a host of other chassis upgrades and performance-focused electronic systems.
Reports indicate that the new C63 will feature Mercedes' 4MATIC four-wheel-drive system – matching rivals such as the new all-wheel drive BMW M3 – but with a specific AMG calibration, as per the larger E63 S. This means the front axle could be decoupled depending on the driving mode selected. With the added traction of four-wheel drive, a 0-62mph time below four seconds could be possible, helped by the instant torque its electric motor would add.
Of course, a super estate such as a C63 has to offer practicality as well as performance, so expect the car to match the standard C-Class Estate's 490 litres of boot space. We'd expect prices for the new AMG C63 Estate to start from around £82,500 when it goes on sale next year.
Check out our review on another hot German estate – the Audi RS 6 Avant…
Source: Read Full Article