Defending seven-time world champion Mercedes-AMG has revealed the car that most will expect to take the 2021 title too.
It's called the W12, and no Mercedes hasn't gone crazy and fitted two V6s to each car; the W12 is simply a development of the championship-winning 2020 W11. That's down to the largely unchanged regulations for this year, with major changes postponed to 2022 after the wider complications of 2020.
We can see the effects of the 2021 rules in the images that Mercedes has released. At the rear, the diffuser strakes are shorter, and there's larger changes to the vehicle floor which now tapers in towards the rear. Like some of the other vehicle reveals we've seen last month, the W12 sports small winglets on the outside edge of floor, ahead of the rear wheels.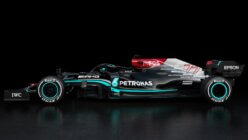 However, Mercedes has had to make some more significant alterations. In 2020, the team came up with a novel approach to tire wear and heat management called Dual-Axis Steering (DAS). The system allowed the driver to select one of two different toe angles on the front wheels, with one for the straights and another in cornering. While legal last year, the FIA banned the system for 2021.
Each team also has two "development tokens" for 2021 and unlike some of their rivals, Mercedes isn't being wholly open about where it's spent them. During the reveal video, which you can see below, technical director James Allison pointed to some other changes on the floor, but elected not to go into specifics — and the detail is obscured in the clip too. Whether that proves to be accurate or misdirection remains to be seen, though will likely emerge during this weekend's Bahrain test.
One area Mercedes is more open on surrounds the engine. Allison pointed to the additional bulge in the engine cover, and noted that Mercedes High Performance Powertrains has managed "squeeze more horses into that power unit" for 2021. That's something that rivals will not be keen to hear.
https://youtube.com/watch?v=PuJgZUDPX-U%3Fstart%3D598%26%23038%3Bfeature%3Doembed
The 2021 season also looks to be the last for the enduring Mercedes driver line-up of seven-time world champion Sir Lewis Hamilton and Valtteri Bottas, with both drivers only under contract until the end of the year — Hamilton recently having put pen to paper on a one-year extension.
We're due to see a flurry of F1 car reveals this week, with the Alpine team — rechristened from Renault — also revealing its car today. The remaining schedule is as follows:
March 2 – Alpine A521
March 3 – Aston Martin
March 4 – Haas VF-21
March 5 – Williams FW34B
March 10 – Ferrari SF21
Source: Read Full Article