These fuel-efficient SUVs and crossovers will squeeze every last mile out of their tanks, making your money go further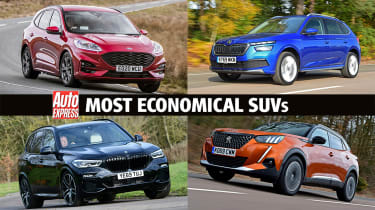 The bigger a car is, the less fuel-efficient it's likely to be. Those are just the laws of physics, and it means many buyers torn between a family hatchback or an SUV have to balance practicality against higher running costs.
Thankfully, the latest, cutting-edge engines (as well as the introduction of hybrid technology) mean that the financial hit might not be as bad as you think. The SUV and crossover markets are booming right now, with many models targeting low bills in order to cater for cash-conscious customers.
Best SUVs to buy 2021
With legislation compelling manufacturers to lower their CO2 output added into the mix, the focus on efficiency has never been greater. That means there are a huge number of ultra-economical SUVs to choose from, ranging from cheap-as-chips runabouts to premium, luxury machines.
Given that most people are looking for a certain fuel type, our list of the most economical SUVs, 4x4s and crossovers is divided into three categories: petrols, diesels and hybrids. So whichever of the three best suits your needs, there's something for you below. If you want to wave a permanent goodbye to the filling station forecourt, you'll need our electric SUV round-up…
Top five most economical petrol SUVs
Skoda Kamiq 1.0 TSI 110PS – 52.5mpg
Peugeot 2008 1.2 PureTech 100 – 52.0mpg
Citroen C4 Cactus 1.2 PureTech 110 – 49.8mpg
Ford Puma 1.0 EcoBoost 125PS – 48.7mpg
SEAT Arona 1.0 TSI 95PS – 48.7mpg
1. Skoda Kamiq 1.0 TSI 110PS
Economy: 52.5mpg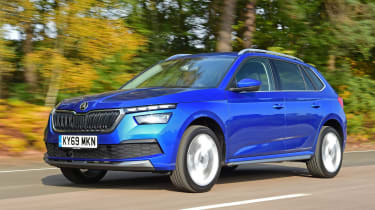 The Skoda Kamiq is one of the best small SUVs on sale, thanks in no small part to its efficient line-up of powertrains. The most frugal of the bunch is the three-cylinder, 1.0-litre petrol that delivers up to 49.6mpg in its least powerful form. Buyers looking for a practical car with a decent kit list will be served well by the Kamiq, although the interior isn't as plush as the ones in some of its competitors.
2. Peugeot 2008 1.2 PureTech 100
Economy: 52.0mpg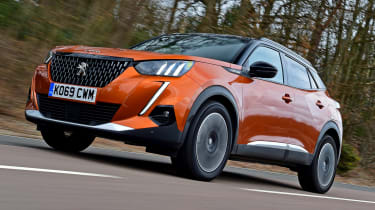 The Peugeot 2008 is one of our favourite crossovers, offering great value for money with a generous mix of equipment, style and practicality. Better still is that it boasts low running costs that no other rival in this class can match, returning up to 52.0mpg when fitted with PSA's 1.2-litre PureTech petrol engine.
3. Citroen C4 Cactus 1.2 PureTech 110
Economy: 49.8mpg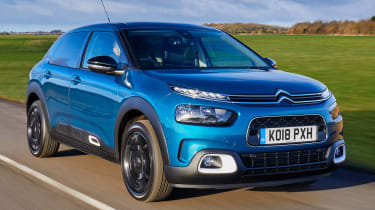 Second place also goes to a PureTech-engined car: the Citroen C4 Cactus offers as much as 49.8mpg from this slightly more powerful version of PSA's three-cylinder unit. 0-62mph takes 9.3 seconds, so it's a stronger performer than many of the other frugal petrols in this list. The C4 Cactus also boasts a comfortable ride and funky design.
= 4. Ford Puma 1.0L EcoBoost 125PS
Economy: 48.7mpg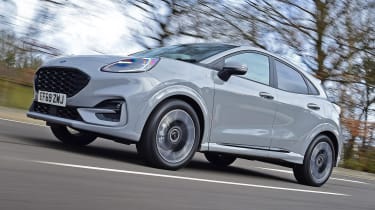 Ford has certainly made a splash with the new Ford Puma. It's basically a Fiesta-based SUV, which means it drives well, is refined and – with Ford's 1.0-litre EcoBoost engine under the bonnet – very efficient too. The Puma maxes out at 48.7mpg, although there are mild-hybrid versions that will push that figure even higher.
= 4. SEAT Arona 1.0 TSI 95PS
Economy: 48.7mpg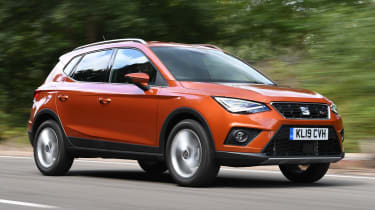 Using the same engine as the Skoda Kamiq above, the SEAT Arona achieves an impressive 48.7mpg on the now industry-standard WLTP test. Although it's not quite as efficient, you'll barely notice the difference in the real world, and those that plump for the SEAT will be rewarded with a car that exudes a little more flair.
Top five most economical diesel SUVs
Peugeot 2008 1.5 BlueHDi 100 – 62.7mpg
DS 3 Crossback BlueHDi 100 – 62.7mpg
Vauxhall Crossland X 1.5 Turbo D – 61.4mpg
Citroen C3 Aircross BlueHDi 110 – 60.1mpg
SEAT Arona 1.6 TDI 95PS – 58.9mpg
Renault Captur dCi 95 manual & dCi 115 auto/manual – 58.9mpg
= 1. Peugeot 2008 1.5 BlueHDi 100
Economy: 62.7mpg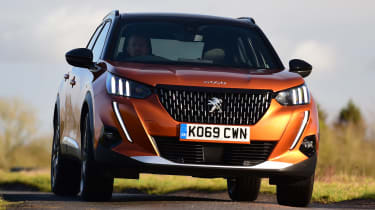 If it wasn't enough to already off the most economical petrol SUV, the Peugeot 2008 also achieves the best fuel efficiency in the class with a diesel engine as well. The 1.5-litre, four-cylinder diesel isn't quite as sprightly as the 1.2-litre PureTech above, but with up to 62.7mpg this is definitely the better bet for racking up the miles on the motorway.
= 1. DS 3 Crossback BlueHDi 100
Economy: 62.7mpg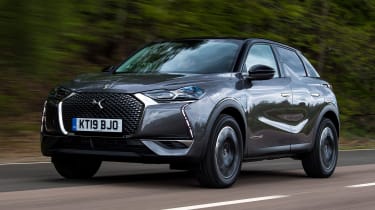 If you want an SUV with a more premium feel, then the DS 3 Crossback ticks that box. The styling is more upmarket and the materials used inside are a bit nicer, even if the build quality isn't quite where we'd like it to be. Equipped with the same 1.5-litre diesel as the Peugeot 2008, it too will muster up to 62.7mpg.
3. Vauxhall Crossland X 1.5 Turbo D
Economy: 61.4mpg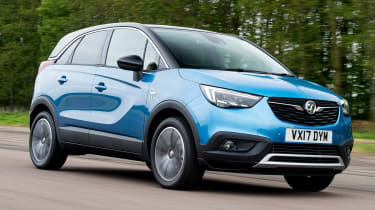 Those who aren't keen on the glitz and glamour of the DS 3 Crossback will prefer the no-nonsense Vauxhall Crossland X instead. Alright, it's not much fun to drive, but it sits at the affordable end of the spectrum and delivers on the essentials: a practical cabin, lots of kit and excellent fuel economy. The 1.5-litre diesel isn't quite as refined as the petrol options on the Crossland X, but who's complaining when it'll hit 61.4mpg?
4. Citroen C3 Aircross BlueHDi 110
Economy: 60.1mpg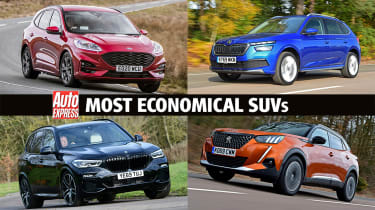 The Citroen C3 Aircross is the fourth Stellantis-made car out of four on this list, suggesting that the Groupe PSA wing of the new mega manufacturer had cracked diesel efficiency prior to its merger with FCA. The C3 Aircross is a funky-looking thing that boasts plenty of personalisation options, as well as a spacious cabin. It's not the highest quality crossover we've ever seen and the handling is far from class-leading, but you won't be complaining if you manage to hit the official fuel economy of 60.1mpg achieved by the 1.5-litre diesel version.
= 5. SEAT Arona 1.6 TDI 95PS
Economy: 58.9mpg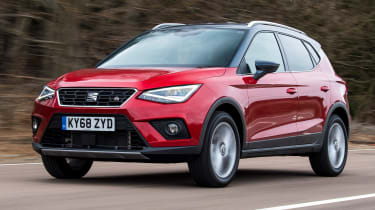 The SEAT Arona is another car that makes it onto both the petrol and diesel lists. The 1.6-litre unit manages 94bhp and 0-62mph in 11.9 seconds, so while it won't be setting any speed records, fuel economy of up to 58.9mpg is a worthy effort. Something else to note is that the diesel Arona is heavier than the petrol one, and so feels a little less agile through corners.
=5. Renault Captur dCi 95 manual & dCi 115 auto/manual
Economy: 58.9mpg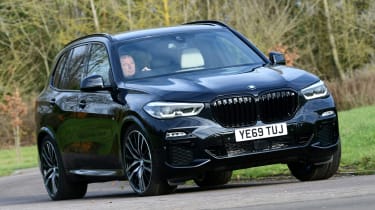 There's a new Renault Captur for 2020, and it's an enormous improvement on the outgoing car with more style, a better interior and a more comfortable ride than before. It's unique on this list too in that two engine variants – the 94bhp diesel and the 113bhp alternative – achieve the same 58.9mpg on paper. As there's no cost to efficiency, we'd go for the latter with a manual gearbox.
Top five most economical hybrid SUVs
Mercedes GLE 350 de – 313-404mpg
BMW X5 xDrive45e – 235.4mpg
Peugeot 3008 Hybrid4 – 235.4mpg
DS 7 Crossback E-Tense – 217.3mpg
Kia Niro PHEV – 201.8mpg
Ford Kuga PHEV – 201.8mpg
Mercedes GLA 250 e – 201.8mpg
1. Mercedes GLE 350 de
Economy: 313-404mpg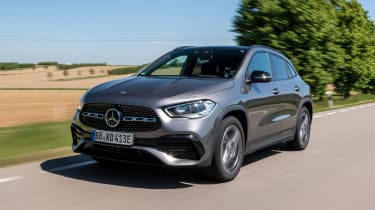 No that's not a typo, Mercedes really does claim that the plug-in hybrid version of the GLE SUV will return somewhere between 313 and 404mpg. This is because the GLE 350 de can travel further (66 miles) than any other plug-in hybrid on sale right now thanks to its 31.2kWh battery, so it aces the official fuel economy test like no other car can. Once the cells are depleted you'll likely see more like 40mpg from the diesel engine alone, although with frequent charging you really could see triple-figure fuel economy in the real world.
2. BMW X5 xDrive45e
Economy: 235.4mpg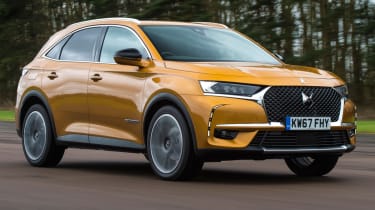 The BMW X5 xDrive45e is another car threatening to dominate the plug-in hybrid sector, with a 24kWh battery that delivers 54 miles of zero-emissions range. This means most people could easily complete their daily commute using only electricity, topping up overnight to restart the process all over again the next day. With enough thought and planning, you'd almost never need to use the engine at all, although it's at this point that many decide they'd be better off with a fully electric car anyway.
3. Peugeot 3008 Hybrid4
Economy: 235.4mpg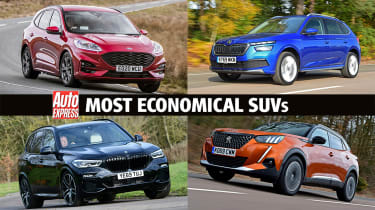 The Peugeot 3008 is one of our favourite small SUVs on sale right now, and the Hybrid4 model – one of two: this with two electric motors and the other with one – also happens to be one of the most fuel efficient. The motors combine with the turbocharged, 1.6-litre petrol engine for a combined 296bhp, while the 13.2kWh battery offers almost 40 miles of electric-only range and contributes to fuel economy of 235.4mpg on paper.
4. DS 7 Crossback E-Tense
Economy: 217.3mpg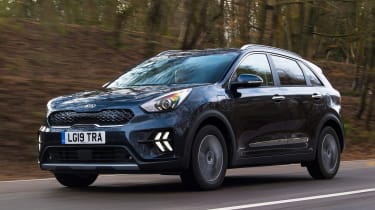 The plug-in hybrid, E-Tense version of the DS 7 Crossback is the pick of the line-up, with a  smooth, refined drive that could return ultra-low running costs if charged on a regular basis. Its 13.2kWh battery is a much more typical size than that of the X5 xDrive45e, and in theory it's enough for 36 miles of range. The SUV is expensive though, priced at well over £47,000. Good job it'll hit 217.3mpg.
= 5. Kia Niro PHEV
Economy: 201.8mpg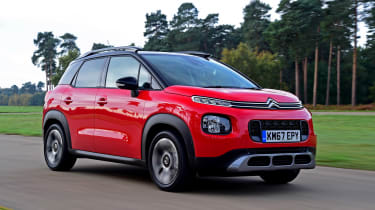 The all-electric version of this car – the Kia e-Niro – is rather brilliant, and well worth considering if an EV is a feasible prospect for you. That said, the plug-in hybrid Niro is the next best thing, with an 8.9kWh battery that'll give you up to 36 miles of electric running. That amounts to 201.8mpg officially, but how close you get to that in the real world depends on how often you revert to using the 1.6-litre petrol engine.
= 5. Ford Kuga PHEV
Economy: 201.8mpg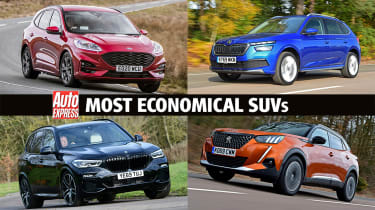 Rival manufacturers have stolen a march on Ford when it comes to electric vehicles, although its emerging plug-in hybrid models show that the US marque is quickly recovering ground. The 14.4kWh battery in the Kuga PHEV affords 35 miles of zero-emissions range on paper, while that same specification sheet claims up to 201.8mpg. The 2.5-litre isn't the most characterful, nor is it the most economical when left to its own devices: this is especially true in 'EV Charge' mode, where the car uses the engine to top up the battery on the move.
= 5. Mercedes GLA 250 e
Economy: 201.8mpg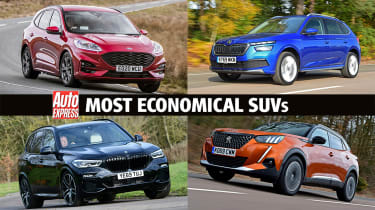 Quite how three cars all end up being rated for fuel efficiency of exactly 201.8mpg is anyone's guess, but the Mercedes GLA 250 e makes it a hat-trick of SUVs to hit that figure. It's battery is slightly larger than that of the Kuga at 15.6kWh, and given it offers up to 38 miles of range on a single charge it's safe to assume that the 1.3-litre turbo petrol isn't as frugal when running unaided. Still, the GLA is as sporty as you'd expect, hitting 0-62mph in just over seven seconds. The fact that it's one of the most efficient hybrid SUVs around is an added bonus.
Now you know the most economical SUVs on sale, why not shift gear and look at the fastest SUVs on sale?
Source: Read Full Article