Just like the new M3, the new BMW M4 Competition features a 503bhp 3.0-litre straight-six and optional four-wheel-drive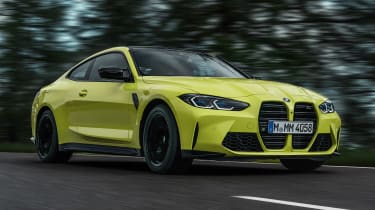 After months of teasers and spy shots, BMW has finally put the new M4 Competition Coupe on sale. It'll follow the sixth-generation M3 saloon into showrooms this March, where it will rival the Mercedes-AMG C 63 Coupe and Audi RS 5.
Prices for the German brand's latest super-coupe start from £76,055. That makes the M4 just £1,300 more expensive than the equivalent M3 saloon – with which it shares most of its underpinnings.
Like its four-door sibling, the M4 Coupe is powered by the BMW's all-new twin-turbocharged 3.0-litre straight-six petrol engine, which already features in the X3 M and X4 M performance SUVs.
New BMW M3 Competition prototype review
In mainland Europe, the M4 will be available with a choice of two engine outputs. The entry-level model produces 473bhp and 600Nm of torque – and it'll come with a six-speed manual gearbox as standard. However, like the rest of BMW M-badged line-up, we'll only get the flagship Competition variant in the UK.
The range-topping M4 has an output of 503bhp and 650Nm of torque, which BMW says will provide a 0–62mph time of 3.9 seconds and a top speed of 155mph – although the firm's option M Pro package will raise this limiter to 180mph.
BMW has designed the M4's engine to work on the track. Unlike the X3 and X4 M twins, the Coupe features a specially designed cooling system with a unique intercooler, radiator and sump, which is fitted with baffles that keep a well of oil around the pump's pickup.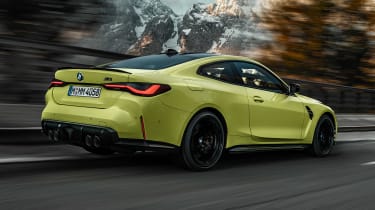 As standard, the engine sends power to the rear wheels via an eight-speed automatic gearbox which, somewhat unusually for a modern performance car, doesn't use a double-clutch mechanism. Instead, BMW opted for a traditional torque convertor setup.
For the first time on an M4, BMW will also offer buyers an adaptive four-wheel-drive system as an optional extra. The drivetrain is similar in design to the system found on the latest M5, featuring an electronically controlled clutch in its centre transfer case, which automatically divides the engine's torque between the front and rear wheels, based on the road conditions.
BMW has also added a setting which bypasses the front differential and diverts 100 per cent of the engine's power to the rear wheels. The new xDrive system is due to go on sale in summer 2021.
New 2021 BMW M4: chassis and platform
Like the M3, the new M4 features an armoury of chassis technology, designed to keep the engine's power in check. Buyers get adaptive dampers, six-piston calipers, a ten-stage traction control system and an electronic limited-slip differential – while carbon ceramic brakes can be specced as an optional extra.
There's also the option to programme the M4's steering, throttle and braking response, as well as the ferocity of the gear changes, the stiffness of the damping and the level of assistance provided by the traction control system. Two customised profiles can be stored at any time – and can quickly be accessed using the car's iDrive infotainment system.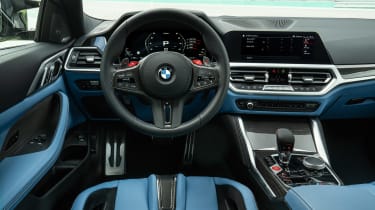 Other functions include a lap timer and data recorder, which BMW says can be used to improve the driver's performance at the track. BMW has even included a drift analyser, to help owners monitor and control the M4's oversteer.
New 2021 BMW M4: design and interior
Cosmetic tweaks for the new M4 include a more aggressive front bumper, wider side skirts, flared wheel arches and a motorsports-inspired rear diffuser. BMW's trademark quad-exit exhaust system also features, along with a set of staggered alloy wheels, measuring 19 inches on the front axle and 20 inches at the rear.
Inside, there's the usual suite of M-Sport trappings. Buyers get a unique sports steering wheel, black leather sports seats and lashings of carbon fibre trim. The standard 4 Series's 12.3-inch digital instrument binnacle and 10.25-inch infotainment system also feature, but both screens have been programmed with dedicated graphics.
Other interior additions include a new anthracite-coloured headliner, a couple of USB ports, a roaming WiFi hotspot, real time traffic information and a wireless smartphone charging pad. Unlike the old M4, this new model's infotainment system also offers support for both Apple CarPlay and Android Auto.
Finally, buyers can pick through BMW's extensive options list to customise their M4 as they see fit. Upgrades include a 16-speaker Harman Kardon stereo, gesture control, sun protective glass and a carbon fibre exterior styling package, which swaps the M3's standard air intakes, diffuser, mirror caps and spoiler for carbon fibre reinforced plastic replacements.
For those hunting for the perfect power-to-weight ratio, there's even a pair of lightened carbon fibre bucket seats for an extra £3,400, which shave 9.6kgs off the standard car's kerb weight.
What does the new BMW M4 Competition have to beat? These are the best performance cars on sale right now…
Source: Read Full Article