Heavily edited image released of the new Honda HR-V's rear and new SUV will be powered by its e:HEV hybrid powertrain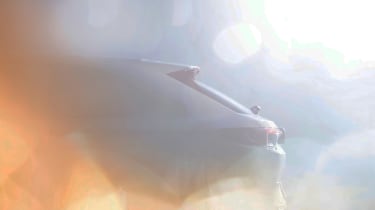 This is our first official look at the new Honda HR-V. The third-generation crossover will make its debut on 18 February, sporting a version of the brand's new e:HEV hybrid powertrain. Along with the new Jazz, it'll form part of Honda's vision to electrify all of its mainstream European models by 2022.
Honda's single teaser image previews the HR-V's rear. The crossover looks set to take on a more coupe-like appearance, borrowing some styling cues from the pure-electric Honda e, with a similarly shaped tailgate and spoiler. Previous spy shots have also shown that the new car will retain the old model's C-pillar-mounted rear door handles.
Best family cars to buy 2021
Little else can be gleaned from Honda's teaser shot – although our previously spied test mules provide a better indication of how the finished product will look. The HR-V's nose seems to take inspiration from the 11th generation Civic prototype, with a similar headlight setup and more pronounced radiator grille.
We're yet to see the HR-V's interior but, like the new Civic, we expect it'll receive a radical overhaul. Honda has already previewed a far more minimalist design language for its new family hatchback, with plain surfacing and a floating infotainment system – all of which should make its way onto the crossover.
Honda has now confirmed that the HR-V will feature its new e:HEV hybrid powertrain, which could see the newcomer steal a march over the petrol-only Nissan Juke. We've already seen the system on the new Jazz. It combines a turbocharged 1.5-litre four-cylinder petrol engine, two electric motors and a dinky lithium-ion battery pack.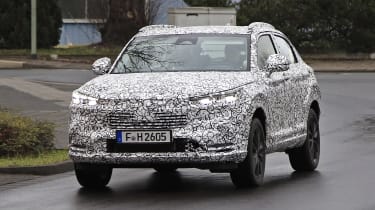 The petrol engine can power the hatchback's wheels, via a single-speed gearbox and a locking clutch, or it can be used as a generator. The latter setting sends electricity to either the battery pack or, if the cells are depleted, to the electric motors directly.
In the Jazz, the system has an output of 108bhp. However, it's likely that the system fitted to the taller, heavier HR-V will be tweaked to generate more power, offering a catch-all alternative for both petrol and diesel crossover buyers.
Like the new Civic, Honda will probably launch the HR-V on the Japanese market first. The car's European specification will make an appearance later in 2021. 
Hungry for more Honda news? Check out all the latest information on Honda's refreshed CR-V SUV…
Source: Read Full Article