The hot new Hyundai Kona N will break cover in the coming weeks – but unlike the i30 N, it'll be auto only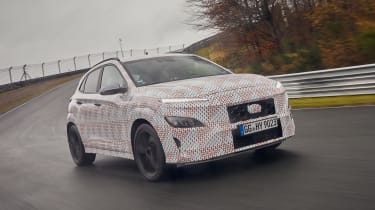 Hyundai has issued a new set of teaser images for the Kona N, ahead of its launch in the spring. When it reaches the UK market this summer, it'll wade into a growing marketplace of souped-up compact crossovers – a niche which is currently occupied by the Volkswagen T-Roc R, Audi SQ2 and BMW X2 M35i.
These official images provide our best look yet at the Kona N's styling. Like all of Hyundai's N-branded performance models, this hot crossover gets a more aggressive front bumper, a redesigned grille and a deeper pair of side skirts.
Ford Focus ST vs Hyundai i30 N vs Honda Civic Type R
At the rear, there's a new diffuser, a twin-exit exhaust system and a larger spoiler fitted with the company's trademark triangular high-level brake light. The entire car also sits lower to the ground than the standard model thanks to a sportier suspension setup and, behind the new alloy wheels, there's a larger set of discs and uprated calipers.
There's set to be a few more performance-oriented tweaks which will take the N's specification beyond that of the standard Kona, too. A limited-slip differential, launch control and a set of sticky Pirelli tyres will all feature. Meanwhile, inside, buyers should get a similar level of equipment to the i30 N, with a pair of figure-hugging sports seats, a new sports steering wheel and an aluminium pedal box.
Hyundai has also formally announced that the Kona N will be powered by the same turbocharged 2.0-litre four-cylinder petrol engine as the i30 N. There's also confirmation that the Kona will be exclusively available with the eight-speed dual clutch automatic recently introduced to the i30 N lineup – the hot hatchback's six-speed manual gearbox won't be offered.
Performance figures are yet to be released but, as it shares the same engine as the i30 N, the Kona N should have at least 247bhp as standard. However, there's scope for even more grunt, as Hyundai's range-topping i30 N Performance pack increases the engine's output to 271bhp and 378Nm of torque.
Hyundai's roster of N-tuned recently expanded with the new i20 N hot hatchback. The Korean brand's current performance line-up will offer fresh competition for the class-leading performance models in the B- and C-segments, with the i20 N rivalling the Ford Fiesta ST, the i30 N taking on the Volkswagen Golf GTI and the Kona N tackling the Cupra Ateca.
What do you make of the new Hyundai Kona N? Let us know in the comments section below…
Source: Read Full Article