The twin-turbocharged petrol-hybrid V6 McLaren Artura supercar will break cover tonight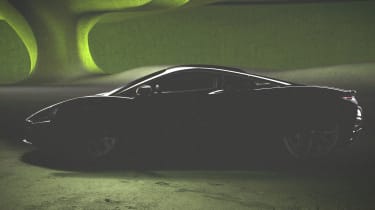 McLaren will reveal its new rival for the Ferrari F8 Tributo and Lamborghini Huracan Performante tonight with the debut of the Artura – a new, six-cylinder plug-in hybrid supercar using a brand new platform.
This new 570S replacement is completely new territory for the Woking based supercar manufacturer and Formula One team. Only once before has it turned to electrified power in a series vehicle – the P1 hypercar – and the decision to introduce a hybrid supercar has been made possible by embracing a brand new carbon-fibre tub capable of housing electrified drivetrains.
Best supercars 2021
A teaser image provided our first official look at the Artura's styling, and it looks like in contrast to the new chassis and engine, the brand has taken an evolutionary approach to the car's design. It retains a similar silhouette as the 570S, sharing the same sharp nose, roofline and trademark hump over the rear arches.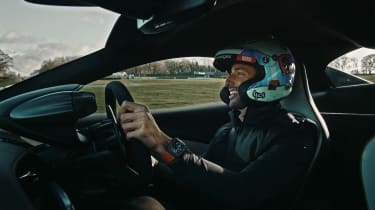 However, McLaren has made a conscious effort to pull the look of its entry-level model into step with the rest of its product range. Recent patent images show the Artura's headlamps will mirror the Speedtail's, its aggressive front grille will share similarities with the Senna and its enormous meshed rear valance and exhaust outlets will be almost identical to the 720S's.
McLaren has already confirmed the rumours about its upcoming V6 hybrid engine – although specific technical details, such as the unit's power output and displacement, are yet to be announced. However, McLaren has said the system will have the same level of performance as its outgoing V8 engine, while providing improved response and better fuel economy.
For the sake of comparison, the 570S's twin-turbocharged 3.8-litre V8 has an output of 562bhp and 600Nm of torque – enough for a 0–62mph time of 3.2 seconds and a top speed of 204mph. Although it's not as important for a supercar, the 570S also manages a claimed fuel economy figure of 23.2mpg and CO2 emissions of 276g/km.
McLaren's latest hybrid system has been designed using the experience gained from the P1. Like that car, the Artura will also be able to operate on electric power alone, which means owners will be able to drive their cars emissions-free through built-up areas.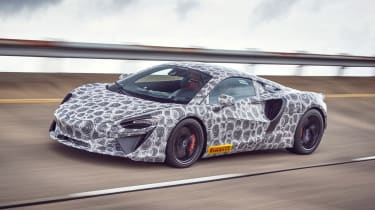 The Artura's bodywork is propped up by an all-new carbon fibre monocoque, dubbed the the "McLaren Lightweight Carbon Architecture" (MLCA), it's been designed specifically with hybrid systems in mind, in order to offset the additional weight of batteries and generators.  McLaren has revealed that the new platform will be manufactured at the company's new £50 million composites base in Sheffield. 
Mike Flewitt, CEO of McLaren's automotive division, said: "Every element of the Artura is all-new – from the platform architecture and every part of the High-Performance Hybrid powertrain, to the exterior body, interior and cutting-edge driver interface – but it draws on decades of McLaren experience in pioneering super-lightweight race and road car technologies to bring all of our expertise in electrification to the supercar class."
McLaren's push towards hybrid drive forms part of the company's £1.2 billion Track 25 business plan, which will see 18 new petrol-hybrid powered models launched by 2025. The brand says it is currently evaluating a new high-power battery pack for a full EV setup that will offer a claimed 30 minutes of electric range around a race track.
Find out what happened when we pitched the McLaren GT against the Porsche 911 Turbo S here…
Source: Read Full Article