The third-generation Peugeot 308 hatchback is set to arrive in 2021 with a range of mild-hybrid, plug-in hybrid and all-electric powertrains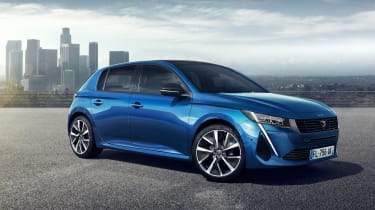 The Peugeot 308 made a splash when it arrived for its second generation in 2014, picking up the title of European Car of the Year and kicking off a golden era for the French brand. But now it's time for an all-new 308 to be launched. It's due to be revealed in late 2021 before hitting the road in 2022.
Previewed in our exclusive images and caught on camera by our spy photographers, the car will change dramatically when compared with the current model. A sharper, more angular design, similar to that of the latest 208, 2008 and facelifted 3008, is coming, and we expect a similar update in the cabin. Rather than the minimalist layout found in today's car, the new 308 will get a digital upgrade to the standard of Peugeot's latest models.
Best hatchbacks to buy 2020/2021
Peugeot will fight on an entirely new front with its new hatchback, too, because plug-in hybrid and fully electric power are both being considered. Speaking to Auto Express, the head of electric vehicles at Peugeot's owner, Groupe PSA, revealed her desire to make the next 308 a car for buyers of petrol, diesel, plug-in and fully electric models, highlighting the flexibility planned for Peugeot's next family car. 
"The 308 can be produced on both platforms – e-CMP and EMP2," explained Anne-Lise Richard. "So clearly we could have both PHEV and EV. I think there is room for both technologies for the customers."
The reference to two different platforms – the CMP layout for superminis, plus the larger EMP2 architecture used by Peugeot's current 308 – doesn't mean that the new car will be built across two different sets of underpinnings. Instead, it's indicative of the tech that the firm has at its fingertips. The e-CMP platform is used on the new Citroen C4, whereas the upcoming DS 4 will use the updated EMP2 underpinnings.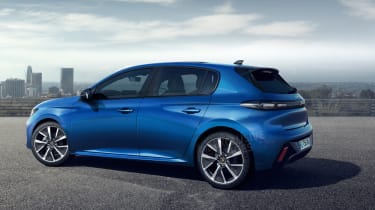 Larson
It's more likely that the new 308 will use EMP2 rather than CMP, given the suggestion that both plug-in hybrid and electric power are being considered. The smaller CMP system is suitable for petrol, diesel and pure-electric powertrains, but the EMP2 platform is being developed to accommodate fully electric power, alongside the combustion engine and plug-in hybrid options (found in the PSA Group's compact SUVs) offered at present.
A fully electric car based on EMP2 has yet to be launched, but Peugeot, Citroen and Vauxhall have all revealed medium-sized electric vans using the same technology, so a family car with a range of more than 200 miles would be the next logical step.
Retaining plug-in hybrid power alongside a fully electric 308 could be a move that caters to performance enthusiasts. Peugeot has just revealed the 355bhp 508 Sport Engineered saloon, and its 1.6-litre petrol-electric powertrain could slot straight into the 308 if desired. Irrespective, the hatch is almost certain to be offered with a less potent, more economical version of the 1.6-litre plug-in hybrid system, with 222bhp and more than 30 miles of electric range. 
The new 308 is expected to be an important Peugeot in regards to 48-volt mild-hybrid technology, too. Automatic versions are likely to gain a new electrified dual-clutch transmission developed by Punch Powertrain in time for launch in 2022. 
Are you looking forward to the next-generation Peugeot 308? Let us know in the comments section below…
Source: Read Full Article