Honda's sister brand Acura teases the upcoming Integra revival, revealing the car's five-door fastback body style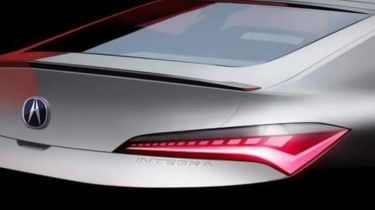 Having announced the revival of the iconic Integra nameplate in August, Honda has revealed a new teaser image of the upcoming car, which is set to arrive in 2022. 
The Integra moniker was last seen in 2006 when the fourth generation car, which was never sold officially in the UK. went off sale. Until now, the badge is primarily associated with compact, two-door, front-wheel drive coupes, however, as this latest teaser shot reveals, the new Integra will adopt a five-door fastback body style.
Greatest drives – Honda Integra Type R, Ford Puma, Lotus Elise and more
The car in the teaser image wears an Acura badge – Honda's premium, luxury brand – and the new Integra has been confirmed to launch during spring 2022 in the US market. As yet, it is unknown whether the Integra will be available to UK customers, but it will be badged as a Honda if so.
Either way, it is likely that the new Integra will share its underpinnings with the new Honda Civic, which was revealed earlier this year. Previous Integras have borrowed their mechanicals from Honda's family hatch, although fans of the nameplate will be hoping that the new model goes further than a redesigned body on standard Civic running gear. 
The styling of the new Integra is a departure from Honda's complex, angular designs of late, and more in line with Acura's styling language. From this teaser shot, the surfacing is neat and smooth, with minimal sharp creases and a distinctive LED tail light signature.
The Integra logo is embossed into the bumper, and as revealed by another teaser photo in August, the front running lights will mirror those at the rear. The front end will also feature tight creases, an embossed Integra script and a trapezoidal grille design. 
Given that the Integra is likely to be based on the Honda Civic, a Type R variant could be on the cards, using running gear from the hot hatch. Honda has previously confirmed that a Type R variant of the new Civic is in the works, which could pave the way for a high-performance Integra. 
Click here for all the latest on the new Honda Civic…
Source: Read Full Article