The new Lotus sports car, which is codenamed Type 131, is likely to feature V6 hybrid power, and our exclusive images preview how it could look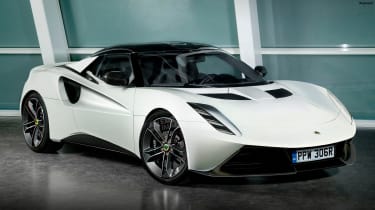 Lotus bosses have promised that the company intends to "stay true" to its enthusiast base and existing price positioning – after the British firm announced that it is axing production of its three current sports cars, the Elise, Exige and Evora, ahead of introducing an all-new model in 2022.
The new car, which is codenamed Type 131 and previewed by our exclusive images, is likely to feature V6 hybrid power and will be pitched above the current positioning of the Evora. That could give it a starting price of around £85,000 – almost double the figure of the outgoing Elise.
New Lotus Evija makes appearance at Goodwood SpeedWeek
But speaking to Auto Express, Uday Senapati, Lotus's Executive Director of Corporate Strategy and Product Management, said that although there is no immediate plan to replace the existing cars, the company does not envisage any major deviation from its current pricing structure – broadly speaking, between around £60,000 and £100,000.
"I can't share with you all what the future holds but for now, we've taken the difficult decision to axe it [the Elise]," Senapati said. "We're not about to say we're going to bring it back, either. You never know, but currently the decision is to stop it.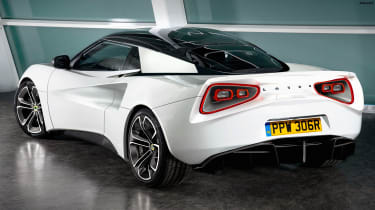 "However, we've had a great fan base and customer base over the 73 years of Lotus history; we have 100,000 cars out there. We're not going to ditch those customers and those values. We'll stick to who we are. The DNA doesn't go away. And the price points will be similar, even when we're talking about pure-electric cars. That, you can imagine, is a massive challenge, but we will be in the price points where people would like to see us. And higher as well."
As revealed by Auto Express last year, Type 131 is likely to be the last Lotus powered by a combustion engine. The car will be revealed this summer, ahead of prototype production beginning at a new £100m facility in Norfolk, and the first buyers should take delivery in early 2022.
Senapati declined to divulge the Type 131's production name but he gave a strong hint that internet speculation saying it will carry the Esprit badge is incorrect. "I'm not saying this car will not be a legendary car going forward, but we want to create more legends, not just recreate the good old times," he said. "There's more scope for us to do new and even better things, I hope."
He confirmed that the plan is still for the company's cars to switch to electric power thereafter, describing the forthcoming new sports car as "the last hurrah for combustion engines, from our side".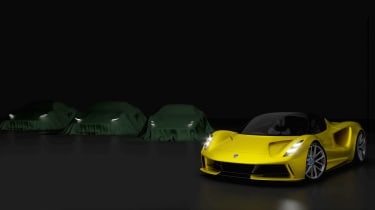 That means that the other two vehicles in an official teaser image will use the as-yet-unnamed all-electric platform that will also underpin the next generation of Alpine's A110 coupé hinted at in Alpine's own teaser image. Senapati said that the architecture is being developed by Lotus itself, and that it will form the basis for the pure-electric vehicles launched beyond the Type 131.
"The EV sports car is our platform, developed by Lotus Engineering," Senapati said. "We were always doing it for our sports car line-up. Alpine will benefit from this; we'll benefit from economies of scale. This is not an exclusive partnership with Renault; we are open to sharing that platform with other players as well. But Alpine will be one of our biggest partners on it. The partnership is not just a car. It's bigger than that. Our relationship is extremely good; it's developed well over the past 12 months, and we've worked on all sorts of ideas."
He added: "The platform will absolutely form the new hub of Lotus. Sweating your assets is a very important thing in this business. With sports cars, there are really two ways to do this: you can get more off the platform, or embrace partnerships to build on the economies. We will continue to do both of those things."
Lotus is also heading into this key development era with a new boss. The firm's managing director Phil Popham is leaving to "pursue personal interests", and he is being replaced by current engineering chief, Matt Windle. A transition process between the pair is scheduled to be complete by March.
Are you sad to see the demise of the Lotus Elise, Exige and Evora? Let us know your thoughts in the comments section…
Source: Read Full Article