The next-generation Fiat Tipo will switch from hatchback to a family-sized crossover, and our exclusive images preview how it could look

Fiat is ready for a major renewal as part of the wider Stellantis Group – and the company will make a decisive move in reinforcing its range when it brings a new family-sized Fiat Tipo to the market in 2025.
The Italian brand is judged by many to be a sleeping giant, and over the past 15 years it has struggled to justify the investment required to keep its line-up of small cars up to date. That will change over the next four years, with models – including a reborn Punto and a pared-back Panda – already designed and locked into a product plan that extends far beyond the 500.
Top 10 best small SUVs and crossover cars to buy 2023
Now Fiat boss Olivier François has confirmed that as part of the brand's role within Stellantis (which also includes mainstream manufacturers like Vauxhall, Citroen and Peugeot), it is planning to overhaul its Focus and Golf-rivalling Tipo.
"What I love about Fiat is that we have only two missions – urban mobility and affordable family transportation," François said. "The second of those means room, room, room – space for the money, ingenuity when it comes to little things that simplify your life while using the car for the whole family.
"This is the C-segment [family hatchback] and you will see it in 2025. We need to replace the Tipo. Don't torture me about bodystyle, but it's going to cross over the traditional segmentations, as everyone does now. So it's a little bit SUV-ish, but in an innovative way."
Our exclusive images reinterpret the Tipo as a family-sized crossover, incorporating cues from some more recent Fiats sold outside of Europe. That's because the new model will need to be sold worldwide, appealing to customers everywhere from Turkey to Latin America, as well as in traditional family hatchback markets such as Italy, Germany, France and the UK. It will also have to replace three bodystyles: conventional hatchback, saloon and estate.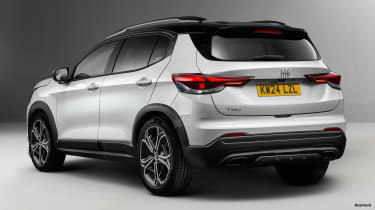 "There is no way that Fiat can become regularly profitable – and it is profitable now, but our plan is for it to become increasingly so – if we don't merge our European and South American line-ups," François said. "The car we will launch in 2023 [expected to be a 500X EV] will still be European, because it is from before [Stellantis]. It takes time to converge.
"But we will start in 2024, 2025 and 2026; this is my horizon for cars that are frozen in design and so forth, and we're going to have one single line-up. It can be electric in one region and combustion engined in another, with only minor differentiation, which allows me to make huge volumes on the same base."
That twin-track approach on powertrains opens up a world of platform possibilities. An arrival date of 2025 puts the Tipo at the end of the lifespan of the CMP/e-CMP architecture – which underpins everything from the Peugeot 208 to the Citroen C4 – but also at the starting point for the all-electric STLA Small platform that will effectively replace it.
The two architectures will share numerous parts, potentially allowing both to be used, but the most likely scenario is that Fiat will stick with CMP for both Europe and Latin America. This will tap into a fully depreciated cost base that will still support a number of big-selling models into the second half of the decade. The company also has its own Latin America-focused platform, called MLA, but it's unlikely to be used because it's fundamentally based on much older mechanicals that were developed with General Motors, instead of Stellantis ones.
François suggested that the majority of European customers could actually be offered the next Tipo as an EV only, although he hinted at flexibility on the matter – another area where CMP would score highly: "Our ambition – it's not 100 per cent, but I hope we will deliver – is to launch every new model as electric only [in Europe] from 2024. We can do that thanks to Stellantis and the sharing of technology. We have to follow the market, listen to customers, and the cost of batteries is not going down as quickly as we wish.
"We will be ready if the technology and infrastructure allow it, But the beauty is that since we will have the same cars in two regions, one of which is not going to be electric, we have time to pull the trigger. We have vision but can also have pragmatism."
The current Tipo was launched in 2015. Sales in Europe peaked at over 125,000 units in 2016, but have fallen to barely a quarter of that figure. It is currently made at the Bursa factory in Turkey, where there is now considerable spare capacity after Stellantis moved a number of commercial vehicles, including the Vauxhall Combo and Fiat Doblo, to its plant in Vigo, Spain.
Click here for our exclusive images of the new Fiat Panda…
Source: Read Full Article