The first SUV from Lotus, codenamed Type 132, will be built in China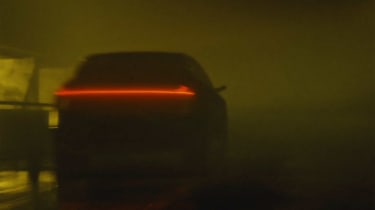 Lotus's upcoming all-electric SUV will be revealed next month and these new images are our best look yet.
We already know the SUV, codenamed Type 132 within Lotus, will sit on the new 'Premium Architecture' – one of the firm's four new platforms designed for electrification. Now we can see key details, such as the carbon inserts on the wheels, grooved brake discs, and flat-topped steering wheel, suggesting a focus on sportiness which could see it rival Porsche's new electric Macan.
New electric Lotus sports car set for 2026 launch
The rear shot of the car also suggests the SUV will offer rear-view cameras rather than wing mirrors and a full-length rear light bar also seen on the new Emira.
While the electric SUV might struggle to conform to Colin Chapman's philosophy of 'simplify, then add lightness', there should be some impressive performance available. The Premium Architecture will have wheelbases ranging from 2,998mm to 3,100mm, and batteries 90kWh to 120kWh in capacity are being designed for use within the platform. Lotus says Premium Architecture cars will have motor systems capable of propelling the cars from 0-62mph in under three seconds.
They'll also be electrified at 800v, like the Porsche/Audi J1 platform underneath the Taycan and e-tron GT. This should result in ultrafast 350kW charging capability.
Lotus is now speaking openly about using its Premium Architecture for "an all-new range of lifestyle vehicles" – expected to be SUVs – that will "catapult Lotus into a new era of higher retail volumes and significant revenues".
Unlike the brand's Hethel-built sports cars, the Lotus 'lifestyle' models will be built in China, at a new £900m factory in Wuhan.
Are you excited about the prospect of a Lotus SUV? Let us know your thoughts below…
Source: Read Full Article