We get behind the wheel of the searingly hot Audi RS 3 Saloon to see if it can match its impressive performance figures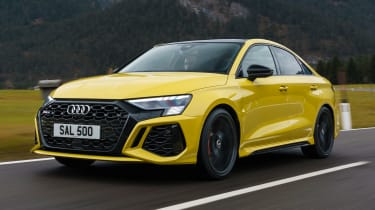 4.5 out of 5
Buy used for less at Buyacar
Verdict
In four-door form the new Audi RS 3 is a genuine junior supersaloon. The car's RS Torque Splitter differential gives it a sense of agility hitherto unseen in any small Audi RS model, and the car is ballistically quick. Yet it's also more civilised than its predecessor, riding better and with more sophistication and control. Some question marks remain over the interior (especially at this price) but the RS 3 is a fine performance car that we'll miss when it's gone.
Two decades ago, a premium saloon with around 400bhp looked like BMW's M5 of E39 vintage. In 2021 it takes the form of Audi's new RS 3, showing you how much the industry has progressed when it comes to size and power.
We've already had chance to sample the RS 3 Sportback, which will be the bigger seller in the UK, but this saloon still holds appeal to those wanting something fast, characterful and premium in a different bodystyle. If this is your criteria, the Mercedes-AMG CLA 45 S is the Audi's closest rival.
New Audi RS 3 Sportback 2021 review

The pace of development over the last 20 years or so means that Audi's smallest RS model now offers 395bhp from its 2.5-litre turbocharged in-line five-cylinder engine – a layout synonymous with Audi's performance models.

More reviews

Car group tests

BMW M2 Competition vs Audi RS 3 Saloon

In-depth reviews

Long-term tests

Long-term test review: Audi RS 3

Road tests

New Audi RS 3 Sportback 2021 review
New Audi RS 3 Sportback 2019 review
New Audi RS 3 Sportback 2017 review

Used car tests

It sends that power to all four wheels through a seven-speed dual-clutch automatic gearbox, but it's the model's clever new RS Torque Splitter that is the biggest change in specification over its predecessor.

This new differential features one electronically controlled clutch for each rear half shaft, sending more drive torque to the outer wheel in corners to help turn the car from the rear and make the RS 3 feel more agile.

Of course, both axles are driven, but with all of the torque sent rearwards able to be diverted to just one rear wheel through the new diff, dynamically it gives the RS 3 more of a rear bias than it's ever had.

Different drive modes determine how the engine's efforts are distributed, and with both axles working in harmony the RS 3 saloon will sprint from 0-62mph in just 3.8 seconds – a level of performance some high-end sports cars can't match.

It feels every bit good for this claim on the move, with huge traction and a rampant motor that pulls hard in the mid-range and makes a glorious noise; there are whistles from the turbocharger overlaying the gruff soundtrack from the exhaust, some of which is enhanced in the sportier setting.

You could genuinely buy the RS 3 for its motor alone; we'll miss combustion engines like this in the fully electric future.

The gearbox shifts sharply enough, with crisp changes in Dynamic mode and a relaxing level of slur between ratios in Comfort, so from this perspective the RS 3 should be easy to live with.

To control the performance on offer, the suspension has been thoroughly reworked, with one degree more negative camber on the front wheels. There are stiffer lower wishbones at the front and new pivot bearings, while the subframes are more rigid. At the rear the new multi-link layout is joined by a fresh anti-roll bar. The whole car rides 10mm lower than the S3, too.

This £57,900 Launch Edition model (of which only 96 Sportbacks and saloons will make it to the UK) also features adaptive RS suspension as standard, otherwise it's available as an option. Compared with the slightly fidgety S3 that sits beneath it in the line-up, this RS 3 is even more comfortable day-to-day, yet even more capable at the other end of the scale.

Grip is superb, and the RS 3 delivers stupendous all-weather performance, while it's more agile and alert than any RS 3 has been previously. It's a big change in character for the car.

There is an 'RS Torque Rear' drift mode setting, but it's hardly the most relevant feature. Instead, what's pleasing is just how much of a difference the RS Torque Splitter makes in every-day fast driving.

You can choose between Comfort, Balanced and Dynamic modes, with the latter really helping to pull the car through a corner as you squeeze the throttle on. It's a sensation that might take some time to get used to, the car really turning from the rear, and it's pronounced in some situations where you might not expect it (through faster, sweeping curves, for example).

However, once you become accustomed to the way the system works it's a big plus. Especially on the tight, twisting roads that hot compact models like this should pick apart.

Alongside the new-found comfort, there's plenty of space in the rear, while the 321-litre boot in saloon form backs up this level of practicality. The interior doesn't feel the most special, certainly when the car is priced from £50,900, with hard plastics in areas, but there is plenty of technology.

In fact, the RS 3 features a new 'runway' design for its standard digital dash, while other bespoke touches, including a pair of supportive sports seats, create a racier vibe.

The 10.1-inch touchscreen infotainment works as well as it does in any other A3 variant. Just be prepared to not get close to the claimed 31.4mpg and 207g/km CO2 efficiency claims (which are improved over its predecessor's) if you really start to exploit the car's performance. However, focusing on this fact is rather missing the point of the RS 3.

| | |
| --- | --- |
| Model: | Audi RS 3 Saloon Launch Edition |
| Price:  | £57,900 |
| Engine:  | 2.5-litre 5cyl turbo petrol |
| Power/torque: | 395bhp/520Nm |
| Transmission:  | Seven-speed dual-clutch automatic, four-wheel drive |
| 0-62mph:  | 3.8 seconds |
| Top speed:  | 174mph |
| Economy/CO2:  | 31.4mpg/207g/km |
| On sale:  | Now |

Next Steps

Source: Read Full Article