The stretched Bentley Bentayga EWB luxury SUV arrives to replace the Mulsanne as the brand's new flagship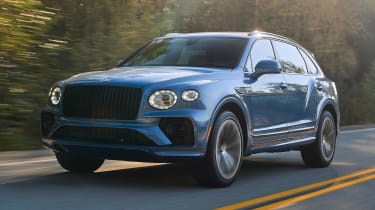 5.0 out of 5
Buy used for less at Buyacar
Verdict
Ever since Bentley launched the Bentayga back in 2015, it has been continually evolved and improved, and the EWB is the best of the lot. It uses innovative tech to make it the most luxurious of luxury SUVs from the back seat, while it's also pretty special from the driver's seat.
What a difference 180mm makes. The extra length the Bentley Bentayga EWB (standing for extended wheelbase) gets over the standard Bentayga all sits behind the B-pillars. As Bentley's interior design boss Darren Day explained to us: "We thought about adding some space in the front, but we really wanted to spoil the rear passengers."
If anything, what equates to an extra seven inches makes the Bentayga EWB look better; the elongated rear doors and roof give it an elegant look that the standard car doesn't have. Just as well, because this in effect replaces the Mulsanne saloon as the British brand's range-topper and go-to model for anyone wanting to be chauffeured in the finest Bentley has to offer.
Top 10 best luxury SUVs 2022

Inside, the firm has really gone to town on spoiling those in the back, with three seating configurations to choose from. There's a standard three-seat rear bench, a two-plus-one arrangement with a rather narrow centre seat for occasional use, or the glorious four-place Airline Seat spec with 40 degrees of recline, 22 different ways of adjustment and a passenger seat that leans forward to offer up an additional footrest. To be fair, it's actually better than any airline seat we've ever sat in.

More reviews

Car group tests

Range Rover vs Bentley Bentayga: 2022 twin test review
Aston Martin DBX vs Bentley Bentayga

In-depth reviews

Road tests

New Bentley Bentayga V8 S 2022 review
New Bentley Bentayga Hybrid 2021 review
New Bentley Bentayga 2020 review
New Bentley Bentayga Hybrid 2019 review

Used car tests

Used Bentley Bentayga review

The pampering doesn't stop there. Bentley has worked with neurologists to concentrate on wellbeing, with the new Azure model focusing on just that. There's been lots of attention on reducing NVH (noise, vibration and harshness), while in the back at least, a smart seat will automatically sense if it needs to adjust its shape to ensure you remain comfortable and relaxed – and it'll do the same with the heating and cooling function.

Of course, rear passengers shouldn't have to reach out to close the doors, so buttons to do that for you are mounted on the revised centre console, alongside a small removable screen that controls the seating, climate and audio functions. Finally, the panoramic glass roof has been repositioned to give the optimal view upwards for those in the back – lucky things.

All this comes with incredible quality that has got better and better during the Bentayga's lifetime. The attention paid to the quality of the leather, the knurling on some of the switchgear, and seemingly every single switch and stitch, is better than you'll find anywhere else at any price.

All that and Bentley claims the Bentayga EWB's cabin is longer than that of either a long-wheelbase Range Rover or a Rolls-Royce Cullinan. Certainly the sheer volume of space in front of rear occupants is enormous, especially with the passenger seat set forward and the Airline Seats in relax mode. Even when they're more upright in the business setting, there are acres of legroom, while getting in and out in a dignified manner is easier than it ever was in the Mulsanne – you just step in and slide out.

The driver has every right to be a little envious of the luxury in the back, but hopefully our feedback should result in the driver getting a little more pampering, with the smart seat tech top of the want list for anyone spending lots of time in the driver's seat – as Bentayga drivers often want to do.

Also on standard Bentayga buyers' wish lists will be the new four-wheel steering system that's fitted to every EWB model. It turns the rear wheels in the opposite direction to the fronts at slow speeds to aid manoeuvrability – with an impressive turning circle of 11.8 metres. At swifter speeds, the rear wheels turn the same way to aid stability.

Sure enough, the Bentayga is more wieldy than before, but not just when parking. Combined with the 48-volt active roll control system, turning into corners – even with some zest – gives you greater assurance, with the nose tucking in more accurately and with less desire to push wide. You'll almost feel like you're in a Continental GT.

As a result, the four-wheel steering is also expected to make it onto the standard Bentayga at some stage. However the two SUVs will have different characters.

Regular Bentayga drivers will notice a softer side to the EWB as it glides over road ridges and potholes with greater plushness. "I'm glad you noticed," Bentley's head of engineering, Matthias Rabe, said to us. "We wanted to make the EWB more luxurious and slightly softer, with the standard car still having a sportier feel to it." Job done.

The 4.0-litre V8 (a plug-in hybrid version is expected later) is silky smooth, with 542bhp and 770NM of torque to get the EWB from rest to 60mph in just 4.5 seconds and on to 180mph. That's just a tenth of a second slower than the standard Bentayga V8, while the weight increase is only 98kg.

The price, though, is likely to take a much bigger jump, up to an expected £211,300 for the EWB Azure, around a £16,000 premium over the equivalent standard-length Bentayga Azure. That's the price you have to pay for what is, from the back seat at least, the best of British luxury.

| | |
| --- | --- |
| Model: | Bentley Bentayga EWB |
| Price: | £211,300 |
| Engine: | 4.0-litre twin-turbo V8 petrol |
| Power/torque: | 542bhp/770Nm |
| Transmission: | Eight-speed dual-clutch automatic, four-wheel drive |
| 0-60mph: | 4.5 seconds |
| Top speed: | 180mph |
| Economy: | TBC |
| CO2: | TBC |
| On sale: | Now |

Next Steps

Source: Read Full Article