The new plug-in hybrid BMW 545e xDrive combines a 3.0-litre six-cylinder petrol engine with an 11.6kWh battery and electric motor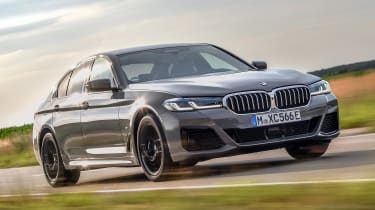 4.5 out of 5
Verdict
As a refined, fuel-efficient and quick executive saloon, the new BMW 545e is very difficult to fault. The new six-cylinder powertrain is a great fit for the 5 Series and the £6,000 premium over the lesser 530e feels like excellent value when you consider the improvements in refinement and performance that it brings. For company car drivers, or spread out over a PCP deal, it's certainly worth a look.
BMW has doubled down on its offering of plug-in hybrid versions of the 5 Series with the launch of a more powerful six-cylinder model, badged 545e xDrive. Its arrival coincides with the launch of the facelifted saloon, which brings with it a subtle exterior redesign and new driver-assistance tech.
The powertrain comprises a 3.0-litre six-cylinder petrol engine that pairs up with an 11.6kWh battery and electric motor to produce a total of 387bhp and 600Nm of torque. As you'd expect with numbers like that, the performance claims are pretty strong; 0-62mph is said to take only 4.6 seconds.
Best executive cars 2020

Perhaps more impressively, BMW claims the 545e should also return up 166mpg and cover 33 miles on electric power. Too good to be true? Well, the easiest of those claims to bust is that of triple-digit fuel economy; however careful or delicate a driver you may be, managing in excess of 100mpg is going to be a challenge when you have almost 400bhp.

More reviews for 5 Series

Car group tests

Mercedes E 300 e vs BMW 530e
Lexus ES vs BMW 5 Series vs Volvo S90
BMW 530e vs Volvo S90 T8
Audi A6 vs BMW 5 Series vs Volvo S90

In-depth reviews

BMW 5 Series review
BMW M5 review

Road tests

New BMW M5 Competition 2018 review

Nevertheless, over a mix of roads in and around Munich, as well as a stretch on the Autobahn, we managed to eke out just shy of 70mpg over a 44-mile route. A touch over 26 miles of that was on electric power alone. All things considered, that's a pretty impressive return for a car packing so much performance.

Whatever the level of charge in the battery, the 545e will start and pull away on electric power. It will comfortably and smoothly accelerate up to motorway speeds without the need for the engine to assist. When it does kick in, such is the inherent smoothness of a six-cylinder engine, as well as the integration with the electric motor, it's almost impossible to detect it. It's an incredibly refined powertrain.

Begin to squeeze the throttle and there's no shortage of grunt; the six-cylinder engine spins freely up to 7,000rpm with a tuneful rasp, but that mpg figure you've started to build up quickly tumbles if you do so.

One really clever piece of tech to try and help maximise the efficiency is the 545e's anticipatory hybrid drive. Enter a destination on the sat-nav and the powertrain and on-board GPS work together to decide where and when is the best place to use the car's electric power. The engine will be relied on for faster, longer stretches of a journey, while the car then automatically switches to full-electric power if it detects a town or congestion ahead.

The system works incredibly well, juggling power smoothly and effectively without you ever really noticing what's going on. It's part of what makes this 545e such an effortless executive car.

Happily, this is still a 5 Series at its core, so if you ever want to set aside that efficiency mindset, there remains a great driver's car beneath you. The chassis is more than capable of handling the 545e's extra power and weight; smooth and weighty steering makes the saloon feel agile, while the excellent damping and suspension work round off bumps to keep progress calm and serene at most speeds.

There are occasions where you are aware of the car's additional mass; if you hit a pothole, for example, there's a more noticeable thud that makes it way through the cabin.

To go with the new powertrain, BMW has also upgraded the 5 Series' main infotainment display with a larger 12.35-inch unit that is now compatible with Apple CarPlay as well as Android Auto. As ever, it remains one of the best systems on the market, with intuitive menus, fast load and response times, and sharp graphics.

A new 'personal voice assistant' has also been introduced, but like every other system of its type, it's a gimmick and quite unreliable. The system either doesn't understand simple prompts in the first place or takes an age to execute the instruction you've asked of it. By which point, adjusting the climate control or switching the radio stations yourself would have been far quicker. It is something owners will try once and likely never use again.

One compromise you'll have to put up with in the 545e is practicality. Rear passenger space remains pretty generous, but boot space does shrink from 530 litres to 410 due to the location of the battery that's part of the car's plug-in system.

| | |
| --- | --- |
| Model: | BMW 545e xDrive |
| Price: | £56,760 |
| Engine: | 3.0-litre 6cyl petrol/electric |
| Transmission: | Eight-speed auto, four-wheel drive |
| Power/torque: | 387bhp/600Nm |
| 0-62mph: | 4.6 seconds |
| Top speed: | 155mph |
| Economy: | 166.2-128.4mpg |
| CO2: | 39-50g/km |
| On sale: | Now |

Next Steps

Source: Read Full Article