One of Caterham's most extreme road-legal cars ever is, unsurprisingly, one of its most thrilling.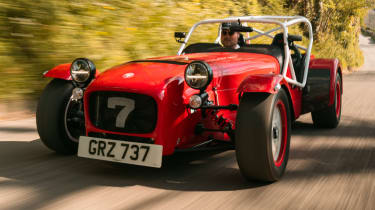 5.0 out of 5
Verdict
Few cars will be as quick or as fun around a circuit at any price. The Seven 420 CUP's engine and gearbox are phenomenal, but the adjustable dampers lend the car not only a level of accessibility for the less experienced track driver, but we suspect they'll also enable impressive compliance on the road.
It's an intense experience, driving a Caterham Seven 420 Cup on track. The noise, the wind in your face, the bugs splattering against your visor – all contribute to the excitement.
But it's the speed that overrides everything else – both along the straights and through the corners. Here's a car that produces 375bhp per tonne, can lap Oulton Park in 1 minute, 45 seconds yet, most amazingly of all, is still road legal.
Caterham 170R vs Mazda MX-5: 2022 group test review

Given that it doesn't even get a windscreen as standard, it's probably a bit extreme for some. However, it still gets a number plate, indicators and lights – LEDs are standard at the rear and an £800 option for the front. Most importantly, the 420 Cup gets a key suspension tweak that also might make it one of the more compliant Caterhams if you do take it on the road.

More on that later, though. The Seven 420 Cup is designed to sit somewhere between the 420R and the marque's full-blown Seven Championship UK Racecar in the range. Under the bonnet sits a tuned Ford 2.0-litre Duratec engine that produces 210bhp and 203Nm of torque. It's mated to a SADEV six-speed sequential gearbox, while the tyres are Avon ZZR as standard, with ZZR Extreme items an option for the very serious track driver. It tips the scales at just 560kg – roughly a third of what a BMW M4 Competition weighs.

More reviews

Car group tests

Caterham 170R vs Mazda MX-5: 2022 group test review
Caterham Seven 270 – best sports cars

In-depth reviews

Long-term tests

Long-term test review: Caterham Seven 310S

Road tests

New Caterham Super Seven 1600 2020 review
New Caterham Seven SuperSprint 2018 review
Caterham Seven Sprint 2017 review
Caterham Seven 310 2016 review

Caterham has added plenty of cosmetic tweaks to make this just a set of race numbers away from looking like a fully-blown competition machine. The 420 CUP gets the same nose cone design as the competition cars, the red body is highlighted by subtle translucent decals, while at the rear there's a centralised fuel filler. The wheels are black as standard, but the racey-looking two-tone red items seen here are an £800 option.

Inside, the Cup takes its carbon-fibre dashboard from the 620 but is equipped with a dial package specific to the 420 Cup, while bright red Alcantara is applied to the transmission tunnel and the headrests. The standard seats are lightweight composite items, while optional heated carbon-fibre seats are a £1,600 extra. If you need a little extra room, it's possible to add a dropped floor for £500 or a wider SV chassis option for an extra £2,500

It's also possible to add a metal boot cover (it slides apart in sections so it's still possible to load your trackday trinkets easily), while if you choose the £900 race roll cage, the tiny door mirrors are attached to the safety tubing itself.

Not that you'll need them often on a track, once you've got your eye in. Very little beside the finest track toys on full slicks will be able to match the pace of the Seven 420 Cup. Around the Snetterton Circuit in Norfolk, it takes a lap or so to bring the tyres up to temperature, but then the speed is devastating.

That Duratec engine tears through its rev range, exhaust popping and snarling beside the cockpit. And with so little inertia to move, the four-cylinder unit has an instantaneous throttle response. The SADEV box is the true star of the powertrain, though; it allows for fast clutchless upshifts that help serve-up a seamless burst of acceleration. It does take a strong, positive action to engage, and you'll need to heel-and-toe for smooth downshifts when braking, but get it right and you'll feel every inch the Nineties BTCC racer.

The agility will blow the mind of a Caterham newbie; the merest nudge of the steering wheel sees the Cup dart towards the next corner apex, while the grip from those sticky Avon tyres is phenomenal. Despite this it's so easy to play with the car's balance; more aggression on turn-in will help the car rotate quickly into a corner, while a delicate squeeze on the throttle will see the car maintain its line beautifully. You feel so fully in control because it's so adjustable and the controls are brimming with feedback.

And adjustability is the key selling point of the 420 Cup. That's because for the first time in the brand's history, this model is fitted with fully adjustable dampers. The Bilstein units have ten stiffness settings, and can be adjusted without any tools in seconds; the fronts are fully exposed, while to tweak the rears you just need to reach inside the wheel arch and rotate the dial to your chosen spot.

It makes the spread of abilities wider than any Caterham before it. In its stiffest settings, it's the familiar laser-guided tool we've become accustomed to. Turn down the dials to slacken the response, and it keeps much of that sharpness, but introduces an extra degree of body movement. It's a setting which gives a less experienced driver a much clearer feel of how the tyres and steering load up through a turn, which in turn gives much greater confidence – especially, we suspect, in wet conditions.

We didn't have an opportunity to sample the Seven 420 Cup on the road, but the quality of those dampers, and the way they handled kerbs on track, make us confident that it'll do a really impressive job of soaking up bumps and poor surfaces. So despite the extreme look and lack of windscreen, there's every chance that you could use the Caterham on the road with fear of chronic backache.

The Seven 420 Cup is priced from £54,990. Get a little over-excited with the options list and it's not hard to see that figure climb beyond £60,000, but it's hard to think of another car at any price that will leave you so exhilarated.

| | |
| --- | --- |
| Price: | £54,990 |
| Engine: | 2.0-litre 4cyl petrol |
| Power: | 210bhp/203Nm |
| Transmission: | Six-speed sequential, rear-wheel drive |
| 0-60mph: | 3.6 seconds |
| Top speed: | 136mph |
| Economy/CO2: | N/A |
| On sale: | Now |

Taking part in a track day? These are the best cars for the job…

Source: Read Full Article