Does the new Cupra Born EV mark a rebirth for the sporty brand? We find out…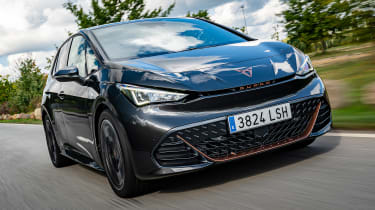 4.0 out of 5
Verdict
The Cupra Born stands out thanks to its successful, eye-catching design, and the driving experience is also subtly different from that of its ID.3 sibling. It carves out the company's first EV as a genuine Cupra with a sporty edge. It's a more emotional alternative to the VW ID.3, and while you pay a premium for this, as electrification takes over it's nice to know there are options that offer something different from each other. The Cupra Born is a convincing EV.
Car makers face a tricky task in the future, because they each have to make their electric cars seem different from those of their sister brands, even though they may be almost identical underneath. Sporty Spanish offshoot Cupra knows this, which is why it has gone down a daring route with its first bespoke EV's looks, to move it away from the Volkswagen ID.3 it's related to.
The Cupra Born's sculpted bonnet, sharp LED lights and 20-inch alloys combine to give it a sporty look. Underneath, it uses the VW Group's MEB platform, so as with the ID.3, the Born features a 58kWh battery supplying a rear-mounted motor that serves up 201bhp and 310Nm of torque.
Best electric cars to buy 2021

Cupra claims a range of 263 miles for the car we're testing here, although a less powerful 45kWh model with 148bhp will feature too, offering 217 miles of range.

Our car's instant torque delivery is enough for a 0-62mph sprint of 7.3 seconds, and despite the fairly hefty kerbweight, performance is sufficient. Traction is good, too, while even the braking feel, which can sometimes be a sticking point with EVs because of how they use regenerative braking to charge the battery, doesn't detract from the experience.

The Born delivers dynamic handling and even a decent sense of fun; it feels like a great deal of fine tuning has gone into the suspension's development and set-up, with the Born absorbing bumps and knocks surprisingly well given the size of its wheels. It makes for a fairly comfortable ride, while the sharp, relatively responsive steering gives the Cupra an edge of engagement without feeling nervous.

In Cupra mode in particular, there's an extra heft to the steering set-up's weight, which doesn't add any more feel or increase the front end's response at all, but it makes the Born feel solid, like some of Cupra's sportier combustion-engined products.

At 4,322mm long the Born is 61mm longer than the VW ID.3, but despite this, legroom is still on the more limited side. The Born is 31mm lower than its sibling too, which means taller passengers will likely feel a little cramped in the rear, not helped by the higher-set rear bench seat. Still, at least this helps give a good view out. It's comfortable in the front, with sports seats that hold you well, although the integral headrests do protrude a bit.

At least overall practicality is given a boost by the 385-litre boot, which is a good shape, and this model's 100kW DC rapid-charge capability, which will top-up the battery from five to 80 per cent in 35 minutes. A full charge using an 11kW AC feed will take six hours and 15 minutes.

First impressions point towards the Cupra Born being higher quality inside than the ID.3 in the areas that matter, but it's clear the Born has still been built to a price, because there is room for improvement.

The Cupra's infotainment is better than we've seen in VW's MEB cars so far though. It seems pleasingly well thought out, with a relatively intuitive voice control system. But this makes the touch-sensitive operation and the sliders on the dash and steering wheel even more frustrating as a method of operation. At least the graphics are sharp and bright, including on the small digital driver's display, which shows everything you really need.

With an estimated starting price of around £32,000 including the £2,500 Plug-in Car Grant, even if this bigger battery model might cost a little more, it seems Cupra has carved out space in the market for the Born fairly effectively.

| | |
| --- | --- |
| Model: | Cupra Born |
| Price: | From £32,000 incl. PiCG (est.) |
| Batt./motor: | 58kWh (net)/1x e-motor |
| Power/torque: | 201bhp/310Nm |
| Transmission: | Single-speed automatic, rear-wheel drive  |
| 0-62mph: | 7.3 seconds |
| Top speed: | 99mph |
| Range: | 263 miles (WLTP) |
| Charging: | 100kW DC (5-80% in 35 min)  |
| On sale: | Now |

Next Steps

Source: Read Full Article