The new Dacia Sandero is a jump up in quality and is now a legitimate rival for the Ford Focus and Vauxhall Corsa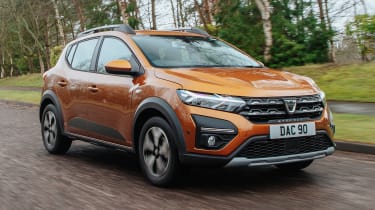 4.5 out of 5
Buy used for less at Buyacar
Verdict
The Dacia Sandero isn't just a great car for the money, it's a great car full stop. The step up in quality, refinement and technology is huge, to a point where it can compete with established rivals like the Corsa and Fiesta in all of those key areas. You'd expect that jump in quality to be reflected in the price, but it isn't. The Sandero is no longer cheap and cheerful, it's cheap and a class challenger. 
You may have seen the marketing campaign for the new Dacia Sandero, the UK's cheapest new car, costing from just £7,995. 
That headline grabbing entry-level model isn't what Dacia's customers are really buying, though. The sub £8k Access model accounts for only a handful of overall Sandero sales. The car we have here – the range topping, SUV-aping Sandero Stepway in Prestige trim – is more than twice that price, but actually far more reflective of what Sandero buyers budget for.
Cheapest cars on sale 2021

It is powered by a 1.0-litre three cylinder turbocharged petrol engine that's paired to a CVT automatic gearbox. It's also fitted with every possible optional extra on the Sandero's menu. This is the Rolls-Royce of the Dacia line-up but at £15,805, with options, the price tag is anything but. 

More reviews

In-depth reviews

Dacia Sandero Stepway review
Dacia Sandero review

Road tests

New Dacia Sandero Stepway Bi-Fuel 2021 review
New Dacia Sandero 2021 review
New Dacia Sandero Stepway Techroad 2019 review
New Dacia Sandero Stepway 2017 facelift review
Dacia Sandero 1.0-litre SCe 75 Ambiance review

As standard it comes fitted with 16-inch alloy wheels, LED headlights, keyless entry, automatic air conditioning and wipers, an eight-inch infotainment system, wireless Apple CarPlay, reversing camera, full suite of parking sensors, cruise control and heated wing mirrors. A simply staggering amount of kit on a car costing so little. 

So Dacia has skimped on quality then? Nope. The dashboard and door panels, the point of the car you're likely to touch the most, are covered in textured fabric material. It also looks pretty good and is far easier on the eye than the swathes of hard plastic you'll find in a Hyundai i20 – a car costing from at least £20,000.

Of course, there are hard plastics used on lower sections of the centre console, top of the dash and sections of the doors, but nothing directly in the line of sight or that you touch all too often. It's such a simple but logical way to design a cabin on a budget it makes you wonder why other brands don't do it. That common sense approach also extends to a few other simple touches like the cupholders, which are located deep in the centre console so you can store a couple of drinks there without them intruding when you try to change gear. VW doesn't even get that right with the Golf. 

Then there's the neat smartphone cradle attached to the eight-inch touchscreen, which has a USB port directly behind it so you don't have to trail a cable down and around the dashboard. Hardly groundbreaking bits of design, but simple touches that reinforce Dacia's no nonsense approach. 

There's also the way it drives, it's much quieter than before, more refined and overall a pretty relaxing supermini – and that's exactly what it's designed to be. The Sandero is now based on the same platform as the Renault Clio – currently the best car in its class – so those improvements should come as no great surprise. But when you consider the price of the Dacia and how accomplished it feels, it's quite an achievement.

The 90bhp 1.0-litre three-cylinder engine is a known quantity from the Clio, but it's an effective motor and not as slow as the 14 second 0-62mph time suggests. It's a little boosty in its delivery, which feels like all of its torque hits the instant you hit 2,000rpm, but at motorway speed it is very quiet and refined. The relatively soft suspension setup also helps in this regard, smoothing out most road imperfections, but approach a corner too quickly and you'll find out that there is quite a lot of body roll.

While the Sandero is largely soft and comfortable, it doesn't feel as sophisticated as a Ford Fiesta or Volkswagen Polo when driving at lower speeds and over broken tarmac, as the damping doesn't filter out bigger lumps and bumps in the road. However, this is perhaps the only area where it gives away notable ground to its pricier rivals. 

Adding the CVT automatic is around a £1,000 option, which is a big chunk of cash given the price of the Sandero. The gearbox isn't very sophisticated, and quite slow to react, but it suits the Sandero's more laid back nature pretty well. However, the six-speed manual is perfectly fine so probably the transmission to go for, especially given the cost saving on price.

On a practical level, the Sandero also excels. There's plenty of space up front, loads of head room and a couple of adults will be more than comfortable enough sitting in the back. The 328-litre boot is a great size, although there's a pretty chunky loading lip to get over. 

| | |
| --- | --- |
| Model: | Dacia Sandero Stepway Prestige TCe 90 auto |
| Price: | £15,095 |
| Engine: | 1.0-litre 3cyl turbo |
| Transmission: | CVT automatic, front wheel drive |
| Power/torque: | 90bhp/142Nm |
| 0-62mph: | 14.2 seconds |
| Top speed: | 101mph |
| Economy/CO2: | 45.6mpg/139g/km |
| On sale: | Now |

Next Steps

Source: Read Full Article