The upmarket French brand is aiming to ruffle a few feathers in the premium hatch class with its new DS 4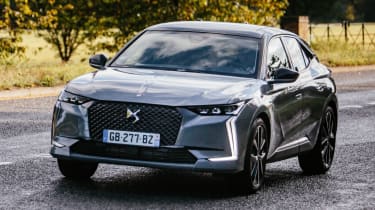 4.0 out of 5
Buy used for less at Buyacar
Verdict
As a rival for established premium hatchbacks, the DS 4 is a welcome addition. It doesn't seek to copy its Teutonic rivals but, instead, offers an interesting alternative and is bound to appeal to buyers who don't just want to follow the herd. It's a high-class hatch that drives well, feels genuinely high-quality inside, is fizzing with new tech and is competitively priced. Go for the hybrid if you can afford it; it's easily the best version.
If you have 30-35 grand to spend on a premium hatchback nowadays, your choice is varied and the cars available to you are either good or excellent, and most of them emanate from Germany. Which means the overtly French new DS 4 has a big mountain to climb to persuade punters away from the Audi A3, BMW 1 Series and Mercedes A-Class default choices.
But DS is confident it can take a slice of this lucrative pie with the sharp-looking new DS 4. It claims customer service will be second to none, to a point where owning the car will be a genuinely pleasurable experience, from the moment you express an interest in it to the aftersales treatment.
Best plug-in hybrids 2021

The car itself is bristling with new technology. "It's like using an iPhone", say its designers, and from our experience, they might just be telling the truth.

More reviews

Car group tests

DS 4 Crossback vs Audi Q3 vs Volvo V40 Cross Country

In-depth reviews

Road tests

DS 4 Crossback 2016 review
New DS 4 2015 review
DS 4 Prestige THP 210 review
DS 4 PureTech 130 review

In the flesh it does look unusually sharp, inside and out, and feels like a different kind of car compared with the German establishment. Even the steering wheel has been hand-stitched, while the switchgear has been designed to operate like an expensive Swiss watch (it sort of does, too) and the kit levels are competitive across the range when compared with key rivals.

It's well priced beside its more obvious competitors, starting from £25,350 for the entry-level PureTech 130 Bastille+, rising to the £43,695 for the all-singing E-Tense 225 hybrid in top-flight La Premiere specification.

In the fullness of time, there will be four trim levels available in the UK – Bastille+, Trocadero, Rivoli and La Premiere – and three different styling options. Performance Line cars feature more sporting styling touches and appear to ride lower than the basic DS 4 versions, while the Cross models have a more robust look.

The styling touches work on two levels. They look good in all guises, but also make each individual model appear quite different to the others in fundamental character. That's a clever piece of design on its own.

But the same also goes for the interiors, which are largely unchanged across the range and impressively high in quality. Items such as the air vents and gearlever have been redesigned to be all but hidden from view in an attempt to declutter the interior, almost to a minimalist level.

All DS 4s get a big central touchscreen with iPhone-like swiping capability. There's also a smaller touchpad in front of where the gearlever would normally sit that you can set up to operate your six favourite functions.

Practicality is strong but not class- leading, with rear-seat legroom quite tight compared with its biggest rivals. The main issue is poor foot room beneath the chunky, all-electric front seats. Still, headroom is decent and the 390-litre boot is as practical in shape as it is impressively big.

On the move the DS 4 is either a perfectly decent car to drive or a really quite good one, depending which powertrain you go for. We tried the only two versions available at launch, the 225 PureTech petrol and the E-Tense 225 hybrid. Although the PureTech petrol felt perkier, the E-Tense hybrid is the better of the two overall. It's not that much quicker than the petrol, with a 0-62mph time of 7.7 seconds, but the hybrid feels a lot more grown up and sophisticated than the petrol version on the move.

Its near-silent running in e-mode suits the car's fundamentally calm nature far better than the slightly frenetic, less refined, and louder 1.6 petrol turbo engine. Plus, it'll run for around 38 miles on electric power.

The hybrid also suits the DS 4's chassis, steering and brakes. The steering is a bit digitised in feel but is accurate and usefully precise, while the ride and handling are typically soft in Comfort mode, with enough flair to keep you interested without this being the car's raison d'etre.

Truth is, the DS 4 is a car you'll enjoy being in and interacting with. Dynamically, it's good enough but not a huge amount more. It's all the other stuff that comes with it that will endear you towards it, and maybe persuade you away from its German rivals. That's the way DS Automobiles sees it, and for a certain type of customer the DS 4 could, should and deserves to do just that.

| | |
| --- | --- |
| Model: | DS 4 E-Tense 225 Rivoli |
| Price: | £40,100 |
| Engine: | 1.6-litre petrol turbo hybrid |
| Power/torque: | 222bhp/360Nm |
| Transmission: | Eight-speed automatic, front-wheel drive |
| 0-62mph: | 7.7 seconds |
| Top speed: | 145mph |
| Economy/CO2: | 232.3mpg/30g/km |
| EV range: | 38 miles |
| On sale | Now |

Next Steps

Source: Read Full Article