Ford's mid-sized Kuga SUV is getting a refresh with styling pinched from the new Focus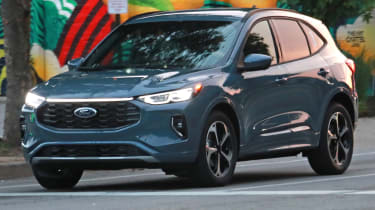 Ford is revamping its range, with the Fiesta and Focus receiving recent mid-life revisions, it's now the turn of the Kuga. The third-generation Kuga has been with us since 2019 and these images show us what the upcoming facelifted model will look like.
Straight away we can see the new Kuga will adhere closely to the design language of the new Fiesta and Focus with a larger Ford badge in the middle of a similarly-shaped grille. The whole of the front bumper has been redesigned as well with new side air intakes underneath the headlights. The headlights themselves are a new shape and there's an additional central light bar above the grille.
New Ford Mustang teased ahead of 2023 reveal
The side of the facelifted Kuga looks unchanged from the current model. This spec features body-coloured sills and wing mirrors as well as blacked out window trim.
The rear doesn't get the kind of comprehensive update seen at the front end, the light clusters retain the same shape with a different internal design. There's also a new tailgate handle, although that could just be for this North American version of the car.
We expect the new Kuga to get an update inside too. The latest version of Ford SYNC4 infotainment should appear, ​​operated via a new 13.2-inch central touchscreen. The 12.3-inch digital instrument cluster will probably remain.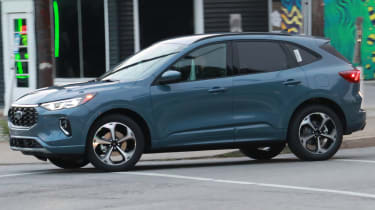 The engine line up isn't likely to change so powering the new Kuga will be a 148bhp 1.5-litre petrol, a 187bhp 2.5-litre petrol hybrid and a 222bhp 2.5-litre plug-in hybrid petrol.
While these spy shots show a completely uncovered car, we're yet to see the facelifted Kuga testing in Europe so we don't expect a full reveal until later this year. Pricing for the new Kuga should start slightly higher than the current car's £28,755 starting price tag.
Check out the latest Ford news and review here
Source: Read Full Article