The new Ford Mustang Mach 1 costs £11k more than the standard V8, but the chassis tweaks have resulted in an entertaining track day car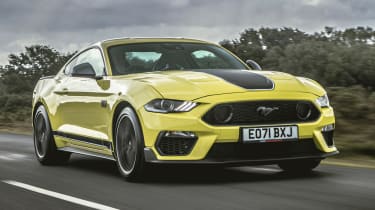 4.0 out of 5
Buy used for less at Buyacar
Verdict
For what may be a swansong for the naturally aspirated V8 muscle car, the Ford Mustang Mach 1 is a fitting tribute. It's not a groundbreaking rendition of the Mustang recipe, but the chassis changes tighten things up noticeably, giving the Mach 1 a surprising degree of competence on a track. An £11,000 price hike over the standard car is steep, and European rivals tackle tricky roads with more finesse, but the Mach 1 is an entertaining brute.
The new Ford Mustang Mach 1 represents what will likely be a last gasp for the naturally aspirated V8 engine in time, especially as Ford is pressing its electric future with the Mustang nameplate, including hotter Mach-E GT, which makes this Mach 1 now the sharpest iteration of the petrol-engined Mustang muscle car you can buy in Europe. 
With an uprated engine and chassis tweaks for this new version, Ford claims that the Mach 1 is the fastest-ever Mustang around a track you can buy here, too – because the hardcore Shelby GT350 and GT500 versions aren't available in the UK. It therefore has a fair amount of weight resting on its broad shoulders, and it's not shying away from the task.
Best performance cars 2021

As part of the track-bred makeover, the Mach 1 receives a bespoke aero package that adds 22 per cent more downforce over the base car, and a whole heap of visual aggression thanks to a deep front splitter and a boot spoiler. The defining feature is a pair of large nostrils embedded in the front grille, which feed the 5.0-litre V8 motor and pay tribute to the Mustang Mach 1 of 1969.

More reviews

In-depth reviews

Road tests

New Ford Mustang Shelby GT500 2019 review
New Ford Mustang Bullitt review
New Ford Mustang Bullitt 2018 review
Ford Mustang V8 2018 review
New Ford Mustang EcoBoost Convertible 2018 review
New Ford Mustang 2018 review

Used car tests

An upgraded induction system and a performance exhaust system ensure that if you're somehow not seen, you'll certainly be heard. Hit the start button and the Mach 1 erupts into life, before settling into a moody eight-cylinder gargle. An ECU remap and a new throttle body raise power to 454bhp – a 10bhp hike over the standard Mustang V8.

From the outside, the noise is hair raising, but things are more subdued from the driver's seat. The engine isn't quite so hard-edged, and blipping the throttle results in a creamy exhaust roar, with the restless V8 rocking the car from side to side on its suspension.

The interior is largely carried over from lesser Mustangs, aside from aluminium trim accents, a Mach 1 chassis number plaque on the dash and a 'cue ball' gear knob borrowed from the Mustang Bullitt. The design is appealing, with a tall, sculpted dashboard and retro toggle switches, although the overall fit and finish isn't stellar. As with the rest of the line-up, the Mach 1 is at least fitted with a 12-inch digital dash, with crisp graphics that alter depending on the car's drive mode. Ford's Sync 3 touchscreen infotainment set-up also features, which includes Apple CarPlay, Android Auto and a DAB radio.

But it's the chassis upgrades that are central to the Mach 1. The MagneRide dampers have been retuned, while firmer front springs, uprated anti-roll bars and stiffer subframe bushes all feature to boost handling precision. The electric power steering system has also been recalibrated, and these changes are noticeable.

The Mach 1 feels better tied down than a standard V8 Mustang, more direct and more willing to be hustled. It doesn't round off rough sections of road quite as well, but the pay-off is tighter body control over undulations and more immediate reactions to steering inputs, with less slack in its suspension.

The changes also bring a better sense of connection through the steering, making what remains a sizable coupe easier to guide along twisting B-roads, even if the Mach 1 still isn't pouring with feedback and doesn't drive with the sharpness of some of its rivals. 

Bury the throttle, however, and it's right on the money. The engine's response is crisp, and the grumble at low revs smooths out into a lovely V8 blare near the 7,500rpm redline. The motor really is the centrepiece of the Mustang experience. It's not mind-bendingly fast, but put it to work and the Mach 1 thunders along at quite a lick. 

Either a six-speed manual or 10-speed automatic transmission can be specified, and with its pleasingly hefty, mechanical action and slick auto rev-matching function, we'd recommend the former. 

It's a shame that the Mach 1's optional Handling Package, which brings a more serious aero set-up, adjustable suspension mounts and lighter 19-inch wheels, wrapped in Michelin Pilot Sport Cup 2 rubber, won't be available to UK customers, though, because when you dig deeper the Mustang comes undone slightly, and its mass is harder to ignore.

It never feels like a purpose-built track tool, but after a series of hard laps in our test the Mach 1 still coped, entertaining with its approachable handling, enthralling engine and deceptive pace. For an £11,000 premium over the standard car, you'd hope that it would.

| | |
| --- | --- |
| Model: | Ford Mustang Mach 1 |
| Price:  | £55,255 |
| Engine:  | 5.0-litre V8, petrol |
| Power/torque:  | 454bhp/529Nm |
| Transmission:  | 6-speed manual, rear-wheel drive |
| 0-62mph:  | 4.8 seconds |
| Top speed:  | 166mph |
| Economy/CO2:  | 22.8mpg/284g/km |
| On sale: | Now |

Next Steps

Source: Read Full Article