The mild-hybrid Ford Puma ST Powershift is cheaper to run but less fun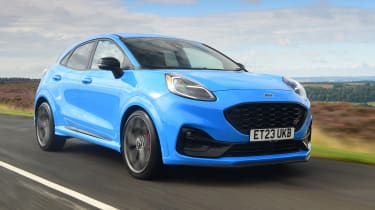 3.5 out of 5
How we review carsBuy used for less at Buyacar
Verdict
The Powershift version of the Puma ST isn't as engaging or as quick as the manual model, but there's still oodles of fun to be had and the hybrid powertrain should deliver noticeable cost-savings. 
They say a problem shared is a problem halved and with the Fiesta ST being sent into retirement, the burden of replacing Ford's fantastic hot hatch has fallen to the Puma ST. Ford has effectively doubled the Puma ST's line up however, by introducing the new mild-hybrid 'Powershift' version. 
We're big fans of the Puma ST here at Auto Express, mainly because it shares many of its components with the Fiesta ST. This new Puma ST Powershift is different however, because instead of a zippy 1.5-litre turbocharged three-cylinder and manual gearbox combination, there's a turbocharged 1.0-litre mild-hybrid with an automatic gearbox. 
That doesn't sound like the recipe for a hot hatch, especially one that'll shoulder some of the responsibility of replacing Fiesta ST sales. There's worse news as the Puma ST Powershift also conjures up 168bhp and 248Nm of torque compared to the regular Puma ST's 197bhp and 320Nm, meaning it's 0.7 slower to 62mph than the more powerful manual.  
Usually you have to pay a noticeable premium for an automatic over a manual when its comes to Fords but the Powershift only costs an extra £10. It'll take next to no time recouping that tenner either because not only is the Powershift one insurance group cheaper and it's slightly more frugal on fuel. The Powershift also emits a bit less CO2 so it'll be £390 cheaper to tax in the first year of ownership.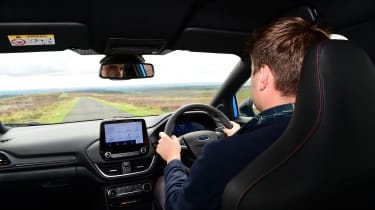 17
What really matters is how it drives and while it might be down on power compared to the regular Puma ST, the Powershift still has plenty of character, if not outright performance. The three-cylinder EcoBoost is mated to a 48V electrical system with a small, belt-driven starter/generator fed by a lithium battery. Electrical assistance isn't all that noticeable in day to day driving, Ford has actually done an impressive job of mimicking the 1.5-litre turbocharged unit here. 
More reviews
Car group tests
Hyundai Kona N vs Ford Puma ST: 2022 twin test review

In-depth reviews

Ford Puma ST review
Ford Puma review

Long-term tests

Ford Puma ST-Line: long-term test review

Road tests

New Ford Puma ST-Line X Gold Edition 2022 review
Icon Review: Ford Puma Mk1 (1997 – 2002)
New Ford Puma 1.0 EcoBoost ST-Line Vignale review

That's thanks to a sporty exhaust system like one in the manual version which delivers a rather grumbly soundtrack. It does sound a little augmented at times though and at speed the roar from the tyres drowns out the exhaust.

There's a decent level of responsiveness from the powertrain but at higher reaches of the rev range there's a sense it's running out of puff. There's no getting around the fact it feels slower than the more powerful manual ST, but there's enough power to have some fun with. 

With an identical chassis and brake set up to the regular ST, it corners and stops like the regular car, so it's impressive in that respect. Being a crossover, it doesn't quite have the poise of the old Fiesta ST but it doesn't take long to get comfortable chucking the Powershift around in the corners. The flip side of the taught set up is a rather firm ride – but this settles at higher speeds. 

Being a two-pedal, it's that much easier to trail brake into corners too but the rear doesn't seem as lively as the Fiesta's. Some of the standard car's balance is thrown out by the mild-hybrid system too, not by the weight but because it coasts for around a second before the intervention of engine braking, making it feel a bit disjointed if you're pressing on. 




The manual gearbox in the Puma ST is one of its best assets, with a direct and assuring shift motion. We were ready to chastise the Powershift's seven-speed automatic but it's impressive in its own way. Yes, you don't get that extra layer of engagement as you would with a manual but the shifts are quick – especially when you use the manual paddles (which are way too small and plasticky). Around town the shifts can feel a little clunky though. 

If the Powershift was brought in as a replacement for the manual Puma ST then it's job would be nigh-on impossible, but view it as a more efficient and accessible alternative that'll help broaden the driver-focused appeal of the Puma ST, the Powershift becomes much more palatable. 

| | |
| --- | --- |
| Model: | Ford Puma ST Powershift |
| Price: | £31,070 |
| Powertrain: | Turbocharged 1.0-litre three-cylinder mild hybrid |
| Transmission: | Seven-speed automatic |
| Power/torque: | 168bhp/248Nm |
| 0-62mph: | 7.4 seconds |
| Top speed: | 130mph |
| Economy/efficiency: | 44.8mpg/144g/km |
| On sale: | Now |

Source: Read Full Article