Does our first drive of Honda's new Civic Type R mega hot hatch suggest it's worth the £47k cost?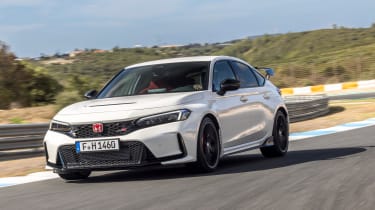 5.0 out of 5
Buy used for less at Buyacar
Verdict
Honda reckons it has created the best hot hatchback of all time in the new Honda Civic Type R, but is such brazen confidence justifiable? In a word, yes. The new Type R is an incredible car to drive, boasting an even broader dynamic repertoire than its predecessor and marking a perfect way to celebrate 25 years of the Civic Type R and 50 years of the Civic model line. So even though Honda's new hot hatchback costs a whopping £46,995 – which means it now competes against some premium heavy-hitters – it is worth every penny. And then some. 
Despite the rabid anticipation surrounding the new Honda Civic Type R, and the eye-watering £46,995 price tag Honda has attached to it, the car itself contains surprisingly few all-new components when compared with the model it replaces. Yes, it has a new bodyshell that's 15 per cent stiffer than before (which is a great starting point), but its engine and gearbox are essentially the same as in the car it replaces, as are its steering, brakes and suspension. 
And yet the overall result is a hot hatchback that once again rewrites the rulebook when it comes to front-wheel- drive dynamics. It is, quite simply, the best hot hatchback there has ever been. In places, by quite some margin.
Top 10 best hot hatchbacks to buy 2022

How? Well, what Honda has done with the Type R this time is clever – and quite unusual. Rather than spending their time and money developing a range of brand-new components, Honda's engineers have instead evolved what they already knew worked rather well on the existing Type R, fine-tuning them to a level that would never have been possible had they started from scratch.

More reviews

Car group tests

Honda Civic vs Toyota Corolla vs Vauxhall Astra: 2022 group test review

In-depth reviews

Honda Civic review
Honda Civic (2015-2022) review

Road tests

New Honda Civic 2022 review
New Honda Civic Type R Sport Line 2021 review
New Honda Civic Type R Limited Edition 2020 review
New Honda Civic Type R 2020 review

Used car tests

On the one hand, you could argue that the budget wouldn't have allowed them to develop an all-new powertrain in the first place, so they had no option but to work on what they already had. On the other hand, few manufacturers would have the confidence to allow their engineers to spend four years essentially honing a car that was already in a class of one. But that's precisely what Honda has done in this instance.

The resulting car's familiar-but-tweaked 2.0-litre turbocharged four-cylinder engine generates 325bhp and 420Nm and means the Type R sprints from 0-62mph in 5.4 seconds – four tenths of a second faster than its predecessor. And it could very well be the last Civic Type R ever to use a pure-combustion engine. The tweaks to that motor and the car's aerodynamics have resulted in a top speed that has risen from 169mph to 171mph, while the car also weighs 24kg more than before, purely because the new bodyshell is that much bigger and heavier than the old one.The new styling is less aggressive, more premium even, but is functional too, helping add extra high-speed grip.

The six-speed manual gearbox has also been improved (but not replaced) to make it even snappier than before and with auto blipping now available on all downshifts. The steering, brakes and suspension have been similarly evolved to a level where, according to Honda, there is simply no more room for improvement.

In effect, what we are talking about here is a blueprinted version of an already brilliant car, but with softer (some might say more acceptable) styling and a broader range of settings within the same adjustable drive programme. In practice, this allows you to drive the new Type R with more soothing damper settings and slightly lighter, less aggressive steering on the road but an even more focused dynamic personality when you want the opposite – namely, on a track. 

At the launch event in Portugal, we drove the car on both. Around the track at Estoril the Type R was even more sensational than we were expecting. There were notable improvements to its steering bite and feel compared with the old hot Honda, stronger brakes, a fair bit more acceleration from 3,000rpm onwards and a quite delicious new sense of balance to its chassis, both on turn-in and when the car is loaded mid-corner. 

It also has a phenomenal amount of grip and traction for a front-wheel-drive car. Its bespoke new Michelin Pilot Sport 4S tyres (now 265/30 19s all round) allow it to carry speeds into and through corners that, we suspect, would simply not be possible in any rival. Not even four-wheel-drive ones such as the Volkswagen Golf R or Mercedes-AMG A 35.

Genuinely, the Type R is that quick around a track, hence the reason Honda will be keen as mustard to grab its front-wheel- drive Nürburgring lap record back from the Renaultsport Mégane RS Trophy R "sometime next year", according to bosses.

Of arguably more relevance is the discovery that the new Civic Type R is, if anything, even more of a revelation to drive on the road. Here it's more refined and more relaxed steering and damper settings when in Comfort mode make a big difference to its overall usability – to a point where you could easily live with this car 365 days a year, which was always a point of contention with the old model.

The same goes for the interior. The driving position is fundamentally as close to perfect as you can get in a front-drive car – always was. But this time there's a new sense of quality and a depth of sophistication to the instruments and central touchscreen infotainment system that lends the car a more expensive aura. 

It's still overtly sporting in look, what with its red bucket seats and suede-rimmed steering wheel, but it no longer feels like a quasi competition car inside. Rear-seat space is also significantly better than of old. Thus, as with most other aspects, Honda has judged the balance between sporting intent and real-world comfort pretty much to perfection this time round.

Issues? Apart from its stiff pricing and the fact this means it now competes with premium hot hatchbacks in the showroom (in theory), there aren't many that we can think of. Which means it justifies its price entirely, because in reality, it simply doesn't have any other serious hot hatch rivals. Not at any money.

| | |
| --- | --- |
| Model: | Honda Civic Type R |
| Engine:  | 2.0-litre 4cyl turbo petrol |
| Power/torque: | 325bhp/420Nm |
| Transmission:  | Six-speed manual, front-wheel drive |
| 0-60mph: | 5.4s |
| Top speed:  | 171mph |
| Price:  | £46,955 |
| On sale:  | Now |

Source: Read Full Article