Can the addition of an automatic gearbox turn the Hyundai i30 N DCT into a hot hatch champion?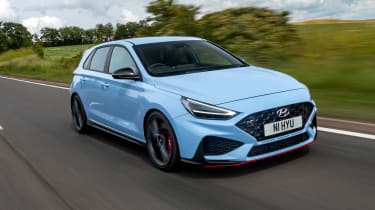 4.0 out of 5
Buy used for less at Buyacar
Verdict
Offering a dual-clutch transmission on the i30 N has undoubtedly broadened the car's appeal, so it's a smart move from Hyundai. However, the manual is the more involving and rewarding car, which is key to a hot hatch. The DCT-equipped model is feisty and fun, with a strong engine, lots of chassis tech and grippy handling. But a manual gearbox unlocks more of what's on offer, even if this is a well-executed first effort at an auto hot hatch from Hyundai for Europe.
The Hyundai i30 N rocked the hot hatchback establishment when it first arrived in 2017. This was the first performance product from Hyundai's newly formed N division, and it went straight to the sharp end of the class, giving hot hatch stalwarts such as the VW Golf GTI, the Honda Civic Type R and the Renault Megane RS some genuine competition.
Progress moves quickly though, because over the intervening period a new version of each rival above has launched, so this newly updated model represents the biggest change since the i30 N made its debut. 
Volkswagen Golf GTI Clubsport vs Cupra Leon 300

It's now also available with a new gearbox, as we're testing here. The brand's new eight-speed dual-clutch automatic option is priced from £35,695, while the six-speed manual costs £33,745. 

More reviews

Car group tests

Hyundai i30 vs Volkswagen Golf
Hyundai i30 Fastback N vs Skoda Octavia vRS Challenge

In-depth reviews

Road tests

New Hyundai i30 N Fastback DCT 2020 review
New Hyundai i30 Fastback N Line 2020 review
New Hyundai i30 prototype review
New Hyundai i30 N 2020 review
New Hyundai RM19 review

As before, Hyundai only offers the i30 N in N Performance guise in Britain. At launch in 2017 the less potent base-spec i30 N was available, but it wasn't a sales success here. 

The 2.0-litre four-cylinder turbocharged engine used in the i30 N Performance is up by 5bhp, and there's 39Nm more torque, to a total of 392Nm. Power goes to the front wheels through the new gearbox and an electronically controlled limited-slip differential.

Combined with launch control it will sprint from 0-62mph in 5.4 seconds (half a second quicker than the manual) while top speed stands at 155mph.

The engine is as aggressive and raucous as it ever was, gargling through its sports exhaust in the fruitier setting like a rally car. You get some pops and crackles when you lift off, as well as the rush from the turbocharger as it feeds the motor with air.

It doesn't feel rampantly fast though – not least because the i30 N DCT weighs a hefty 1,455kg. But its motor does offer good response and enough mid-range grunt, but is still keen to be revved out.

The dual-clutch box is just crisp and quick enough with its shifts, with Hyundai's N Power Shift system (activated at more than 90 per cent throttle) helping maintain engine revs when shifting to improve performance.

However, given it costs an extra £1,950 over the manual (which suits the car's character more) the DCT unit removes a layer of involvement and a degree of fizz we know the i30 N possesses, so we'd save the cash instead.

It's still one of the more focused hot hatchbacks on sale, the i30 N. The chassis is firm and gets firmer still as you move up through the adaptive suspension's modes. It pogos over kerbs on track and can get crashy over bumps on the road, jostling you around in your seat, but it does suit the car's character in an odd way, and the body control as a result is solid.

Dialling the dampers back to their softer setting helps make it more liveable more of the time without really affecting handling and agility on the road all that much; the steering is still super quick, the front axle keen to turn – more so on the road than track, where some understeer does creep in – but get your entry speed right and the clever differential helps to mitigate this by clawing at the tarmac to drag you through turns.

There are improvements in other areas too. As per the regular i30 hatch, the N's visuals have been updated with new, sleeker headlights and a reshaped grille that gives it a closer family resemblance to Hyundai's flagship SUV, the Santa Fe.

Three trademark cooling slots below this as part of the deeper front bumper give it plenty of visual aggression; the same is true at the rear, with a deep bumper that houses twin tailpipes, and a high-level spoiler with a rally car-style triangular brake light.

Hyundai has upgraded the interior too, with the focus a new 10.25-inch touchscreen infotainment system that works brilliantly and comes loaded with features, including nav, Apple CarPlay and Android Auto. It's also where you can configure the i30 N's myriad settings.

Otherwise, material quality is still fine but not standout, while the sports seats are particularly nice, fixing you in place in fast corners.

They don't impact practicality in the rear too much, as there's still plenty of passenger space and enough to compete with rivals such as the VW Golf GTI Clubsport. A 381-litre boot is also a match for the Golf's offering, and there's up to 1,287 litres on offer if you fold the rear seats down.

Efficiency is still yet to be confirmed under WLTP testing, but for reference the pre-facelift manual model offered up to 34.0mpg with 188g/km CO2 emissions, so we'd expect the upgraded DCT-equipped car to again be competitive with rivals in its class.

Take a look at our list of the best hot hatchbacks to buy now…

Next Steps

Source: Read Full Article